The Walking Dead's Alvaro Is Actually Named After The Actor Playing Him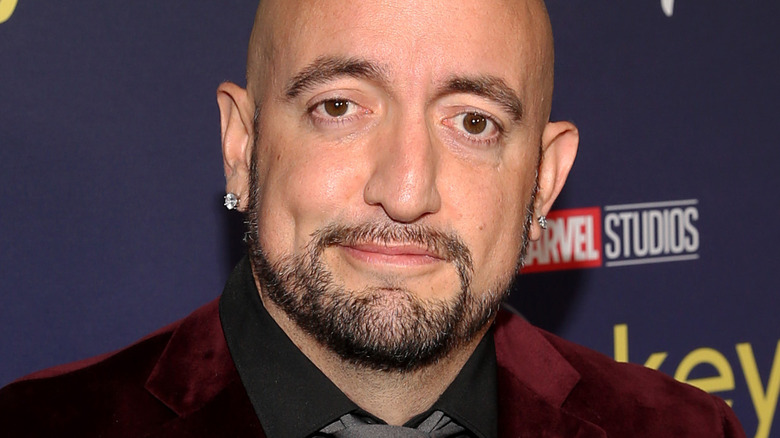 Jesse Grant/Getty Images for Disney
Warning: The following contains spoilers for "The Walking Dead"
"The Walking Dead" may be ending after 11 seasons, but with that extensive history behind it, the show has built up behind-the-scenes stories that could, at times, arguably challenge what fans see in front of the cameras. Throughout the AMC drama, our protagonists have found themselves in a number of the mini-worlds that make up the zombie apocalypse. Characters migrate everywhere from a prison to a town called Alexandria while other places are introduced, like The Kingdom, headed by King Ezekiel (Khary Payton), one of the few characters to actually make it to the show's final season.
In the show's final season, the characters find themselves up against the largest force they've ever faced in the Commonwealth, a deceptively modern city headed by Pamela Milton (Laila Robins). Even after the final credits roll, fans can still expect multiple continuations in the forms of spinoffs focusing on characters like Maggie and Negan (Lauren Cohen and Jeffrey Dean Morgan) and Rick and Michonne (Andrew Lincoln and Danai Gurira).
With so many different factions introduced in "The Walking Dead," the show has brought on a massive amount of actors to play a wide variety of characters. One cast member playing a member of Ezekiel's Kingdom, for instance, has a storied history behind his part in the show, and the name of his character was actually taken from his own.
Alvaro has a real life inspiration
Alvaro was a loyal member of The Kingdom who was killed off by Gunther (Whitmer Thomas) in "The Walking Dead" Season 8, Episode 4 ("Some Guy"). Carlos Navarro portrays the character of Alvaro. The actor, who appeared in a total of nine episodes, has a long history behind actually getting cast on "The Walking Dead."
According to Navarro, it was five years after his initial audition that he actually got an actual call back. In that time, he studied the comics, getting multiple calls from producers that led nowhere. Before finding a newfound focus in his career, Navarro struggled with a drinking problem (per Click Orlando). The actor's direction in life came after his wife told him, "Carlos, if you give up drinking, you are going to be on 'The Walking Dead.'"
Navarro said he was told the night before he needed to report to Atlanta, Georgia. The only background he was given was that the character's name rhymed with his own. Later, when the actor met "Walking Dead" writer Scott Gimple, he discovered the similarity was on purpose. Navarro recalled the story to Click Orlando. "You know, we were waiting forever to find the perfect role for you and man we are so glad.' I said, 'You knew the whole time?' He said, 'Knew the whole time? That's why we named him Alvaro, after Navarro,'" the actor recalled.
Who exactly is Carlos Navarro?
Carlos Navarro may be known to Florida audiences as one of the hosts of the radio show "Monsters in the Morning." Navarro's radio career actually began back when he was only 17 years old.
"When I first started in radio, I was 17 years old, right out of high school. Weeks out of high school, I kind of got an internship for Clear Channel as a production intern and then started to kind of like the Monsters," he told Geek News Network in 2018.
He also has a wide-ranging acting career beyond "The Walking Dead" too. Since appearing on "The Walking Dead," Navarro has appeared in TV shows such as "The Outsider" and "Hawkeye." He also has quite a few credits before joining the AMC series, appearing on Netflix's "Bloodlines" and "The Unbreakable Kimmy Schmidt" (via IMDb). Before landing "The Walking Dead," Navarro said he was in a difficult place, no longer on radio and looking for a future career.
"I hadn't had another job. So, it was just my life and it was in excess at that time. I got in trouble. I got a little too big for my britches in certain senses," the actor told Geek News Nation.
If you or anyone you know is struggling with addiction issues, help is available. Visit the Substance Abuse and Mental Health Services Administration website or contact SAMHSA's National Helpline at 1-800-662-HELP (4357).