Daniel Craig Breaks Out Of His 007 Persona In Hilarious New Belvedere Vodka Ad Directed By Taika Waititi
For viewers in their 20s and 30s, Daniel Craig is their James Bond. When he took the role over in 2006, the franchise was in dire need of new blood, the kind of reboot that someone could carry into the future. They found that new blood with Craig's dark and gritty performance, combining the brooding aura of Timothy Dalton with the charm of Pierce Brosnan.
The role made Craig one of the industry's most famous and wealthy actors. According to Yahoo!, he made nearly $100 million playing the super spy over five movies from 2006 to 2021. That doesn't consider the endorsements that his Bond persona brought him as well. But the role wasn't all roses and greenbacks, as his body was put through the wringer. In an interview with GQ, Craig laid out a long list of injuries that he suffered while chasing Quantum and Spectre around for a decade, including ruptured muscles and torn ligaments.
Now, we may be seeing a new side of post-bond Craig, thanks to a new advertisement for Belvedere Vodka, in which he looked uncharacteristically lighthearted and happy. He may have even been smiling.
He left the brooding behind
Directed by Taika Waititi, with a score by Rita Ora, and starring Daniel Craig, this sounds more like the introduction to a high-budget film than it does a commercial for Belvedere Vodka. The advertisement begins the same as "Casino Royale," with a dark and brooding Craig standing in a white tuxedo in a black and white shot overlooking a river. The moment the camera focuses on the actor's face, he cracks a smile and turns to walk away, entering a car and exiting on the other side in a stylish leather jacket and black tank top.
What follows is nearly two minutes of an uncharacteristic dance number, moving through a hotel, a swimming pool, a rooftop, and a hallway, and finishing in his hotel room, where he finds a bottle of vodka. He pours himself a drink and says, "finally," before taking a sip of his drink before Waititi cuts. There is then an after-credit scene, like a blockbuster film, that shows everyone cutting up. Waititi swipes away sushi multiple times before exclaiming that it landed in his coffee. It also offers a few bloopers with Craig dancing around and even jumping into the pool.
It is an entertaining advertisement, but more importantly, it is a sign of a new era for the actor. One can't watch him smiling and dancing, generally having a blast, without viewing this commercial as another goodbye to his 007.
Signaling a new Daniel Craig?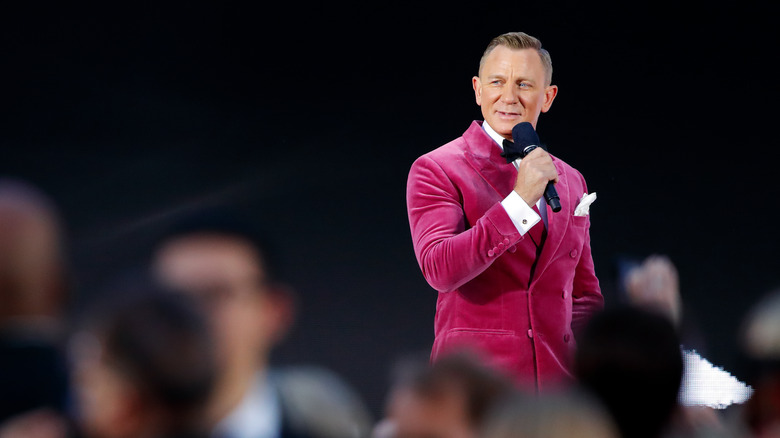 Max Mumby/indigo/Getty Images
One thing that was prominent during Daniel Craig's run as James Bond was the dark and gritty themes of the character. In all of his films, Craig's Bond suffers loss, including the loss of the woman he loves in the first film, and the loss of his own life in his final film. With so much loss and grief, it kept the aura of the films brooding and morose.
While the themes made sense for the Bond character, it seemed like Craig couldn't escape that same aura in other projects he found himself involved with. In films like "The Invasion," "Defiance," "Dream House," "The Girl with the Dragon Tattoo," and "Kings," he faced similar films surrounding death, mourning, or strife. But as we saw in the new advertisement, there is a changing of seasons for the actor.
We've seen glimpses of Craig trying to move on from the role of Bond in films like "Logan Lucky," where he got to be involved in a more comedic endeavor, and again in "Knives Out," where he clearly was having more fun. The Belvedere advertisement seemed to purposefully start out with a stuffier tuxedo and black and white shot before moving deliberately to a more fun and lighthearted theme. Even his lone word of dialogue, "finally," felt like he was speaking about his decade-long run as James Bond coming to an end. Whether it was purposeful or not, fans and Bond loyalists couldn't miss the symbolism on display.