Yellowstone's Kelsey Asbille Has Been Waiting For Monica To Have Screen Time With Beth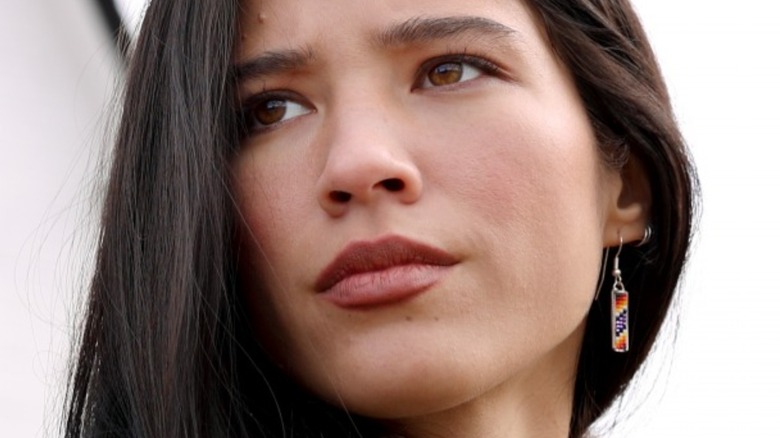 Paramount Network
Contains spoilers for "Yellowstone" Season 5, Episode 2 — "The Sting of Wisdom."
Being a woman in the Dutton family is no easy task. The legacy of ranching in Paramount's "Yellowstone" is a man's world, after all, no matter how much the resident females try to break out of it. Beth Dutton (Kelly Reilly) demonstrates unapproachable ferocity in every relationship she cultivates. Her vocation as a banker allows her to help her father, John (Kevin Costner), in whatever he needs to be done. But even so, her pain is uniquely female. After suffering forced sterilization as a teenager, Beth had to endure the prospect of not having biological children. Kayce's (Luke Grimes) wife, Monica (Kelsey Asbille), is also defined by motherhood.
While she has other storylines involving her indigenous heritage, most of Monica's tragedies stem from her family. "Yellowstone" Season 2 was particularly heartbreaking for her when a group of neo-nazis kidnapped her son, Tate (Brecken Merrill). But these women are nuanced and capable characters who are not defined by just one thing. That is what makes their scenes together magnetic, something that Asbille seems to agree with.
The sisters-in-law have an interesting dynamic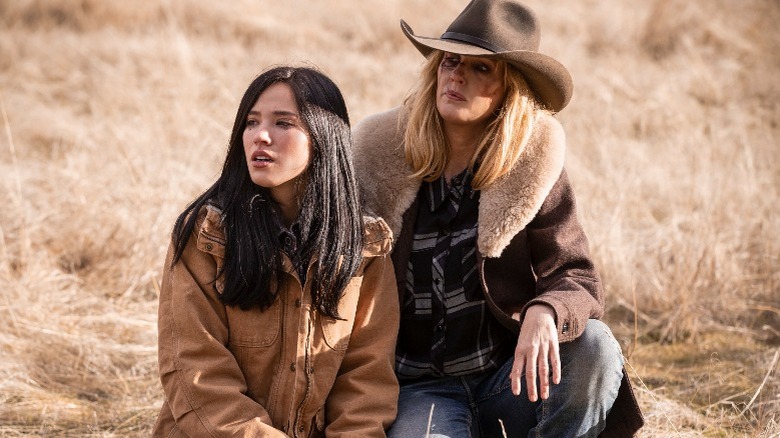 Paramount Network
When Season 5 opens, the women of the Dutton family are dealing with familiar territory. Beth continues to have dangerous tensions with her brother, Jamie (Wes Bentley), who was complicit in her forced hysterectomy. After the death of Jamie's biological father at his son's hand, Beth found the perfect thing to hold over his head, willing to do anything she can to maintain power over him. In the same vein, poor Monica once again is subjected to familial trauma when she loses her pregnancy. With their combined emotional pain, there are many things these women have in common and are due for a scene with each other. Kelsey Asbille told Us Weekly that not only will Season 5 provide but will air a particularly moving scene.
"[Monica] also has a wonderful moment with Beth that I've been aching for because I just love [that] they bring out a different side of each other and so I love when the two of them are on screen," Asbille reported. No word on exactly what this scene will entail, but judging from the trials that Monica will undergo, Beth may have some shared wisdom. Though often cold and closed off at times, Beth's shared experiences with Monica can offer a different side to her. Both have been through so much, and this is an event that only two women can share.