Black Panther: Wakanda Forever Was Just One Of Hundreds Of Titles For The Film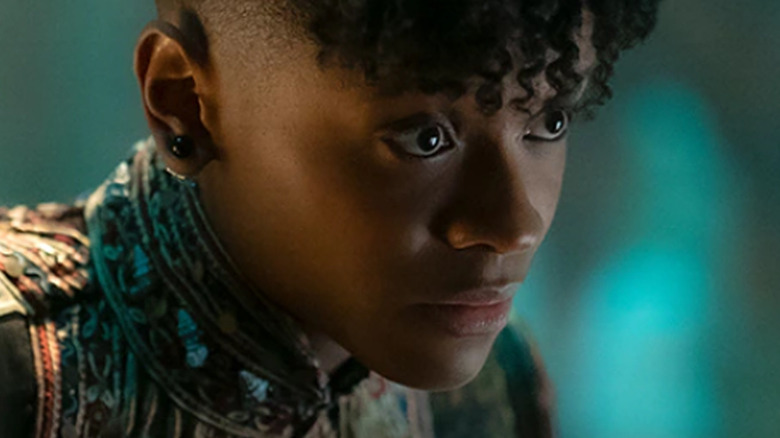 Marvel Studios/Disney
The death of Chadwick Boseman in August of 2020 looms large over "Black Panther: Wakanda Forever." In the first "Black Panther," Boseman portrays T'Challa, whose superheroic alter ego grants the film its title. Given his centrality to the first movie's very existence, its sequel in "Wakanda Forever" must therefore walk a proverbial tightrope, and ultimately does so — "Wakanda Forever" both pays tribute to Boseman and moves the franchise forward in his absence. In fact, in its reverence of the late Marvel Cinematic Universe star, "Wakanda Forever" never reveals how T'Challa dies in-universe, imbuing the character with some of the very same mythic aura that surrounds Boseman himself.
Viewers, as it turns out, took kindly to the manner in which the creative team behind "Wakanda Forever" carried out this difficult task. "Wakanda Forever" cleaned up at the box office, even setting records for the month of November in which it premiered. Numerous positive reviews, meanwhile, have earned the film a certified fresh designation on aggregator Rotten Tomatoes.
In an interview published shortly after "Wakanda Forever" premiered in theaters, producer Nate Moore discussed the process of titling the film. Unsurprisingly, given the complications inherent in its production, the process of landing on "Wakanda Forever" seems to have been anything but straightforward, at one point involving a list of hundreds of options.
The producers of Wakanda Forever struggled to come up with a worthy title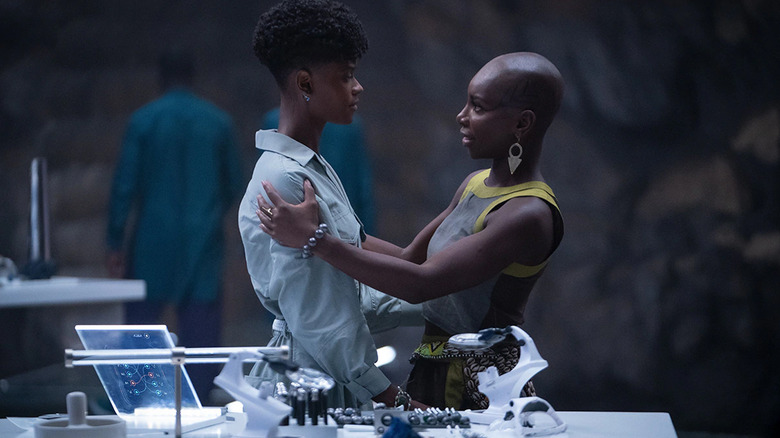 Marvel Studios/Disney
On the day after "Wakanda Forever" premiered in the United States, Collider published an interview with Nate Moore, who works as a Vice President of Production and Development for Marvel Studios (via Variety) and has served as producer on a few different Marvel Cinematic Universe projects including "Wakanda Forever."
At one point during their conversation, Collider interviewer Tamera Jones asked Moore to share some of the titles Marvel considered for "Wakanda Forever" during its production. "That's a good question," he replied. "There was literally a list of hundreds."
Moore then provided some insight into what the process of landing on the film's eventual title of "Wakanda Forever" was like. "You're like, 'Kingdom of the Deep?' You're like, 'Does it have to be about Namor?' Then we realized that 'Wakanda Forever' felt right, because it's a story about triumph through adversity," he said. "It's a story about legacy, it's a story about persistence, and 'Wakanda Forever' says all those things."
The one flaw the Marvel team initially found with the title "Wakanda Forever," Moore explained, was that it sounds befitting of a third film in a trilogy, and not a trilogy's midpoint. Nevertheless, they decided that the title encompasses the nature of the story they wanted to tell and made it official.
Marvel announced the title Wakanda Forever after more than a year of deliberation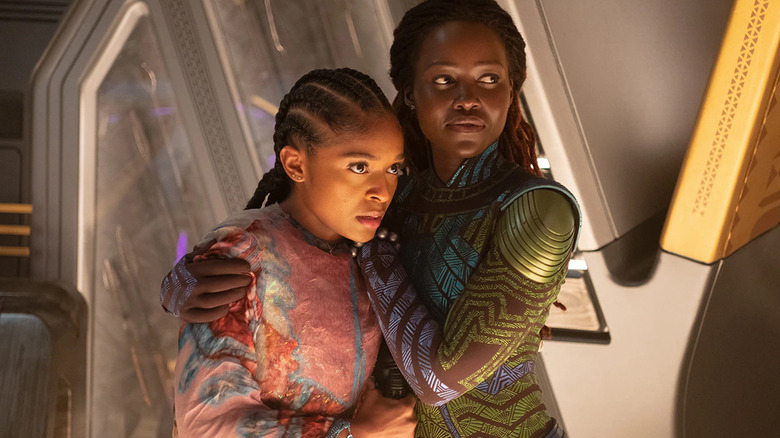 Marvel Studios/Disney
Production on "Wakanda Forever" lasted for a span of years before its eventual premiere on November 11, 2022. In fact, Marvel confirmed that a second "Black Panther" film was in the works a full year prior to Chadwick Boseman's death. That said, at the time the sequel was confirmed on August 24, 2019, Marvel referred to the project by its working title "Black Panther II" (via The Hollywood Reporter). News of Boseman's death then became public on August 28, 2020.
It's unsurprising, then, that Marvel struggled with a title, given the loss of the star around whom the franchise was built partway into the second "Black Panther" film's production. Marvel ultimately revealed that this film would be titled "Wakanda Forever" on May 3, 2021 (via THR).
In the end, the attention Nate Moore revealed the Marvel team paid to titling the film seems to have paid off, now that "Wakanda Forever" is out and a hit among fans and critics alike.