Wakanda Forever Sets Up The Masters Of Evil As Black Panther 3 Villains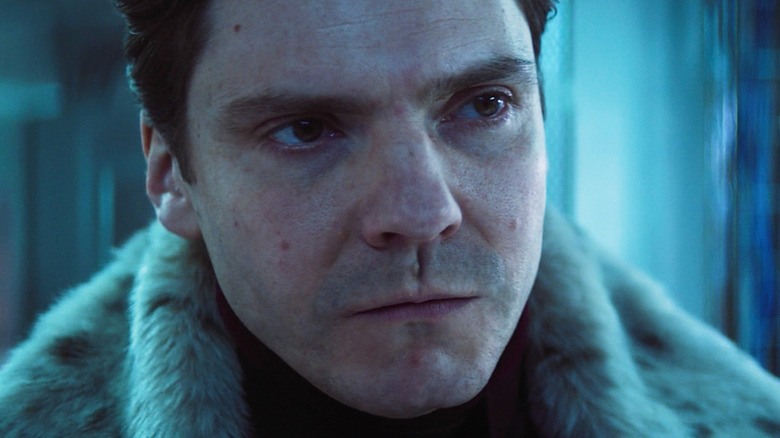 Marvel Studios/Disney+
Contains spoilers for "Black Panther: Wakanda Forever"
"Black Panther: Wakanda Forever" is a movie full of endings and new beginnings. While it tends to keep its focus on dealing with Wakanda's current internal and external affairs, the movie also offers intriguing – and worrying, if Namor's (Tenoch Huerta) final words are any indication – glimpses at the country's future. Inadvertently or otherwise, the movie even sets the stage for future villains.
By the time this chapter in Wakanda's story ends, the country is brimming with superhero talent. Folks like Shuri (Letitia Wright), M'Baku (Winston Duke), Nakia (Lupita Nyong'o) and Okoye's (Danai Gurira) Midnight Angels are all superheroes in their own right. Despite Ayo (Florence Kasumba) effectively ruling Bucky Barnes (Sebastian Stan) excommunicado during the events of "The Falcon and the Winter Soldier," the country still presumably retains moderately friendly relations with the superhero community, as well. As such, there's no telling who Shuri's crew can potentially call for backup — from Captain America (Anthony Mackie) to Riri Williams (Dominique Thorne), the possibilities are endless. What's more, despite being at odds with several major world powers for refusing to share vibranium with them, Wakanda now has a new ally in Namor's Talokan, which makes them both stronger than ever.
All of this pretty much guarantees that few single supervillains can hope to budge Wakanda at this point. As such, bringing in a supervillain team for "Black Panther 3" is the logical answer to Wakanda's own team ... and, as it happens, the Masters of Evil would be the most logical group to act as the movie's antagonists. Not only are they powerful, but they can be led by a person who has both deep ties to Wakanda's MCU history ... and a proven ability to bring even the most powerful superheroes to their knees.
Baron Zemo's Masters of Evil would be a logical Black Panther 3 adversary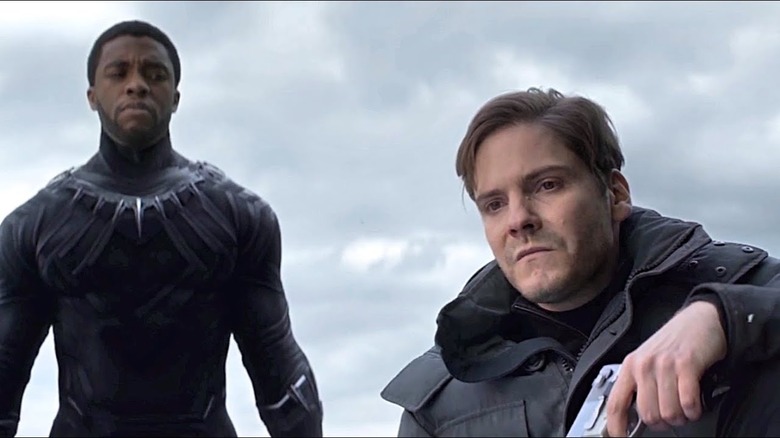 Marvel Studios/Disney
The only antagonist to hand the Avengers a crushing defeat before Thanos snapped his fingers, Helmut Zemo (Daniel Brühl) is a Sokovian special forces officer — and, as we find out later, a baron — who's out to avenge the death of his family in "Avengers: Age of Ultron." He achieves this with a carefully laid-out plan that sets Avenger factions against each other in "Captain America: Civil War." This act effectively disbands the original Avengers team until their last hurrah in "Avengers: Endgame."
Apart from being a noted dancer, Zemo is a magnificent and tactical opponent. His motivations and inner anguish are clearly laid out, which would make him a worthy successor to Erik Killmonger (Michael B. Jordan) and Namor. He also has a very complicated history with Wakanda, since his "Civil War" plot is responsible for the death of Shuri and T'Challa's father, T'Chaka (John Kani). As such, while T'Challa was ultimately happy to send Zemo rot away in prison, there's likely a whole bunch of Wakandan people who'd like to have a word with the baron. 
Apart from Zemo, there's one particularly interesting Master of Evil
Zemo is the biggest player currently absent from the Thunderbolts' lineup, so he's currently one of the most notorious free (well, incarcerated) agents in the MCU. Putting him in charge of the Masters of Evil would be a logical choice – after all, both he and his comic-book father, Heinrich, have acted as team leaders. It would also provide an excellent opportunity for the Sokovian strategic genius to test his mettle against the absolute biggest powers on the planet ... either instead of appearing in "Thunderbolts," or as a result of that movie's outcome.
Apart from Zemo, the lineup of the Masters team could be virtually anything. In the comics, the group is essentially a revolving-door team of supervillains that rank from the A-list threat of Doctor Octopus (Alfred Molina in the MCU) to the deepest pits of villain-of-the-week absurdity. Since many Masters of Evil were ultimately recruited in the Thunderbolts, so the MCU might do things the other way around by having the Thunderbolts lineup go rogue under Zemo at the end of their movie, perhaps adding some new and returning antagonists to make up a truly formidable version of the Masters of Evil. Of particular note is the fact that the comics version of Wakanda's own M'Baku (Winston Duke) has been a member of the group at one point. This could provide a delightful opportunity for an undercover mission — or even a villain turn — for the Jabari leader in "Black Panther 3."
"Black Panther: Wakanda Forever" is now in theaters.