Saul Goodman's Best Suits In Better Call Saul, Ranked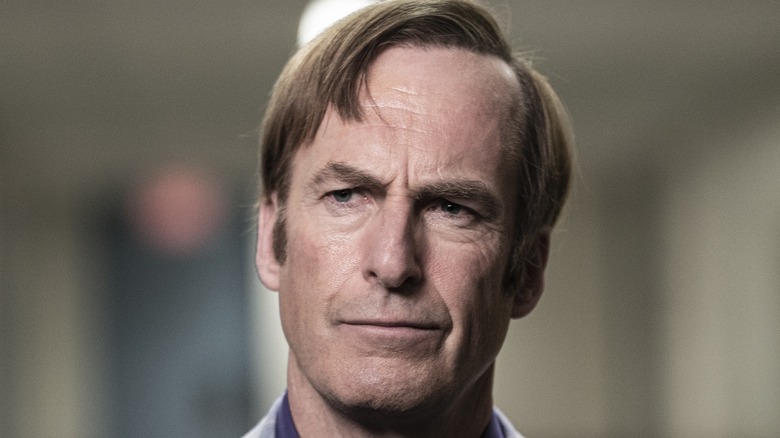 Kevin Winter/Getty Images
Dear Saul Goodman: Did you know that you have style? Judge Papadoumian says you do, and so do we! And so do fans of the "Breaking Bad" prequel series "Better Call Saul," which just wrapped up its seven-year run on AMC in August.
The origin story for Saul Goodman (Bob Odenkirk), as well as other fan-favorite characters Mike Ehrmantraut (Jonathan Banks) and Gustavo Fring (Giancarlo Esposito), "Better Call Saul" was praised by critics and audiences alike for its ability to tell an original, well-rounded story without upsetting fans of the series from which it was derived. The show follows the development of Saul Goodman from his salad days as Cicero, Illinois conman Slippin' Jimmy, to his career as hard-working Albuquerque public defender Jimmy McGill, and, finally, his life in hiding as Omaha, Nebraska Cinnabon manager Gene Takavic.
Throughout both "Breaking Bad" and "Better Call Saul," Saul Goodman/Jimmy McGill is known for his high-spirited behavior and similarly exuberant wardrobe. His flashy, in-your-face style can be seen on bus benches and billboards across Albuquerque and in commercials on cable television across the American southwest. Favoring a much brighter palette than the traditional dark, formal business suits of his colleagues, Saul Goodman's keen eye for fashion is a key ingredient in the success of his law firm Saul Goodman and Associates. Of the many memorable suits worn over the course of "Better Call Saul," we've picked the best 13 and ranked them in this article. Find out where your favorite sartorial selection ends up below. 
Warning: This episode contains spoilers for "Better Call Saul."
13. The James M. McGill Esq.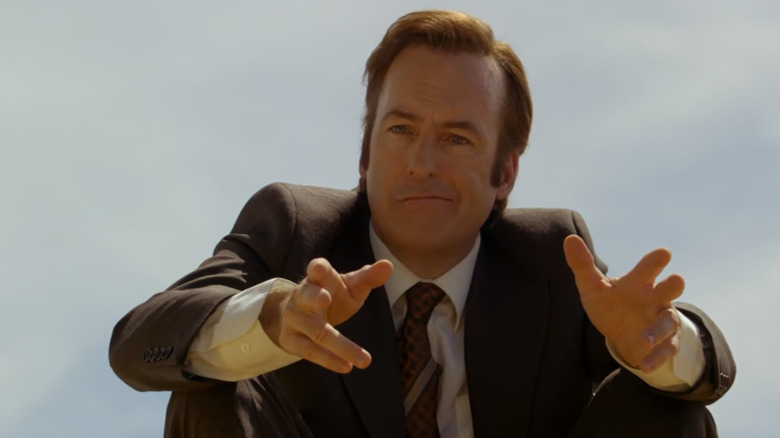 Netflix/AMC
Every great wardrobe begins with a single suit, and Saul Goodman's starts here. Presumably one of the first suits ever purchased by newly barred lawyer James McGill, this suit first appears in the "Better Call Saul" series premiere and is Jimmy's outfit of choice throughout most of the first season.
The suit is a cheap one, a double-breasted affair in a dark brown nailhead pattern. Jimmy usually pairs it with a gray and blue windowpane shirt, a dark striped tie, and a pair of his favorite slip-on loafers. According to The Gentleman's Gazette, the double-breasted suit had largely gone out of vogue by the early 2000s — when "Better Call Saul" begins — so they would have been in high supply at thrift stores and second-hand shops, perfect for a down-on-his-luck attorney looking to make a lasting impression on potential clients.
While perhaps a bit dated, the double-breasted suit is a great way to stand out from your peers while still sticking to your modest budget. If you're going to talk your way out of being murdered and buried in the desert by Tuco Salamanca (Raymond Cruz), you must put your best foot forward, and this suit is an excellent supplement to a silver tongue and a willingness to bend the truth. Plus, its durable fabric will hold strong should you need to hike through the Sandia foothills to confer with potential clients.
12. The All-American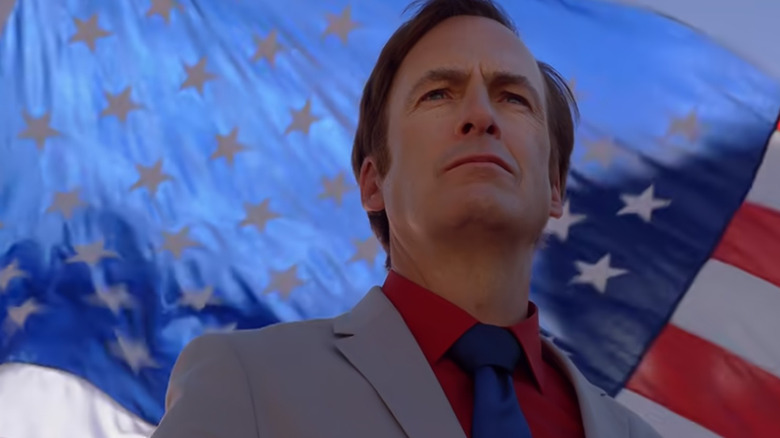 Netflix/AMC
Jimmy makes use of this star-spangled-banner–themed ensemble when he's filming his 'Gimme Jimmy!' commercial in Season 2, Episode 9. Jimmy dons his slick number when he and his UNM film crew trespass on the grounds of a local elementary school to get a shot in front of an American flag. This outfit features a pale gray, single-breasted jacket paired with a bright red shirt and a shiny blue satin tie.
In targeted television advertising, a little patriotism goes a long way — U.S. Flag Code be damned — which makes this suit a shrewd selection by the world's second-greatest lawyer. Why just stand in front of an American flag when you can be an American flag? If you want to want to get your career in elder law off the ground, you need to dress to impress the members of the Greatest Generation; after all, moxie is in such short supply these days. With this suit, you'll attract the blue hairs like moths to a bug-zapper.
11. The Street Life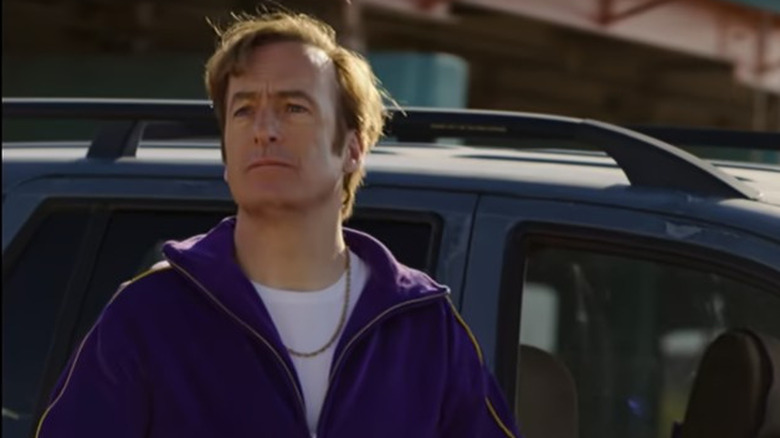 Netflix/AMC
Understanding fashion means knowing that there's a time and a place for every outfit. If you're in court, you'll want to wear business attire, but if you're working a side hustle selling drop phones, you might want to consider something a bit hipper. Jimmy wears several different tracksuits as he roams the neon-lit back alleys of Albuquerque to make some extra cash in Season 4, but the best one makes its debut in Episode 7: a brilliant purple with yellow piping, worn over a plain white t-shirt with a thin gold chain, and the special mall-walking shoes Jimmy buys for Irene Landry (Jean Effron) in Season 3.
If you show up wearing the wrong outfit to a tacitly shady pre-paid cell phone deal, people are going to think you're a narc. However, if you head over to Mrs. Nguyen's nail salon and break out this athletic number, not only will you be able to blend in with your clientele, but you'll be also able to make a quick break for it should you find yourself accosted by any young street hoodlums.
10. The Matlock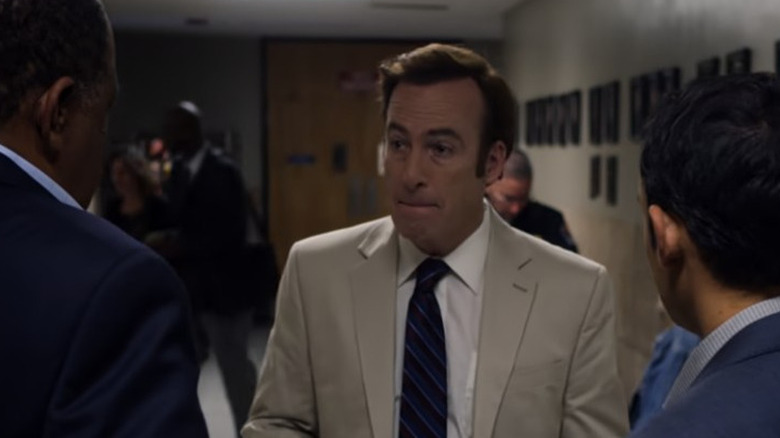 Netflix/AMC
If there's one thing Jimmy McGill understands, it's marketing, and according to Forbes, the first rule of marketing is knowing your audience. So, if you're going to market yourself as a trustworthy lawyer to a retirement community, why not dress like lovable TV lawyer Ben Matlock?
That's exactly what Jimmy does in Season 1, Episode 5 during one of his first visits to the Sandpiper Crossing retirement home. Donning a cream-colored cotton suit with a crisp white shirt and a dark striped tie, Jimmy transforms himself into Andy Griffith's iconic attorney to grab the minds, and hearts, of his new crop of potential clients.
It's a brilliant piece of self-marketing and slightly subtler than his patriotic All-American look. A fashionable, if seldom-seen, suit fabric makes this one of the more memorable stylistic choices made by Jimmy McGill. Just be careful dumpster diving in this getup: The light-colored fabric is excellent for warm weather but very susceptible to stains.
9. The Papadoumian Pleaser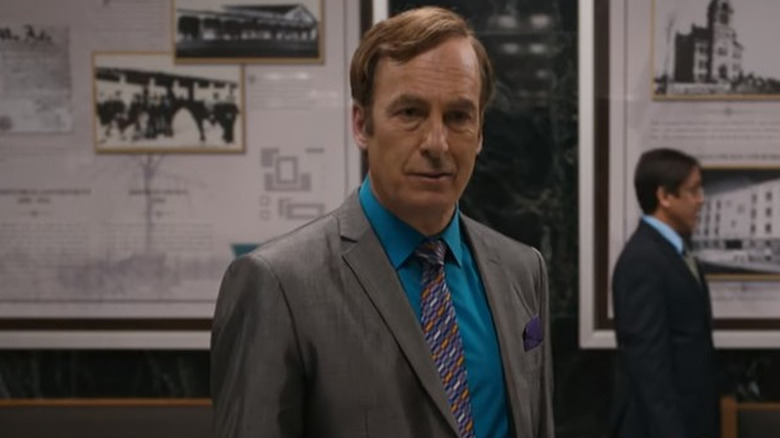 Netflix/AMC
The oft-mentioned but never seen Bernalillo County Metropolitan Court judge is known for her liberal rulings on police surveillance and her appreciation of Saul Goodman's signature suiting. Her name is first mentioned in a Season 5 episode of "Breaking Bad," and she is the presiding judge in a case Saul takes on involving two prostitutes in "Better Call Saul." After successfully defending his clients, Saul hints that his wardrobe may have favorably impacted her ruling, and we can't blame him for thinking so.
This suit is certainly eye-catching — a silvery metallic gray reminiscent of the suits worn by the Salamanca twins — complemented by a blue shirt and an orange and purple tie with coordinating purple pocket silk. It's flashy enough to take the focus off a defendant and onto their attorney's natural showmanship. DEA agents may call you a clown for your choice of attire, but they're just jealous that your snappy dressing provides such a reliable roadblock to unwarranted violations of civil liberties.
8. The Guy for This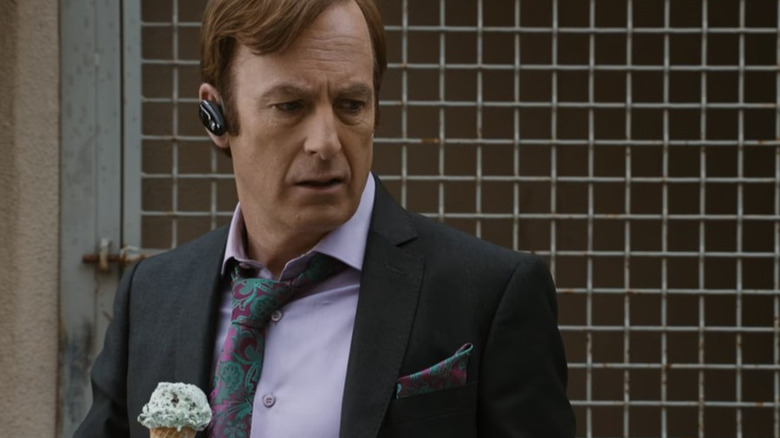 Netflix/AMC
First appearing at the end of Season 5, Episode 2 when Saul Goodman is picked up by Nacho Varga (Michael Mando), it's the suit worn to his first meeting with the charming, but menacing, cartel member Lalo Salamanca (Tony Dalton). While it's one of the more traditional suits in Saul's closet, the full ensemble makes it worthy of recognition.
A charcoal gray, single-breasted suit with a pick-stitched, notch lapel, Saul pairs it with a light lilac shirt, a purple and teal paisley tie, and matching pocket silk for a little Saul Goodman flourish. It's simple but elegantly stylish. It clearly makes a good impression on Lalo, who later hires Saul as his own lawyer when he is arrested for murder toward the end of the season.
Every good suit collection needs at least one workhorse business suit, and this charcoal number serves as that slightly more formal garment for the fast-talking attorney. It's relatively restrained, but pairs well with peacocky accessories. What this suit lacks in signature Saul flavor, it makes up for in its versatility.   
7. The Peachy Keen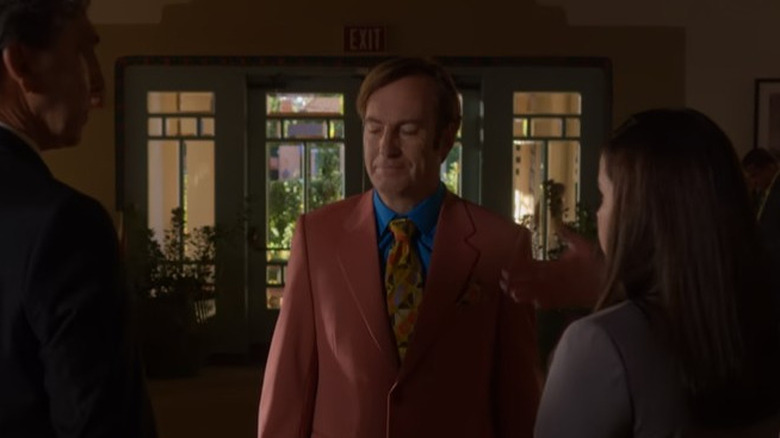 Netflix/AMC
On the complete opposite side of the formality spectrum sits this boldly colored suit from Season 2. The stand-out entry from the wacky, wavy, inflatable, arm-flailing tube man-inspired montage in Episode 7, this suit draws the disdain of Clifford Main and the admiration of Al Newman of Allied Funeral Homes in equal measure.
A loud, vibrant peach-colored suit styled with a blue shirt and a yellow, geometric-patterned tie with matching pocket silk, this is the first truly Saul Goodman suit worn by Jimmy McGill as part of his ploy to be fired from Davis & Main while still being able to keep his bonus.
It's an unforgettable suit and a real optical migraine for your traditionally outfitted boss. It's a bold expression of a larger-than-life personality confined within a traditional workplace. Fashion-forward, for sure, but if you're also planning on not flushing the office toilet and playing the bagpipes at work, you should probably consider selecting a less expressive outfit.
6. The Cowboy Couture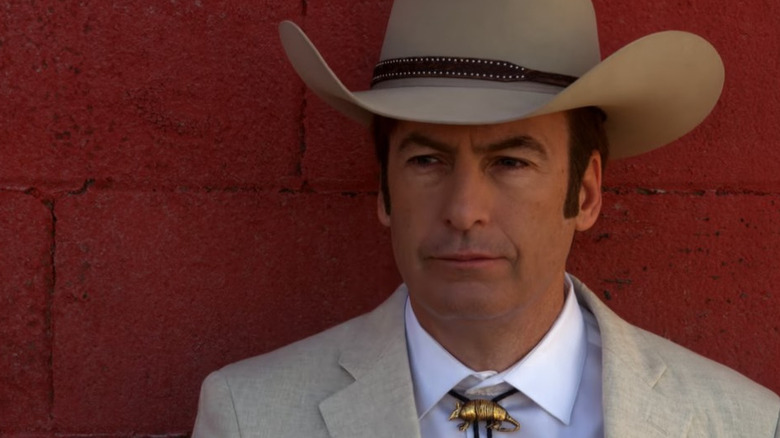 Netflix/AMC
When in Texas, do as the Texans do. Jimmy picks out this Western-style suit for his solicitation trip to Amarillo in Season 2, Episode 3. After getting only a single response to his mailers, Jimmy goes to visit the residents of the Texas branch of Sandpiper Crossing while they're on their way to an early bird special at a local pancake house.
This suit is made from lightweight, off-white linen — perfect for the warm weather of west Texas — and is complemented with a pair of cowboy boots, a big belt buckle, and a crisp new Stetson. Jimmy also swaps his traditional necktie for an armadillo bolo tie for an added dose of cowboy authenticity.
Another excellent example of Jimmy knowing his audience, this suit is a striking switch from the traditional Saul Goodman garb. Without Western accents like the bolo tie and the Stetson, this ensemble might rank lower on the list, but the complete commitment to the genial Southern lawyer character makes this outfit one of the more memorable in the show.
5. The Soy Abogado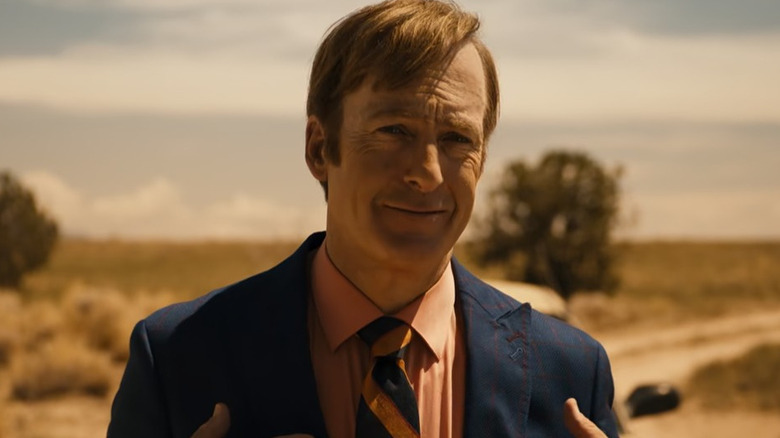 Netflix/AMC
This well-tailored suit appears in Season 5, Episode 8 when Saul wears it on his drive down by the border to pick up $7 million from the Salamanca twins to get his client, Lalo, out of jail. After Saul is ambushed on the way back to civilization, he's forced to wear the suit on his long trek through the desert with Mike, using the jacket as a makeshift neck gaiter to protect him from the scorching sun.
While probably not the best clothing option in a desert survival situation, for purely business applications, this suit is an excellent choice. A single-breasted deep blue suit with a subtle dark red windowpane pattern and peak lapels for a little added flair, this suit is an upgrade from the standard navy business suit. Paired with a peach-colored shirt and orange and navy tie, the whole outfit comes together impeccably.
Being a bagman for the cartel is serious business, and you need an outfit that communicates the seriousness with which you take on the assignment without compromising your signature style choices. You can be confident you're putting your best loafer-clad foot forward for your first step towards becoming un amigo del cartel.
4. The Howard Hamlin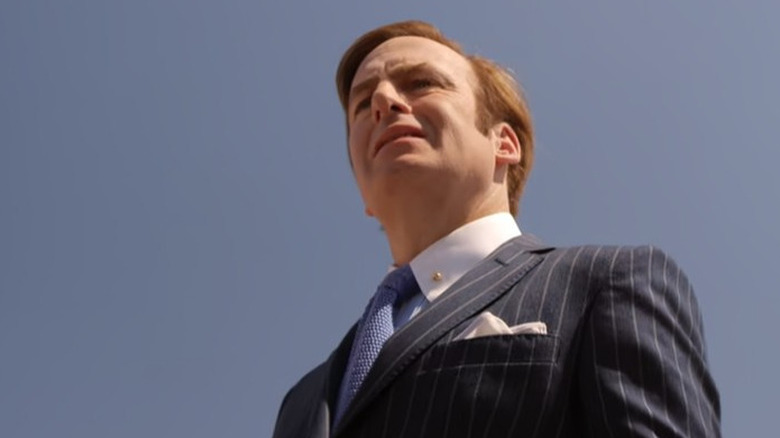 Netflix/AMC
Jimmy has this one-of-a-kind — well, sort of — suit handmade after receiving a hefty bribe from Craig and Betsy Kettleman (Jeremy Shamos and Julie Ann Emery) in Season 1, Episode 4. He uses this carbon copy of Howard Hamlin's classic suit to create a billboard for his fledgling law firm. The suit also plays a key role in Jimmy and Kim Wexler's (Rhea Seehorn) plot against Howard in the show's final season.
In a quality of craftsmanship contest, this bespoke suit would easily take best in show. It's a trim navy-blue pinstripe made from super 170 Tasmanian wool, which is one of the best on the market, according to Woolmark. Jimmy pairs the suit with a similarly extravagant blue Sea Island cotton shirt with real mother-of-pearl buttons, French cuffs, and a club collar, as well as a light blue knit tie and a collar bar.
It's the suit of a high-priced lawyer; one that communicates poise, power, and confidence. If you're going to impersonate a partner at one of Albuquerque's biggest law firms, you need to look the part. Buying something off the rack at the local Macy's simply won't cut it. Jimmy goes all out with this suit, sparing no detail in its faithful recreation. Despite the outfit's quality, it just isn't Saul Goodman, which places it just outside of the Top 3.
3. The Saul Goodman Stunner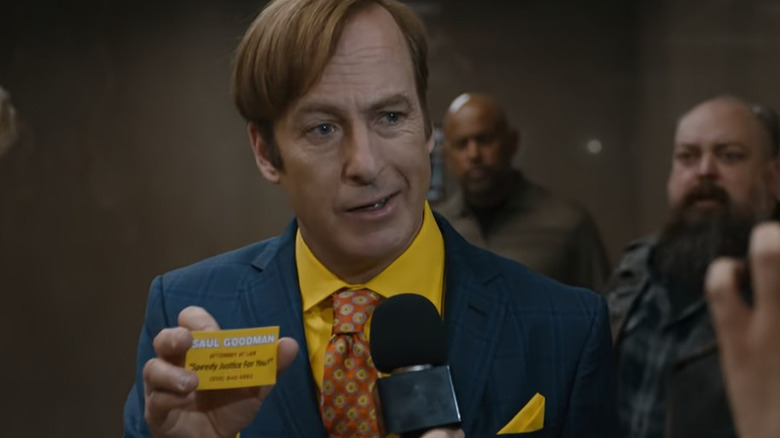 Netflix/AMC
Season 5 is when Jimmy first starts getting the name Saul Goodman out into Albuquerque's criminal ether and starts really leaning into his colorful wardrobe. As part of his new advertising push, Saul Goodman, with the help of his UNM film crew, accosts unwitting district attorney Bill Oakley (Peter Diseth) during one of his vending machines lunches at the courthouse. As he always does when appearing on camera, Saul comes dressed to the nines.
The suit Saul wears for his self-promo is a mid-blue windowpane worn with a loud egg-yolk-yellow shirt and an orange tie with yellow and blue floral designs, as well as a bright yellow pocket silk as an accessory. The bright colors are what really make this outfit pop. The same suit with a more conservative shirt and tie combo wouldn't have the same impact for one of his first Saul Goodman publicity stunts.
Standing in marked contrast to Bill Oakley's muted clothing, Saul Goodman looks downright snazzy for one of his first public appearances as a lawyer. You only get one shot at a first impression, and when you come back from a one-year absence from work and want to let your old colleagues know you're a whole new person, plain boring colors just aren't going to cut it. Picking a shirt that matches your business cards is a next-level move as far as publicity is concerned, and a great way to make sure that all eyes are on you.
2. The Magic Man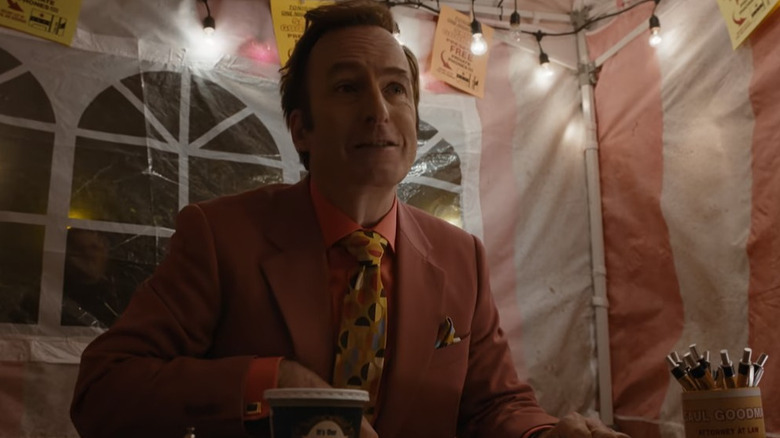 Netflix/AMC
After abandoning elder law and serving his suspension from the legal profession, Jimmy breaks back onto the scene, practicing for the first time as Saul Goodman. To build up his client base, he relies on customers from his days selling burner phones on the streets. In Season 5, Episode 1, Saul wears this suit to invite a range of potential clients into his carnival barker tent to sell them on his pre-paid cell phone business and his legal acumen.
The suit is somewhere between mauve red and salmon pink, which Saul complements with an orange shirt French-cuff shirt, and the same yellow geometric tie and pocket silk he wears with the peach suit in the Season 2 suit montage. Another small detail that really makes this outfit sing is the black and gold cufflinks that perfectly match Jimmy's pinkie ring.
This suit strikes the perfect balance between the professional world of the lawyer and the shadier realm of hawking untraceable cell phones. You probably wouldn't be thrilled about your prospects at trial if your lawyer dressed only in tracksuits, right? But you'd also be wary of a cell phone salesman who dressed like Howard Hamlin. Saul takes the idea behind the tracksuits and dresses them up with a showman's flair for fashion, resulting in one of the best suits in the entire show.
1. The Back in the Saddle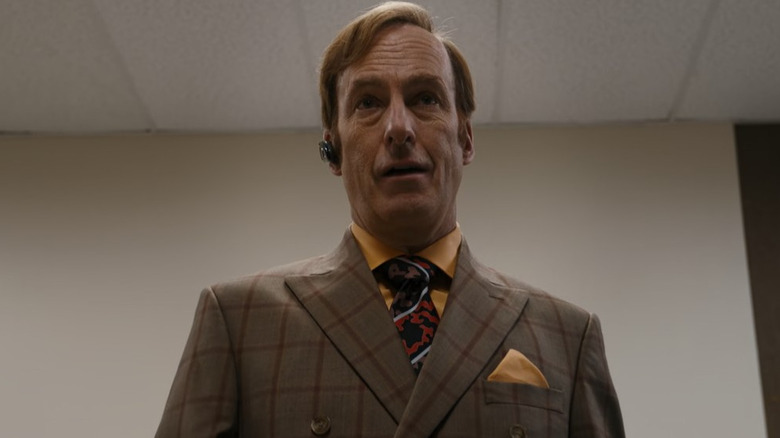 Netflix/AMC
For his day of legal work as Saul Goodman, Jimmy pulls out all the stops in Season 5, Episode 2. While he'll go on to wear many an excellent suit from this day forward, the look he created for his coming out as Albuquerque's premier bus bench lawyer is one for the ages. He set the bar high from day one, and we feel that his first is his best.
Jimmy returns to his double-breasted roots but amps up the style substantially. Rather than the modest dark brown fabric of his James M. McGill days, this suit is a much softer tan color with a burgundy windowpane pattern. The earth tone looks amazing styled with an orange Creamsicle-colored shirt, matching pocket silk, and a black, white, and red camouflage-patterned tie.
Some of Saul's suits tend towards the gaudier side, and this one is no exception. The ensemble is just muted enough to pass for professional without sacrificing that wow factor that makes him stand out from the crowd. When Howard sees Jimmy for the first time as Saul Goodman, even he can't help but give him an appreciative — or maybe just aghast — once over. It's the kind of suit that'll make your old boss offer you a partner-track job at his law firm and turn heads as you wheel and deal your way through the halls of justice. It's our choice for the best suit worn by Saul Goodman in "Better Call Saul."