Wakanda Forever's Dominique Thorne Details The Ironheart Mk. I Suit's Incredible Build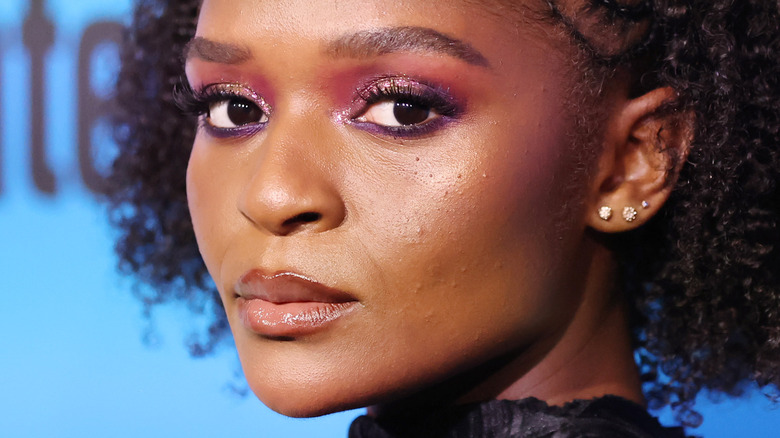 Amy Sussman/Getty Images
Contains spoilers for "Black Panther: Wakanda Forever"
Dominique Thorne made her professional debut as Sheila Hunt in "If Beale Street Could Talk," but her only other acting credit prior to "Black Panther: Wakanda Forever" was 2021's "Judas and the Black Messiah." Yes, Thorne has certainly come a long way since portraying Puck in her high school's production of William Shakespeare's "A Midsummer Night's Dream" (via Harper's BAZAAR). And now Thorne steps into the shoes of one of the Marvel Cinematic Universe's newest characters, Riri Williams, aka Ironheart, in the sequel to "Black Panther."
"We see her as a hustler," Thorne described the MCU's version of Riri in an interview with Variety. "We see her as a little bit of a bully; we see her fearful; we see her in all these different lights. But primarily, she is in a world of confusion. This is her outside of her element, in the very opposite of her comfort zone, so the Riri that we see, it's a bit of fight or flight [mode]."
Thorne has some epic, memorable moments throughout "Wakanda Forever," but one of the standouts occurs when Shuri (Letitia Wright) and Okoye (Danai Gurira) visit Riri in her MIT dorm room. "I'm going to give you two options," Okoye warns Riri. "You can come to Wakanda conscious or unconscious." Okoye is certainly a formidable hurdle for Riri to clear, but did you know Thorne found Ironheart's imposing Mark I suit came with its own set of challenges?

Thorne's Mark I suit was real, not computer-generated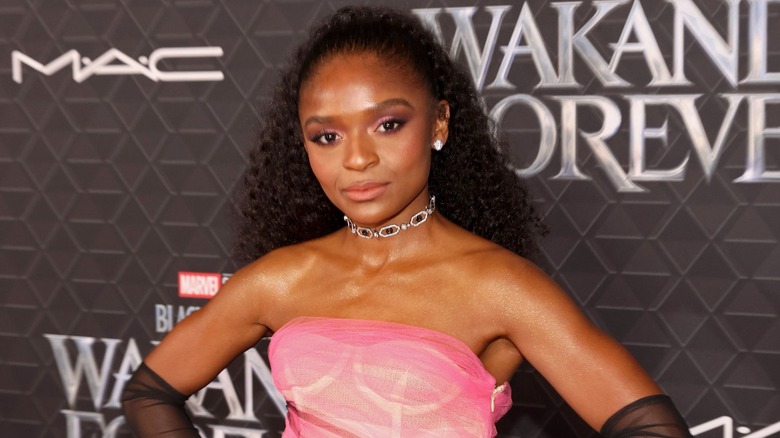 Jesse Grant/Getty Images
In contrast to the Ironheart disguise that Riri dons during her team-up with the new Black Panther, Shuri, to battle Namor near the conclusion of "Black Panther: Wakanda Forever," the Mark I suit from earlier in the film wasn't CGI, it was practical. And wearing the real-life wardrobe informed Dominique Thorne's performance both physically and mentally.
"Ah, man, it was pretty cool," Thorne said during her interview with Variety. "I'm not going to lie. It was pretty otherworldly to feel the weight of it. That was the quickest entry point into Riri Williams because, of course, I know that she's an engineer, she's a mechanic, I know she is a gearhead. She's into building things with their hands — very much from scratch — to form what's in her mind."
In the source material, Riri is also a genius, and she received a scholarship from Tony Stark's alma mater, MIT (via "Invincible Iron Man" #8). So, creating Riri's prototype Ironheart suit, which was based on Stark's Model 41 armor in the comic books, wasn't an issue. Thorne portrayed the know-how aspect of Riri's character without difficulty thanks to her top-drawer acting chops, but what did prove a challenge for the thespian was the weight of Ironheart's Mark I suit.
Thorne's Mark I suit weighed half as much as she did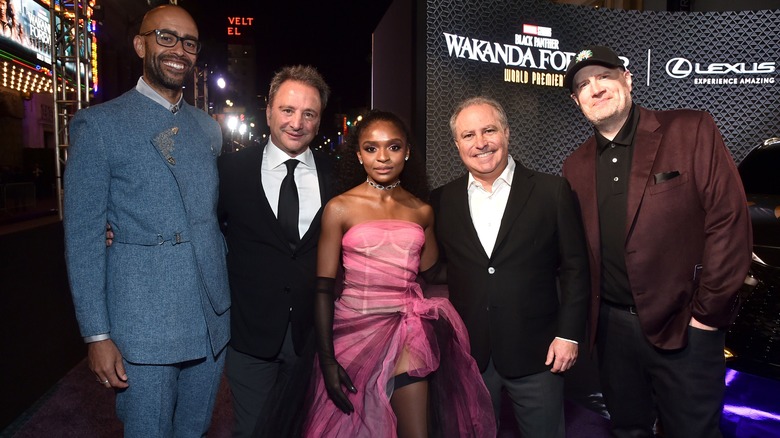 Alberto E. Rodriguez/Getty Images
Riri's Mark I Ironheart suit weighed half as much as Dominique Thorne's actual body weight in "Black Panther: Wakanda Forever." "52.5 pounds, and that's without one piece," Thorne said during her interview with Variety. Comparatively, Tony Stark's (Robert Downey Jr.) Mark I costume weighed approximately 60 to 70 pounds in the original "Iron Man" movie (via JoBlo Superheroes), and with the flamethrower gear attached, the weight of the costume reached 100 pounds.
"To get to feel the weight of that on my body and just understand how it moves — you almost want to say it's clunky," Thorne continued. "But when you have it on, you realize, 'Oh, this is actually such a smart build, like all my joints are free, so I have so much movement. But also, this is heavy as hell. And it flies? Whoa!' The doors open wide into Riri's mind and how she thinks, what she saw was possible and then actualized."
Two weeks into principal photography, Thorne started doing wire work while wearing the Ironheart suit. The physicality of performing in the air made walking around in the costume much easier for Thorne. Mastering the practical suit certainly helps considering Thorne's Riri Williams is in the MCU for the long haul. Thorne and her fellow cast and crewmates from the upcoming Disney+ show, "Ironheart," have completed filming the streaming series, so look for the further adventures of Riri Williams when the program debuts in late 2023 (via People).