The Nick Nolte-Julia Roberts Feud Is Finally Buried (Maybe)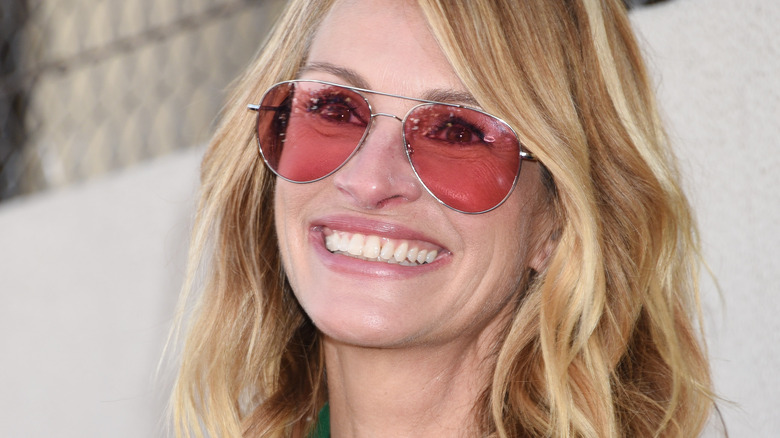 Ga Fullner/Shutterstock
In the film and TV industry, sometimes what you see on the screen does not reflect what actually happened behind the scenes. In other words, the magic of Hollywood can often hide the ugly parts of the production, and it is not until the people involved decide to come clean that the general audience gets wind of the obscure reality. Arguments and even years-long feuds between cast members and crew are not uncommon in the industry. The long-talked-about feud between Dwayne Johnson and Vin Diesel is just one of many.
Another long-standing feud occurred between veteran stars Julia Roberts and Nick Nolte due to their work together in the 1994 romantic comedy "I Love Trouble," which follows two Chicago newspaper reporters competing for the biggest scoop of their careers.
Roberts had not finished shooting the movie when she revealed to The New York Times that she thought her older co-star was "completely disgusting" on set. She also said: "From the moment I met him we sort of gave each other a hard time, and naturally we get on each other's nerves." On the other hand, Nolte would reportedly later retaliate through the Los Angeles Times and say that he did not consider Julia to be a "nice person" and implied that he was not the only one who thought so (via Yahoo). For a long time, the dislike between both actors was a two-way street.
Time has buried this hatchet
It's said that time heals all wounds. In this case, it may not have completely healed 'the wound,' but it has made any traces of pain and resentment go away, at least for Nick Nolte. In a recent interview with Insider, the 81-year-old actor was asked whether he had reached out to Julia Roberts and "buried the hatchet." Nolte replied, "No, I haven't. Though it's buried. I mean it was absurd what we went through. It was partly my fault and a little bit of hers. Julia got married at the beginning of that film and it was one of those things where I just approached it all wrong."
Although it is unclear what exactly Nolte did for Roberts to refer to him as "disgusting," tensions were apparently exacerbated due to the actress getting married close to filming. The marriage in question that Nolte refers to was between Roberts and singer Lyle Lovett who had begun dating in 1993 and married that same year (via People). The pair divorced two years thereafter, in 1995.
Certain media outlets like Insider and The Independent have reached out to Roberts' representatives for comment. However, as of the time of writing of this article, there has been no response.