The Best Netflix Original Movies Of 2022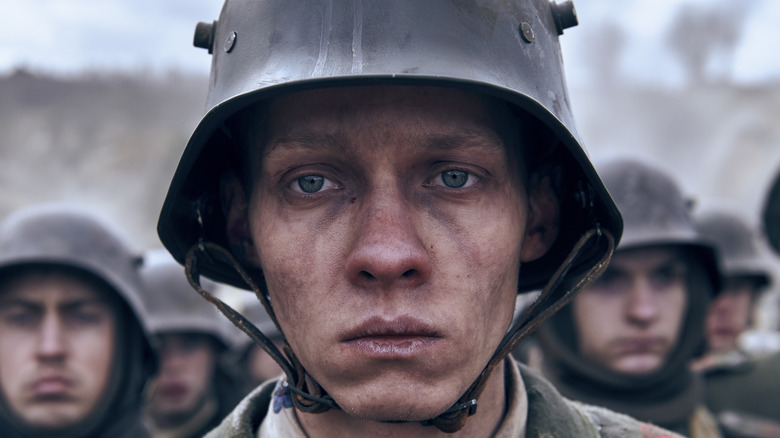 Netflix/Reiner Bajo
In previous years, Netflix has often delivered a number of award-worthy films. Since 2015, movies like "Marriage Story," "Roma," "Dolemite Is My Name," and "Beasts of No Nation" have made waves and quickly established the streaming service as one of Hollywood's greatest production companies. In its attempts to keep up with the production numbers of powerhouse studios, Netflix makes a lot of movies. To no surprise, many of them are subpar, often featuring redundant romance plots or cliche action tropes.
But every year, numerous projects become big players and remind audiences why Netflix's films are no joke. The company might not have a bona fide Best Picture candidate in its slate this year, but there are definitely more than enough great, rewatchable stories lurking in the seemingly never-ending catalog of titles.
2022 has not been a banner year for Netflix, with films like "Marmaduke," "The Bubble," and "The Royal Treatment" meeting a mountain of leering eyes from critics. However, the company was able to produce some of its best animated films to date, along with rewarding entries in the action, romance, and mystery genres. At the end of the day, they're still hanging in there with Amazon Studios and HBO Max. From lunar fantasies to heartfelt romances, here are the 12 best Netflix original movies of the year so far.
Lou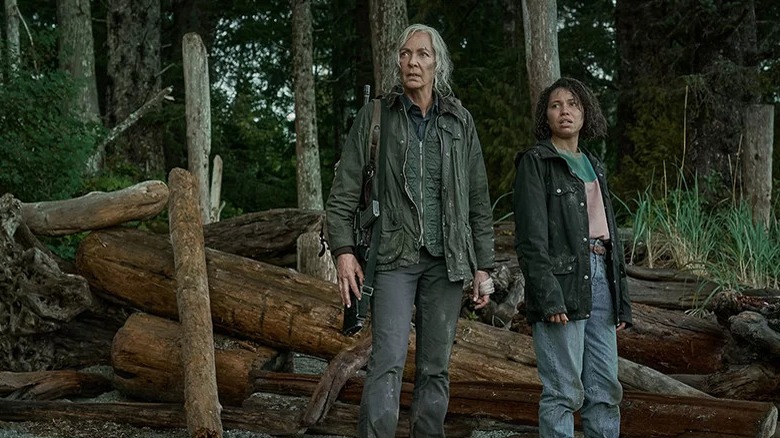 Netflix
If any one type of movie defined Netflix's output in 2022, it would be the action thriller genre. With films like "The Gray Man," "Blackout," and "Spiderhead," the streaming service titan has staked its claim in big-budget Hollywood. The best entry, however, is "Lou," a story about two women who try to save a kidnapped child.
As the titular Lou, Allison Janney delivers a standout performance, while Jurnee Smollett as Hannah provides a stellar supporting turn. Lou and Hannah are searching for Hannah's daughter Vee (Ridley Asha Bateman), who was kidnapped by Philip (Logan Marshall-Green), Vee's father. Janney plays the role of Lou like Liam Neeson does Bryan Mills in "Taken," which is such a bankable concept it's surprising that it took this long to happen.
But as fun as it is to watch Janney beat men up with random objects, Anna Foerster's script could've used much more of it. Sure, there's a lot of action, but not nearly enough. With better writing, "Lou" could've been one of Netflix's absolute best projects of the year. Luckily, Janney's performance still makes it undeniably enjoyable.
Silverton Siege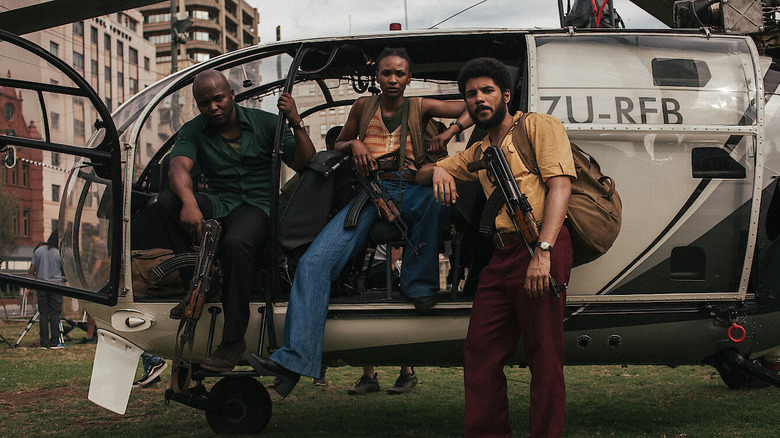 Netflix
Mandla Dube's depiction of the real-life 1980 siege in Silverton, Pretoria is a riveting, tense 100 minutes. When a trio of freedom fighters, Calvin (Thabo Rametsi), Mbali (Noxolo Dlamini), and Aldo (Stefan Erasmus), carry out their plan to sabotage a petrol depot, they quickly realize they've been set up.
The trio believes that one of them is a rat, and Dube's storytelling perfectly captures the hostility that ensues immediately afterward. The chances that they survive the bank siege are slim and, if they do, they'll spend their lives rotting away in prison. They realize they can't fight for their own freedom much longer and opt to negotiate for Nelson Mandela's release from prison in exchange for their surrender.
Parts of the bank siege hark back to "Dog Day Afternoon," with a type of tension that builds atop the looming uncertainty of capture and possible death. Rametski, Dlamini, and Erasmus deliver terrific performances full of worry, anger, and determination.
The Good Nurse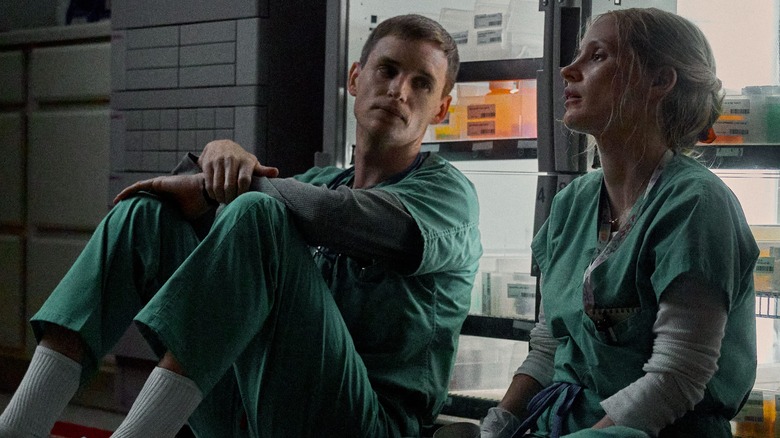 Netflix
Despite having a script with a lot of lifeless, messy dialogue, Tobias Lindholm's "The Good Nurse" features one of the best cast performances of any of Netflix's films this year. Jessica Chastain and Eddie Redmayne are in the driver's seat, and they do their best to resurrect the often unmoving drama based on Charles Graeber's book of the same name. It's supposed to be a medical procedural thriller, but often comes across like an arthouse film.
The story revolves around the friendship between Amy (Chastain) and Charles (Redmayne), and that is what carries this movie across the finish line. Amy is a single mother with heart disease who works as a nurse at Parkfield Memorial Hospital, while Charles is one of the unit's most experienced nurses. They bond together during night shifts, but there's a catch: Unbeknownst to Amy, Charles is a prolific serial killer, and she must grapple with how to move forward once she begins to suspect his guilt.
There is some good commentary on healthcare disparity, as we see Amy forced to work through her condition in order to obtain the insurance she needs to cover a heart operation, but the movie's best parts revolve around the simplicity of human connection, and how that closeness can often be compromised by terror. It's not as thrilling as other serial killer films, but watching Chastain and Redmayne bounce off each other is an unrelenting treat.
Wendell & Wild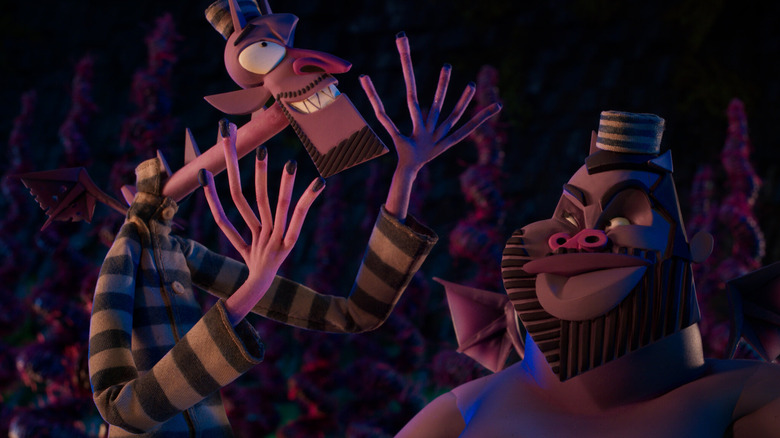 Any Keegan-Michael Key and Jordan Peele reunion is a good one. In their first performance together since "Toy Story 4" in 2019, comedy duo Key and Peele star as the titular demon brothers Wendell and Wild in this ambitious stop-motion horror flick. The siblings dream of making a theme park for lost souls, but must first defeat the Klaxons, a private prison-owning family who burned down a factory and killed all of the workers inside.
There are zombie plots, resurrections, and hell maidens afoot, and all of this doesn't even scratch the surface of the intensity of the narrative's ambitions. Henry Selick and Peele's script sometimes lacks focus, but the characters, including a marvelous performance by Lyric Ross as the traumatized teenage punk Kat Elliot, and the animation make every twist satisfying.
While offering commentary on capitalism, the American prison complex, and prison living conditions, "Wendell & Wild" also is an inclusive film that puts marginalized faces in the spotlight. Based on Selick and Clay McLeod Chapman's unpublished book of the same name, "Wendell & Wild" is a gorgeous picture destined to become an animated classic.
Do Revenge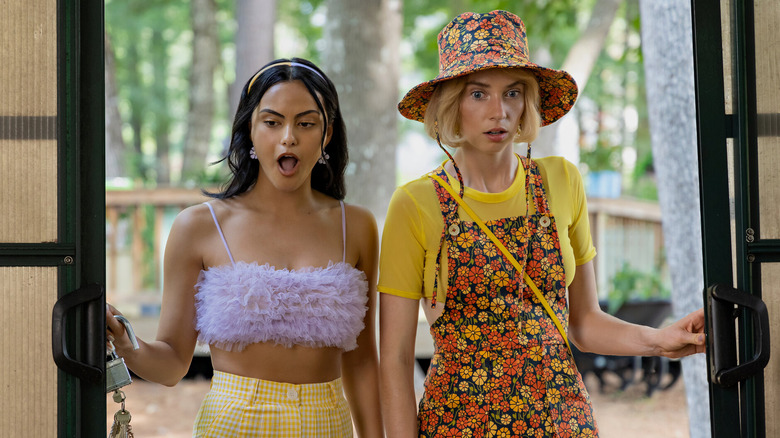 Jennifer Kaytin Robinson's sophomore directorial feature, "Do Revenge," is not just one of the best comedies of 2022, but it's one of the most fun mysteries of the last few years. Drawing influence from Alfred Hitchcock's "Strangers on a Train," "Do Revenge" has a great cast, including Camila Mendes, Maya Hawke, Austin Abrams, and Sarah Michelle Gellar, along with a technicolor set design that defines the film's retro, high school utopia.
Co-leads Mendes and Hawke are the stars of the show, showboating a chemistry that carries the film through even its messiest moments, which tend to arrive when the revenge plot gets too expansive to make complete logical sense. "Euphoria" alum Abrams plays the perfect antagonist, too, in his role as Max, the popular king of Rosehill Country Day High School.
There are parts of the film that feel contrived, like some of the beats centered around toxic masculinity, but that is often the point. The characters of "Do Revenge" live in a wealthy, utopic version of Miami. Their bubbles are far away from the rest of the world, so the tone in which the important, cultural talking points are portrayed on-screen mimics the naivety and stiffness that plights the characters' existence.
"Do Revenge" is a triumphant black comedy with a great twist that will continue to find audiences interested in off-beat, dynamic plots that make every character untrustworthy and leave each viewer on edge.
Munich: The Edge of War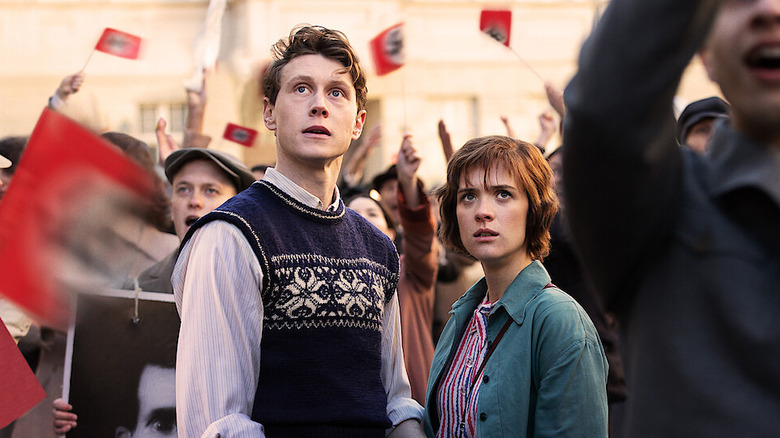 Netflix
In 2022, Netflix struck gold with war films. In January, the streaming service unveiled "Munich: The Edge of War," Christian Schwochow's adaptation of Robert Harris' 2017 historical novel of the same name. The film depicts the events leading up to the beginning of World War II, as Adolf Hitler is about to invade Czechoslovakia and British Prime Minister Neville Chamberlain is trying to do everything in his limited power to prevent Europe from plunging into another devastating war.
In a key performance as Chamberlain, Jeremy Irons shines above the rest of the cast. The acting across the board is superb, though, especially from George MacKay, who captivatingly portrays protagonist Hugh Legat. "Munich: The Edge of War" conjures as much conflict and suspense as its genre contemporaries, but with a lot less graphic, on-screen violence.
Much of "Munich: The Edge of War" is centered around the creation of the Munich Agreement, which allowed Nazi Germany to take over the region, in exchange for a halt in other hostilities. We know what the ending of "Munich: The Edge of War" will be before we even press play, but when Chamberlain gives his infamous "Peace for our time" speech in Great Britain before eventually resigning as Prime Minister and dying soon after, for a moment, we are allowed to imagine an alternate history without war or genocide.
Wedding Season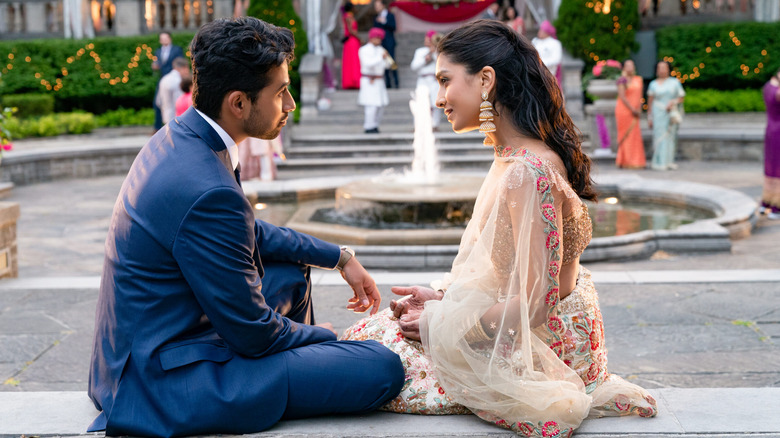 Netflix
Many of Netflix's romantic comedies have been critical flops, but sometimes, films like "Set It Up" and "Always Be My Maybe" break through and bring fresh eyes to the genre. Tom Dey's "Wedding Season" belongs in that company. Centered on protagonists Ravi (Suraj Sharma) and Asha (Pallavi Sharda), the film depicts the two characters embarking on a fake relationship to appease their parents.
Sharma and Sharda are the heart and soul of "Wedding Season," turning in career-defining performances and making audiences fall in love with their story, even if it's an easy narrative to telegraph if you've ever seen a rom-com before.
"Wedding Season" isn't devoid of common tropes, like the evolution from reluctance to infatuation between the main characters, but Dey employs them creatively. The film doesn't reinvent the wheel; instead, it's full of earnest actors playing good characters who just so happen to fall in love with each other. It's the kind of joy that shouldn't be taken for granted.
Apollo 10 ½: A Space Age Childhood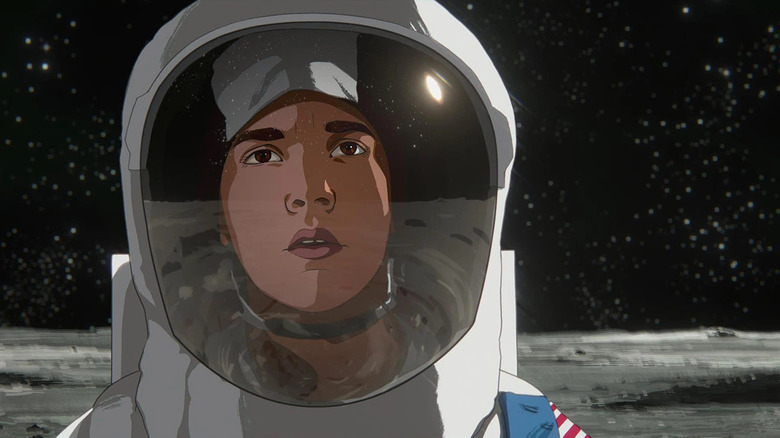 Netflix
Nearly two decades after directing his last animated film, "A Scanner Darkly," prolific director Richard Linklater returns with a beautiful coming-of-age movie set right before the Apollo 11 moon landing. The story follows Stanley (Milo Coy), a wishful Houston kid with dreams of going on a covert moon mission, and a near-exact recreation of the astronauts living through mankind's greatest feat in 1969. Jack Black narrates the story as the adult version of Stanley, and his buoyant voicework properly matches the bubblegum odyssey of childhood wonder depicted on screen.
Linklater filmed much of the film in live-action, in front of a green screen, before using a rotoscoping method to animate the scenes. And, as is customary in a Linklater production, the soundtrack is perfect, featuring songs of the time period from musicians like Donovan, Creedence Clearwater Revival, Canned Heat, and The 5th Dimension.
"Apollo 10 ½" isn't a nostalgia trip as much as it's a lesson in sentimentality. The past isn't being commodified and sold to us. Instead, Linklater wants us to remember a time when our wildest ambitions never felt too out of reach, and he uses the moon landing to tell his own version. That's what makes this film one of the year's best.
Gen-Xers, Millennials, and Zoomers alike might not have lived through the Space Race, but the central feeling of being young, invincible, and free is one of universal commonality. No 2022 film, animated or live-action, has this much goofy, electric heart.
All Quiet on the Western Front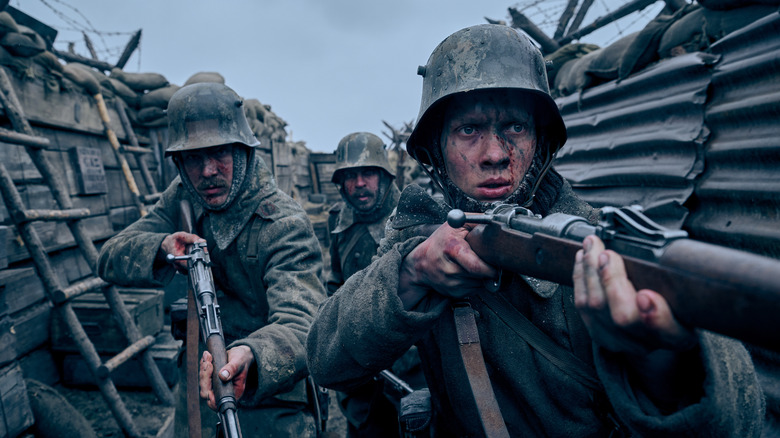 Netflix
Based on Erich Maria Remarque's 1929 novel of the same name, Edward Berger's "All Quiet on the Western Front" is a loose remake of Lewis Milestone's 1930 Academy Award-winning adaptation. Its 147-minute runtime takes as long as it wants to revel in the mundanity of non-combat moments in a gruesome war. Whether it's through depictions of soldiers skinning potatoes or eating in the trenches before an attack, "All Quiet on the Western Front" aims to be as accurate as possible.
The film is an unromanticized look into the brutality and sadness of war. There are not many happy times in the film, aside from occasional scenes of egg theft and reading letters from loved ones. The onslaught begins immediately, when we see a German soldier die on the battlefield and watch the military repurpose and clean his uniform before re-distributing it to our protagonist, Paul Baumer (Felix Kammerer), a once-hopeful schoolboy tricked into enlisting in the German army in the name of fighting for the pride of his homeland. He has no choice in carrying out the murderous commands of higher-ranking officers, and it's clear that he quickly realizes the nationalism he was sold back home was a ruse.
Watching this film in German with subtitles adds a certain element of sorrow with which the English dub can't compete. When the dust settles after the armistice, the battlefields are quiet, but our hearts still ache with the pain of meaningless, futile loss.
Hustle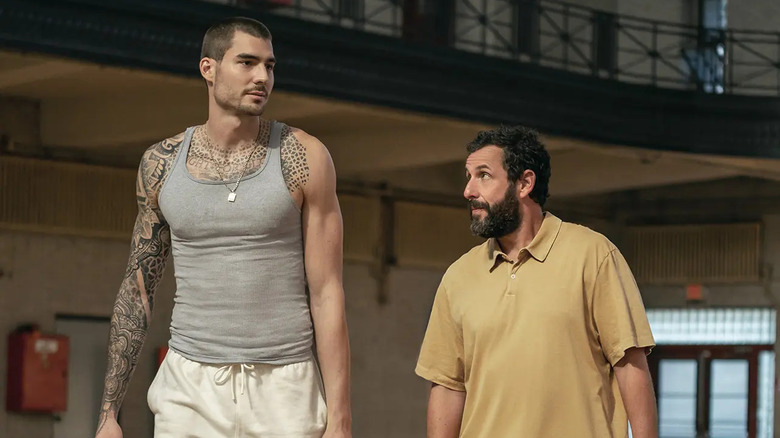 Netflix
Nearly 30 years after playing his first leading role in "Billy Madison," Adam Sandler stars in his best-reviewed movie to date. "Hustle" pays homage to the unsung heroes of the NBA: Talent scouts. Sandler plays Stanley Sugerman, a top scout for the Philadelphia 76ers.
"Hustle" follows the prospects of Bo Cruz (Juancho Hernangomez), a Spanish streetball star hoping his rocky life can level out if he can make it in the NBA. Hernangomez is an NBA player already, but his surprising acting chops bring a flavor of authenticity to an already well-constructed film. Sandler doesn't try to do anything flashy, because he doesn't need to. There are no floundering jokes or raunchy humor. "Hustle" is the kind of film that makes us remember why Sandler is one of our most endearing leading men.
The heart of "Hustle" is the bond between Bo and Stanley, who connect over their shared love for basketball and their common role as fathers to young kids. Queen Latifah puts in a great turn as Stanley's wife Teresa, as does Robert Duvall as Rex Merrick, the 76ers' owner. "Hustle" is, undoubtedly, one of Sandler's best movies, a refreshing follow-up to his underwhelming performance in "Hubie Halloween" two years ago.
The Sea Beast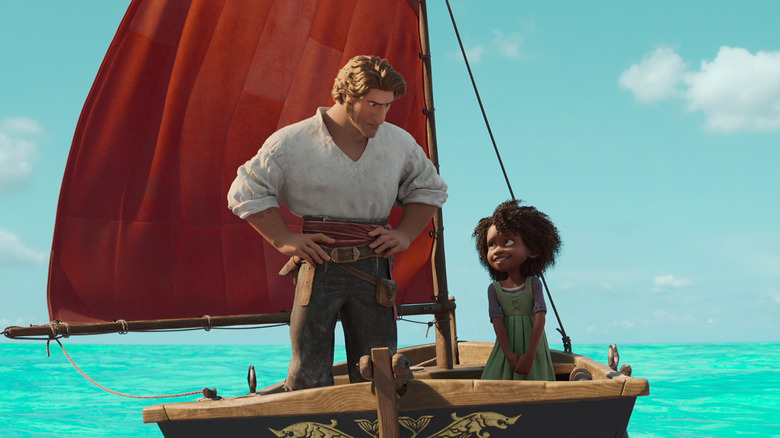 Netflix
Recently, Netflix has had a great run of animated movies. Titles like "The Mitchells vs. the Machines," "The Willoughbys," and "Klaus" have found immense critical delight and multiple Academy Award nominations. 2022 might be the streaming service's best year yet, led by Chris Williams' "The Sea Beast."
In recent years, Williams has struck gold in the director's chair with "Big Hero 6" and "Moana," the latter of which he co-helmed with Ron Clements, but "The Sea Beast" might be his grandest title yet. The film's concept isn't too complicated: An orphan, Maise (Zaris-Angel Hator), meets a sea monster hunter, Jacob (Karl Urban), his father Captain Crow (Jared Harris), and his mom Sarah (Marianne Jean-Baptiste), as they are on the hunt for the legendary Red Bluster monster. Maise and Jacob forge an unforgettable friendship over the course of their journey.
On top of a clever, heart-wrenching script co-written by Williams and Nell Benjamin, the movie's animation is beautifully constructed. Wholly original and moving, "The Sea Beast" is one of Netflix's best entries in 2022, and one of the best animated movies this year. New York Magazine critic Bilge Ebiri puts it best, writing that the film is "so thoroughly immersive it might make you believe in sea monsters."
The Stranger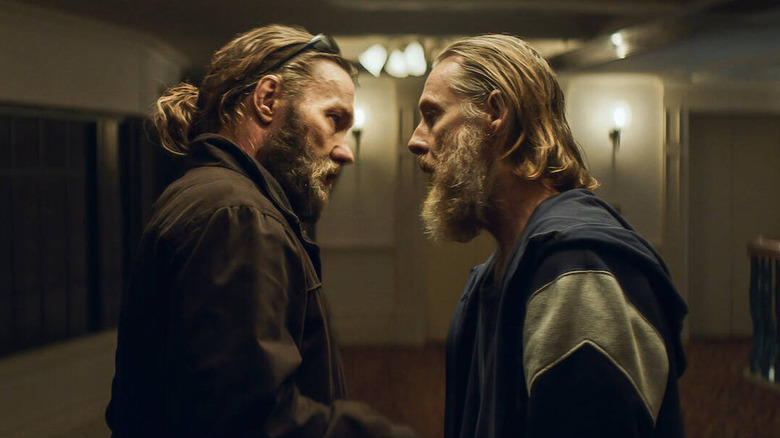 Netflix
Australian director Thomas M. Wright's "The Stranger" is a refreshing entry into the psychological crime genre. Fresh off of "Acute Misfortune," which The Guardian named the best Australian film of 2019, Wright crafts a haunting thriller about a child abduction case. Based on Kate Kyriacou's non-fiction book "The Sting: The Undercover Operation That Caught Daniel Morcombe's Killer," "The Stranger" is two hours of tracking down a suspect, but the tension is reflected inwards, as we watch those affected by the case get turned inside out trying to solve it.
Wright offers a vulnerable look into the daunting day-to-day experiences of sting cops, rather than romanticizing them. Joel Edgerton steps into the spotlight as Mark Frame, an undercover police officer on the hunt for the man who abducted and killed 13-year-old Daniel Morcombe. Frame and Henry Teague's (Sean Harris) friendship is the film's psychological backbone, as Frame wrestles with the realities of becoming close with a murder suspect. Wright and company do fictionalize the details of the sting operation, but the heart of the story is offering perspective to the men involved in murder cases that aren't front-page headlines.
Though "The Stranger" caught backlash from Morcombe's parents, who called it a "morally corrupt and cruel" film and demanded that their son's name be removed from promotional materials (via news.com.au), it did receive almost unanimous praise from critics.