The Ending Of Hustle Explained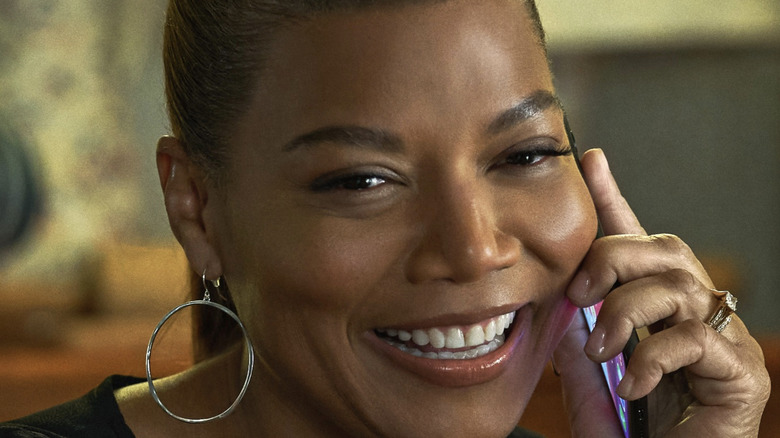 Scott Yamano/Netflix
It's been an unthinkable three years since Adam Sandler led stress tests worldwide to malfunction following his critically acclaimed performance as Howard Ratner in "Uncut Gems" (even if he didn't get the Oscar nomination he deserved). Now the comedy icon is back playing things straight once again, this time on the basketball court in the new hugely impressive underdog drama, "Hustle." While not getting as much attention as his last dramatic endeavor with the streaming service, the film has earned a 93% Rotten Tomatoes score, with Sandler earning major points for his performance here, too.
If you've made it this far though, chances are you've not gone the route of Bo Cruz (Utah Jazz forward Juancho Hernangomez) and taken more than a bite out of Jeremiah Zagar's familiar but equally impressive sports drama. Making an effort to dribble around the traditional sports movie finale right before the buzzer, there's much to review at the end of this Hollywood hoop dream. So how do things play out for Bo and his mentor, who take their last shot at each other? Here's the ending of the "Hustle" explained.
Bo and Stan succeed thanks to their love of the game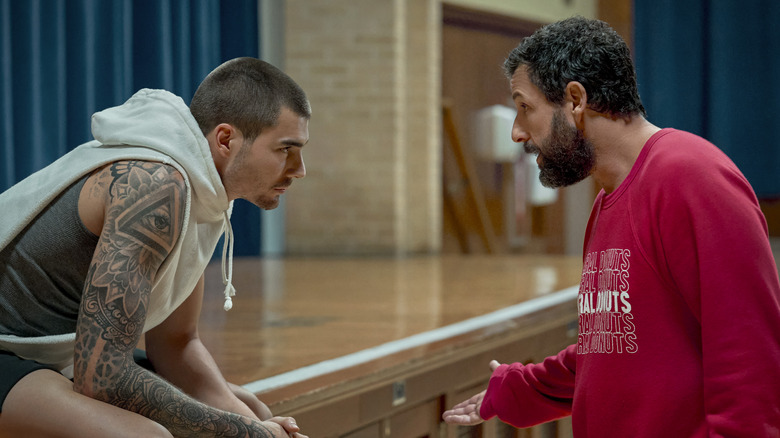 Scott Yamano/Netflix
While some underdog stories are all about going against the odds, "Hustle" makes a conscious effort both in its display and story direction to ensure that the passion for the sport is the most important thing. As Stan initially says to his star talent during his first pep talk, "I love this game. I live this game and there's 1,000 other guys waiting in the wings obsessed with this game. Obsession is gonna beat talent every time. You've got all the talent in the world, but are you obsessed?"
Cliched as it may be, it's an element that leads to every successful step the two make in "Hustle." It's how Stan found Bo in the first place — out on a worn-down court and knowing he was the best person on it. It's how they retaliate against 76ers co-owner Vince Marrick (Ben Foster) and his dirty tactics to besmirch Bo's name before it's even blown up. And it's how Bo finally fights back against the trash talk from rising star Kermit Wilts (Minnesota Timberwolves shooting guard Anthony "Ant-Man" Edwards) in what might be one of the most stress-free rematches in sports movie history.
A missed flight leads to Bo finally taking off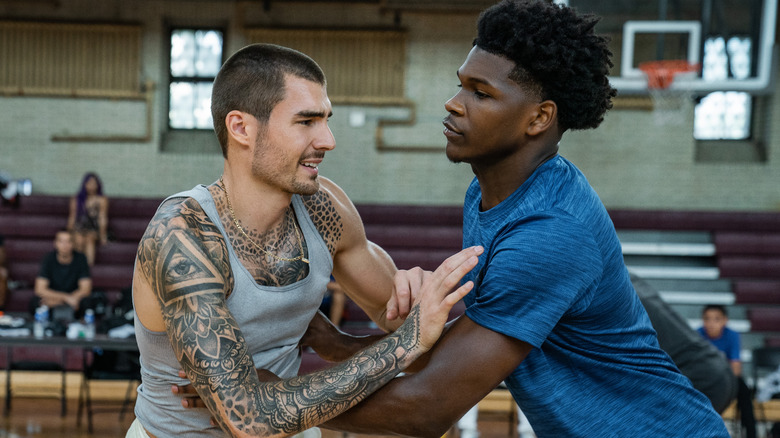 Scott Yamano/Netflix
It might be another Philadelphia-set story, but besides a stone steps nod to "Rocky," "Hustle" sees its hoop star differing by not having one, but two rematches in one film. After Marrick's potential star gets inside Cruz's head during his NBA intro, Kermit Wilts does so again, taking trash talk to another level by involving his family. It's an encounter that tips Bo over the edge, seemingly blowing his chances and sending him back to Spain. That is until Stan gets a call from Leon Rich (former NBA star and sports commentator Kenny Smith), who is hosting a private game for players and managers to attend. It's a turning point in the film, that doesn't increase the stakes riding on it, but highlights the beauty of the sport and the love from those involved in it.
When Bo and Stan step inside the court, Zak Mulligan's cinematography and Dan Deacon's score eliminate the pressure that any other sports movie would amplify for the finale. There's no countdown on the clock, no gut-wrenching pep talk with the sports star caked in tears and sweat. Just Stan advisory line of "they can't kill you if you're already dead," and at this moment, Bo comes alive — the passion that drew Stan to him in the first place shining bright. As the Cruz Missile turns heads, Sugarman is discreetly doing the same from the bleachers, ending this underdog tale differently from what has come before. 
Cruz and Sugarman end with some friendly competition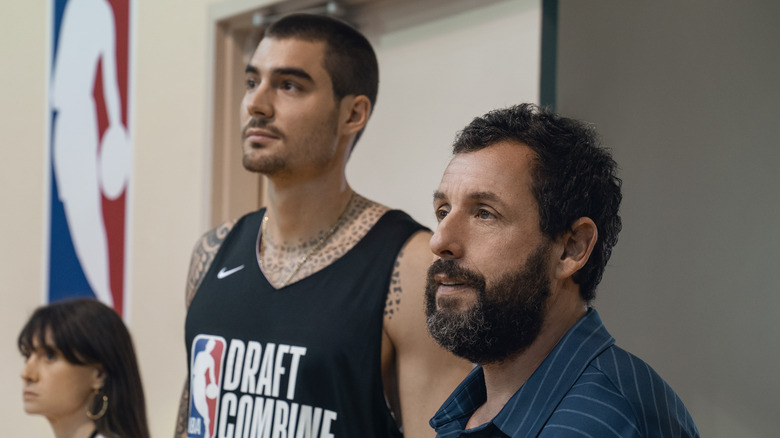 Scott Yamano/Netflix
After Cruz finally wins his face-off with Wilts, Stan is left confident that his discovery is on the right path to success before the screen cuts to white, and we shoot to five months later. 
From that point, we find Stan back at Wells Fargo Center, home of the 76ers, and his new workplace as acting coach. Heading out into the arena, he sees his wife Teresa (Queen Latifah) in the stand, as well as his former pupil Bo on the other side of the court. After his successful display, it appears that Bo was signed for the Boston Celtics (the team that Hernangomez played for at the time of filming). It's not the traditional way to close things out, but one that sees friends right where they want to be.
It's also an ending that lines perfectly with Zaglar's process for putting "Hustle" together. Speaking to IndieWire, the director, who has more documentary credits than feature films, acknowledged that this would be a familiar story that aligns with his previous work. "This was not subversive. It's a sports story that's been told a lot," he admitted, while still sticking to his own playbook. "My ethos is to tell stories that feel real but like a dream at the same time." 
Keeping that in mind, it makes sense that he connected so well to this movie and its finale. It is a story that ends authentically, with two talents who love and live for the game succeeding. You really can't knock the hustle.