Black Panther: Wakanda Forever Calls Back To T'Challa's Big Moment In Civil War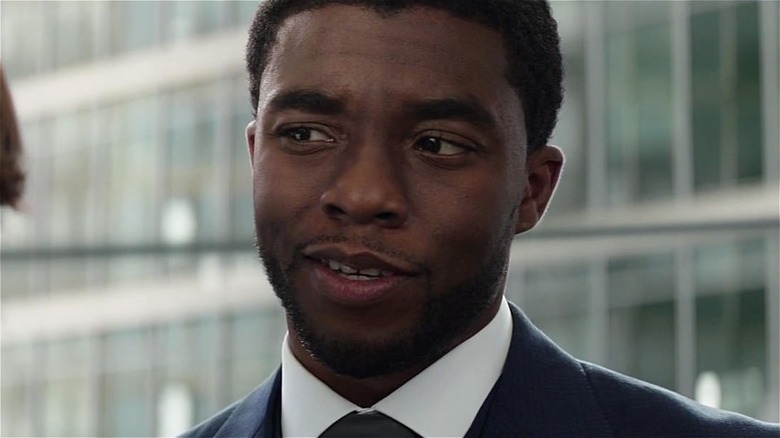 Marvel Studios/Disney
"Black Panther: Wakanda Forever" is here. The tragic death of the late Chadwick Boseman in August 2020 shocked the world and the cast of 2018's "Black Panther." It was revealed that Boseman had been having a quiet battle with colon cancer, undergoing surgeries and chemotherapy while shooting "Ma Rainey's Black Bottom" and "Da 5 Bloods" (via Vulture). Boseman lit the world on fire as T'Challa with the rest of the cast of "Black Panther" when it was introduced to audiences. It still stands as the highest-rated movie in the Marvel Cinematic Universe (via Rotten Tomatoes) — even with the massive scope of "Avengers: Infinity War" and "Avengers: Endgame." However, as fans know, "Black Panther" isn't the first time we were introduced to Boseman's T'Challa. We witnessed his and Wakanda's official introduction to the MCU during "Captain America: Civil War."
"Captain America: Civil War" is arguably the most pivotal moment in the MCU. It brought up deep questions about the morality of what the Avengers do. T'Challa and Wakanda play a massive role in this, as some of the tragic civilian deaths that came about during Steve Rogers' (Chris Evans) mission at the beginning of the film in Nigeria included some Wakandans. Baron Zemo (Daniel Brühl) notably kills King T'Chaka (John Kani), framing Bucky Barnes (Sebastian Stan) and pitting the heroes against one another. This sets T'Challa on a manhunt for Bucky to avenge his father at all costs.
In "Black Panther: Wakanda Forever," director Ryan Coogler cleverly calls back to this specific journey of T'Challa's.
Black Panther: Wakanda Forever sets Shuri on a similar path of vengeance that T'Challa once had
The events of "Black Panther: Wakanda Forever" yield a somber and dark path for the royal family of Wakanda after T'Challa's death from what the movie deemed an 'unknown illness.' In the beginning, we see Shuri (Letitia Wright) desperately trying to cure her brother by creating a synthetic heart-shaped herb. She is unable to do so. Both she and her mother, Queen Ramonda (Angela Bassett), grieve for over a year afterward, and Shuri details her anger with a desire to more or less 'burn the world.' We also witness T'Challa's decisions to open Wakanda to the world after his conflict with Erik Killmonger (Michael B. Jordan) result in a battle between Wakanda and Namor (Tenoch Huerta) and his people of Talokan. Shuri and Ramonda both make decisions that lead Namor to kill Ramonda. At this point, Shuri has suffered unimaginable grief.
This sets her on a furious path. She is able to recreate the heart-shaped herb and give it to herself, but what she finds in the ancestral plane is not her family but Killmonger (which is arguably the film's second-biggest surprise). He encourages her down a path that he once led, one of grief, anger, and, most of all — vengeance. Shuri even dons a Black Panther suit more reminiscent of Killmonger's. Vengeance seems to be a common theme for the Black Panther, as this directly echoes T'Challa's path in "Captain America: Civil War," when he seeks Bucky and then Zemo.
Shuri ultimately makes the same decision about vengeance that her brother once did
At the end of "Captain America: Civil War," as T'Challa discovers from his surveillance that Baron Zemo is the real culprit of his father's death, he awaits the villain's escape as Tony Stark (Robert Downey Jr.), Bucky, and Steve duke it out. The first thing T'Challa states as he slowly approaches Zemo is that he "almost killed the wrong man." Zemo then explains to T'Challa why he did what he did and that his family perished in the collapse of Sokovia during "Avengers: Age of Ultron." He even apologizes for the death of T'Chaka, complimenting T'Challa in the process. T'Challa simply states, "Vengeance has consumed you, it's consuming them — I am done letting it consume me." T'Challa then retracts his claws, preventing Zemo from shooting himself, and takes the man who murdered his father to prison out of justice instead.
Shuri ventures down an exactly parallel path in "Black Panther: Wakanda Forever," fighting Namor one-on-one and ultimately standing over him with the chance to exact her vengeance. However, after seeing Ramonda in a vision of the ancestral plane briefly, she makes the same decision as her brother, getting Namor to yield instead of acting out of vengeance. This saves Wakanda, Talokan, and the relationship between the two nations. It's incredibly symbolic and definitely not the only callback to T'Challa's journey in the film. Clearly, Boseman and T'Challa's influence lives on.