Sabrina The Teenage Witch Series Casts Two New Characters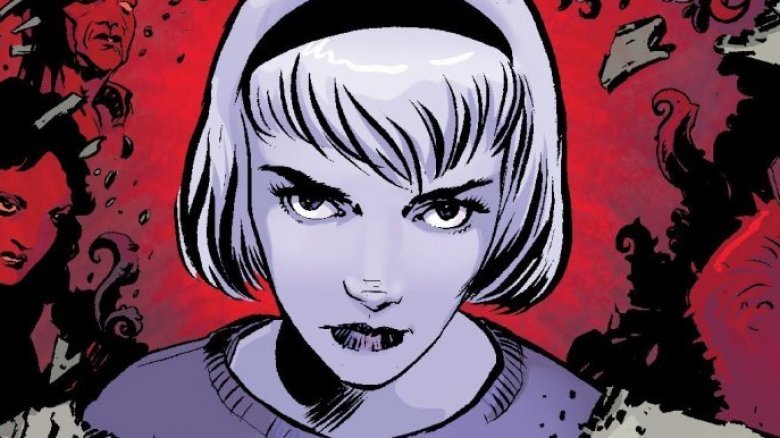 Two new residents have just arrived to Greendale. 
As reported by Deadline, Doctor Who actress Michelle Gomez and newcomer Chance Perdomo have joined Netflix's untitled Sabrina the Teenage Witch series, which stars Kiernan Shipka as the lead, Sabrina Spellman. Both Gomez and Perdomo landed series regular roles. 
Gomez, whom many will know as Missy/The Master from Doctor Who, is attached to portray Mary Wardell, a teacher (Sabrina's favorite instructor, as it turns out) and mentor at Baxter High School. Ms. Wardell transforms from a sweet and smart source of intelligence into a "sultry, cunning manipulator" after she's possessed by the Devil's handmaiden, Madam Satan, one night. Her old life behind her and her new persona taking hold, Ms. Wardell makes it her mission to "lure Sabrina down the Path of Night."
Perdomo will play someone just as devilish. He's set to star as Ambrose Spellman, a warlock from England who happens to be Sabrina's cousin (if you couldn't guess by the last name alone). Ambrose lives with Sabrina in the funeral parlor she calls home, but he's forbidden to leave, as the Witches Council have placed him under house-arrest. One of Sabrina's confidants and biggest partners in crime, Ambrose is described as "witty, puckish, and pan-sexual," and "always up for mischief." 
Alongside Shipka as Sabrina, Gomez and Perdomo will star opposite Easy actress Jaz Sinclair, who plays Sabrina's best friend Rosalind Walker. Perdomo, a U.K. native, makes his first appearance in an American project with the untitled Sabrina series. Sabrina's wise-cracking cat Salem is also a big part of the upcoming show.
Based on the graphic novel The Chilling Adventures of Sabrina, written by Archie Comics exec and Riverdale series creator Roberto Aguirre-Sacasa with art by Robert Hack, the series tells Sabrina's dark coming-of-age story, punctuating it with horror, witchcraft, and the occult in the tonal vein of Rosemary's Baby and The Exorcist. While Sabrina tries to come to terms with her confusing identity as a half-witch/half-mortal and ventures into the beginning of her sorceress training, she also realizes that she has a huge responsibility to uphold: protect her family and the rest of the world from imminent danger that lurks in the shadows of the night. As if that wasn't hard enough, Sabrina must also maintain her air of averageness at Baxter High. 
The Age of Adaline's Lee Toland Krieger is set to direct the pilot episode of the Sabrina series. Aguirre-Sacasa penned the script for that first episode, and the show as a whole has him, Krieger, Greg Berlanti, Sarah Schechter, and Archie Comics CEO Jon Goldwater on board as executive producers. The series does not yet have a debut date.