Ironheart Drops The Best Disney Meta Joke In Black Panther: Wakanda Forever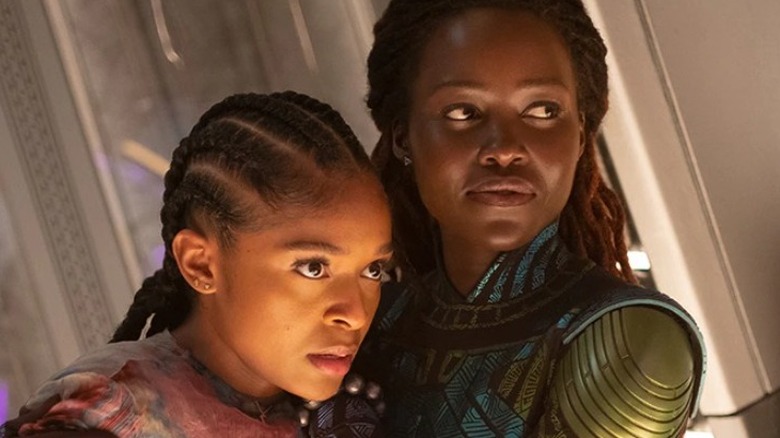 Disney/Marvel Studios
Part of Disney's continued success can be attributed to its biggest acquisitions. Sarah Whitten, writing for CNBC, argues that Disney CEO Bob Iger is one of the key figures in the company's history because he had the wisdom to snatch up four important companies: Pixar in 2006, Marvel in 2009, Lucasfilm in 2012, and 20th Century Fox in 2019. That seems to have paid off in the long run, though, as, in another CNBC article in 2018, it was reported that Disney made back its $4 billion investment in the company within just six years. CNBC also reported in 2019 that, in the 10 years since Disney had bought Marvel — also for $4 billion — it had made $18 billion from the company.
According to the New York Times, Iger saw the acquisition of Marvel as worth the money, as he had no issues with shelling out the $4 billion price tag. "Marvel's brand and its treasure trove of content will now benefit from our extraordinary reach," Iger told the Times. "We paid a price that reflects the value they've created and the value we can create as one company. It's a full price, but a fair price." Full price, indeed, but it clearly has been more than worth what they paid for it.
One of the advantages of putting all these big-name brands under one corporate umbrella is the potential they create for the properties to all reference each other. And, in the case of "Black Panther: Wakanda Forever," which is the 30th film of the Marvel Cinematic Universe, but the 28th since Marvel was bought by Disney, it was the set-up for a great Disney meta-joke.
The following contains spoilers for "Black Panther: Wakanda Forever."
Don't put on the royal garb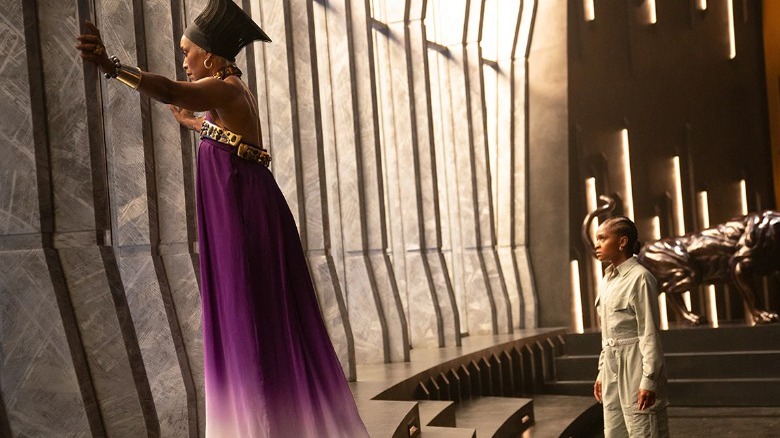 Disney/Marvel Studios
In "Black Panther: Wakanda Forever," Shuri (Letitia Wright) and Riri (Dominique Thorne) are being held captive by Namor (Tenoch Huerta) in his nation of Talokan when Namor sends down royal clothes for Princess Shuri to wear as she visits his homeland. Riri tells her not to put on the clothes that Namor sent, arguing that it's a supervillain move to send you clothes to wear while you're captive, citing the infamous "slave Leia" costume from "Star Wars: Return of the Jedi," the Beast giving Belle a dress to wear in "Beauty and the Beast," and "the white lady from Indiana Jones" referring to Marion from "Indiana Jones and the Raiders of the Lost Ark."
It's probably no coincidence that Riri lists only fellow Disney properties in her examples. "Beauty and the Beast" is, of course, one of Disney's popular animated fairy tale films that the company is so well known for, while both "Return of the Jedi" and "Raiders of the Lost Ark" are George Lucas properties that were acquired when Disney purchased Lucasfilm in 2012.
With so many different companies under one roof, what might be the next big move for Disney? Or will they even be making another big move?
What's next for Disney?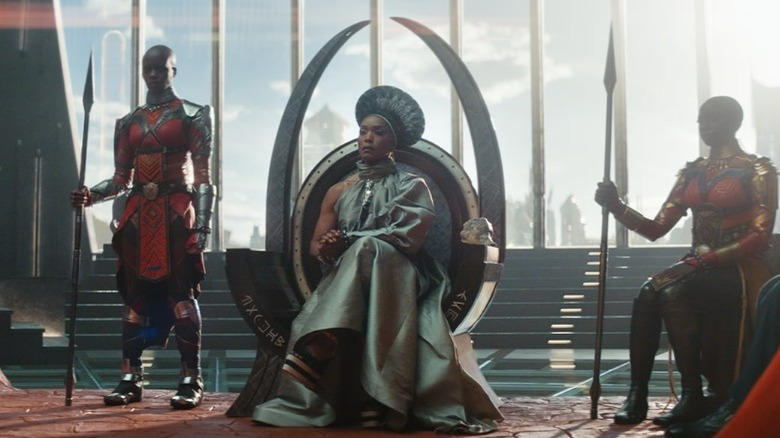 Disney/Marvel Studios
In October, Disney's current CEO, Bob Chapek, said that the media giant has no plans at this time to purchase any other studios or networks. "We have the best creative teams, the best brands and franchises in the world," Chapek told the WSJ Tech Live 2022 conference. "We're quite happy to have the output level across our channels without having to be a buyer in the open marketplace" (via Variety). So Disney doesn't have its sights set on a new studio, but the conglomerate has already begun the process of acquiring the rest of a streaming service it currently holds a stake in.
According to CNBC, Hulu was once owned by a three-way split between Disney, Fox, and Comcast. However, upon buying 20th Century Fox in 2019, Disney ended up with a 66% share of Hulu to Comcast's 33%. So Disney entered into an agreement to buy Comcast's share of Hulu by 2024 at the earliest, giving Disney complete control of yet another streaming service. It's not yet clear what Disney will do with Hulu once they get it, as the company already has its own streaming service, Disney+.