Black Panther Fans Are Calling For Angela Bassett To Receive An Oscar After Wakanda Forever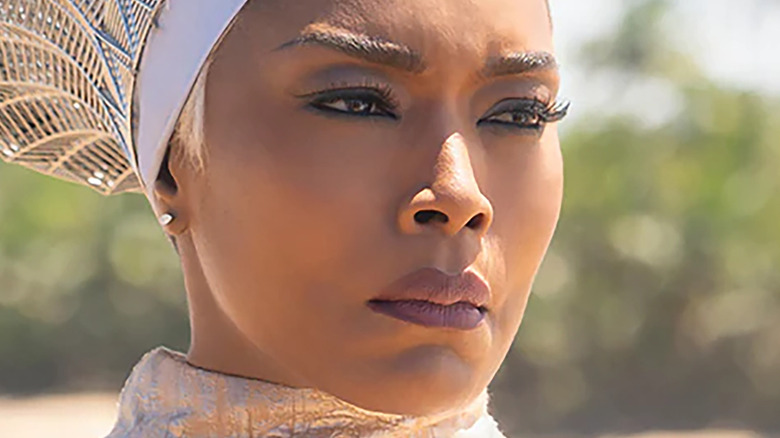 Marvel Studios
"Black Panther: Wakanda Forever" hit theaters on Friday with the unenviable task of moving on after the death of Chadwick Boseman a little more than two years ago. Director Ryan Coogler wrote the death of Boseman's character T'Challa  into the opening sequence of the sequel, and the on-screen mourning was clearly given added weight by the grief felt for Boseman by the returning cast members. Kristy Puchko of Mashable wrote of his off-screen death, "In one sense, it feels wrong that a force like T'Challa, the Black Panther, could just be gone this way, so abrupt and so final. But because it reflects our cold reality, it feels infuriating and fitting."
Puchko added, "The plot of 'Black Panther: Wakanda Forever' is eerily meta, in that it asks how you carry on when the center of your orbit is gone forever ... But its core throbs with the conflict between Shuri (Letitia Wright) and her mother(Angela Bassett), whose grief and beliefs are in radiant contrast, and how it could determine Wakanda's next chapter." 
Where Bassett takes that grief and those beliefs has many fans clamoring on social media for her to be recognized with an Oscar nomination for her work in "Black Panther: Wakanda Forever."
Bassett is no stranger to the Oscar red carpet
Handout/Getty Images
Angela Bassett has already earned one Oscar nomination for Best Actress, for her portrayal of Tina Turner in 1993's "What's Love Got to Do with It" (Holly Hunter won in the category that year for her performance in "The Piano"). But if fans have their way, she'll be back at the ceremony next year, but this time she won't go home empty-handed.
@ViragoX tweeted, "Omg Wakanda Forever was so good. Please give Ms Angela Bassett all the awards now." @ItzKennyBoii noted that no MCU actor had even been nominated for an Oscar up to this point let alone won one, writing, "Angela Bassett acted like she wanted to be the first person to win an Oscar for a Marvel movie. That "Have I not lost EVERYTHING" scene ALONE should have them mailing the awards to her residence as we tweet."
For her part, Bassett didn't do "Black Panther: Wakanda Forever" for a shot at an Academy Award. She told Variety, "You don't do these kinds of projects for the awards. I appreciate the buzz on it, because I know that it doesn't really come from these big superhero movie franchises."
Fans continue to single out Bassett for her phenomenal performance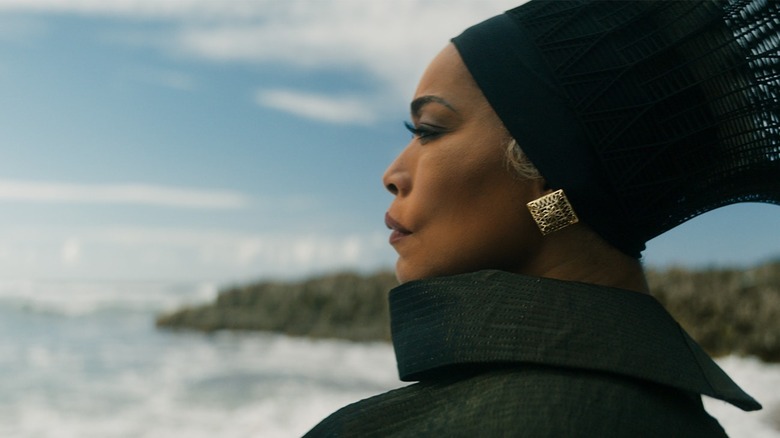 Marvel Studios
@TheSceneSnobs tweeted their effusive praise for "Black Panther:Wakanda Forever," writing, "So many amazing performances in it
Angela Bassett deserves an #Oscar Nod. Get it done @TheAcademy" 
@JamieMoviesTV is clearly a Bassett fan, and wrote, "Angela Bassett deserves an Oscar nomination. Like she always does in everything she's in." @ZionMcGregor was more matter-of-fact in expressing the same wish, tweeting, "Angela Bassett deserves an @TheAcademy award nomination for her performance in @theblackpanther." @Philipbkk wrote that "Angela Bassett is beyond brilliant. Probably the best background score & music in the MCU. The core storyline featuring grief, revenge, family & transition have been superbly essayed by Letitia Wright's Shuri.A worthy tribute to Chadwick Boseman." @HailEternal wrote, "Angela Bassett got to shine in Wakanda Forever. Truly one the best performances of her career." @Wandaslizzie tweeted, "angela bassett is truly a GOD tier actor. an absolute force as queen ramonda. give her 10s! her 100s her millions billions!"
If the fans of "Black Panther:Wakanda Forever" have a say in who takes home a trophy on Oscar night, Bassett should be clearing a spot on her mantle already. But as viewers and Bassett all know, Academy voters can be fickle and have not yet seen fit to reward a Marvel actor for any performance, no matter how powerful or universally lauded. But it may be literally impossible for them to ignore Bassett's effort here, and perhaps the Academy can see fit to finally award her an Oscar. Given the fan reaction to her work, she would certainly be a popular choice.