Barbarian Fans Can't Get Over How Hilarious AJ Is Despite Being The Villain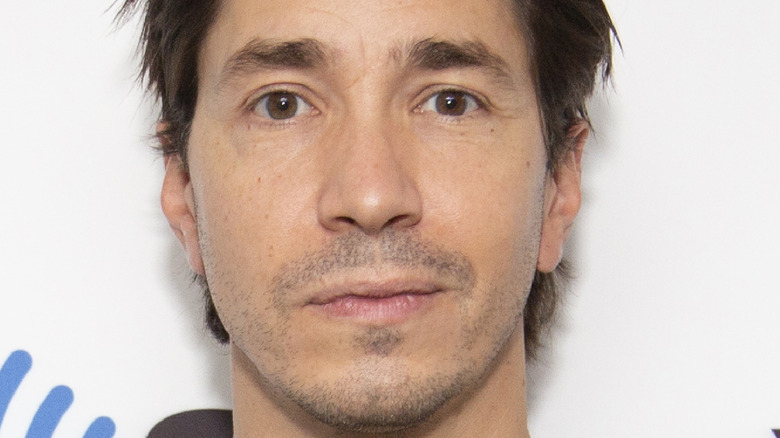 Santiago Felipe/Getty Images
Spoilers for "Barbarian" follow. First-time viewers of the new horror movie "Barbarian" may be in for a huge surprise when, at a violent moment, the film cuts to a totally different character driving around Los Angeles. The transition might seem outright inexplicable at first. However, the character of would-be sitcom star AJ Gilbride (Justin Long) is crucial to the rest of the film.
Plagued by criminal allegations and an impending lawsuit, AJ visits his rental properties in Detroit to see if he can make some quick cash selling them. When he gets to one house, the actor is plunged into a horrific, labyrinthine nightmare worse than anything he could imagine.
In some ways, AJ is one of the key villains of the movie: a predator who, when push comes to shove, makes the easiest and most harmful choice every single time. Yet "Barbarian" fans can't deny that they find AJ's awful qualities absolutely hilarious.
Barbarian viewers think AJ's selfishness is funny
In the official discussion post for "Barbarian" on the r/movies subreddit, several commenters noted how much they laughed at AJ's selfish and careless decisions. u/hoolianghoulian said AJ trying a password on Tess' (Georgina Campbell) laptop, then giving up immediately, "had me dying." u/KatanaAmerica replied, "The way he frisbee'd her laptop when he gave up was hysterical."
What sent u/1080TJ over the top, meanwhile, was that AJ "didn't seem remotely bothered by the room with the camera and the bucket." Instead of feeling as rightly disturbed by this discovery as the house's renters, AJ just tries to figure out whether or not he can include the room in the property listing's square footage. u/throwaway195147 also noticed how "he just glosses over the fact that there's a camera and dirty mattress" in the area. 
For one viewer, it was also easy to compare AJ's naivete to Tess' journey: "They both had to play out the same plots. As a woman, she played hers more carefully and as a man, he blundered through it." AJ constantly makes entitled and awful decisions, and he meets a gruesome fate as a direct result. 
Director Zach Cregger comes from a comedy background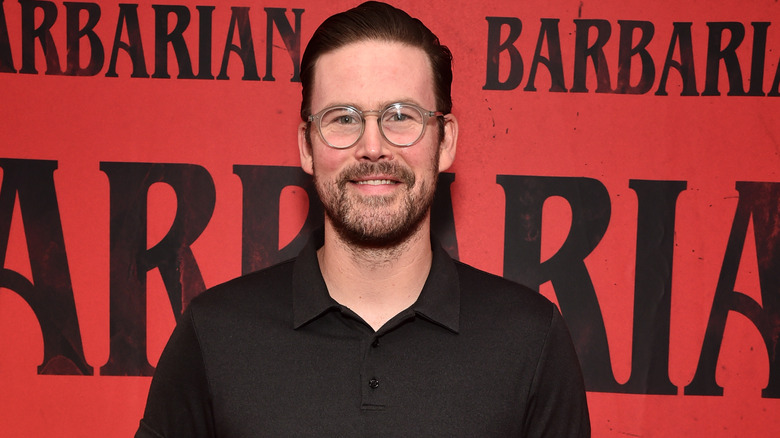 Alberto E. Rodriguez/Getty Images
u/EmptyHomes pointed out that "Barbarian" was written and directed by Zach Cregger, a member of the sketch comedy group the Whitest Kids U'Know. Cregger was originally inspired to write the opening scene by a book that listed potential red flags men might exhibit around women (via Rue Morgue). At first, the director was just writing to entertain himself, but the story grew from there.
It may surprise people that a comedian would make a horror movie, but as u/YesHunty replied, "Horror and comedy have always been close bedfellows." Director Jordan Peele of "Get Out," "Us," and  "Nope," and actor Chris Rock in "Spiral: From the Book of Saw" also recently transitioned from comedy to horror.
Cregger told Rue Morgue that he sees the genres as having similar instincts: "They're both about subverting expectations. They're both about timing and tone, so I think my time spent in comedy was not wasted on this new flavor." Hopefully, Cregger will make another movie as funny — and as scary — as "Barbarian" soon.