The 10 Best Hoodies Worn By Jesse Pinkman In Breaking Bad Ranked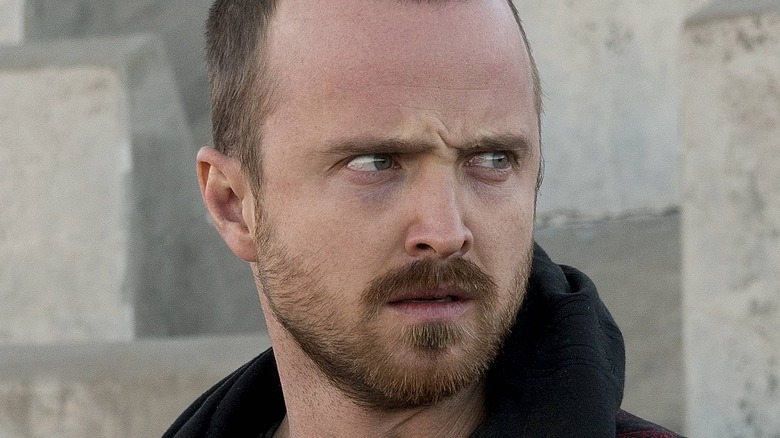 Ursula Coyote/AMC
Despite wrapping up its five-season run almost a decade ago, Vince Gilligan's epic crime drama "Breaking Bad" still has a significant amount of cultural cache. Thanks to the success of the Saul Goodman-centered prequel series "Better Call Saul" and the enduring circulation of fan theories, easter eggs, memes, and general discussion in online forums, the show continues to cast a long shadow over the realm of the TV antihero.
Premiering in 2008, the series follows Walter White (Bryan Cranston), a high school chemistry teacher who begins to cook methamphetamine with his former student, Jesse Pinkman (Aaron Paul), in order to provide for his family after a lung cancer diagnosis. During the five years the show aired on AMC, "Breaking Bad" received near-universal critical acclaim, winning 16 Primetime Emmy Awards out of a total of 58 nominations.
"Breaking Bad" has many memorable fashion choices — Walter White's porkpie hat, the Salamanca twins' shiny suits, Hank's untucked bowling shirts — but some of the more eye-catching pieces of costuming are Jesse Pinkman's numerous loud, vibrant, and oversized hoodies. Of the dozens of hoodies Jesse wears over the course of the series, we've picked the best 10 and ranked them below. Keep reading to find out how your favorite measures up! 
Warning: This article contains spoilers for "Breaking Bad."
A brief history of the hoodie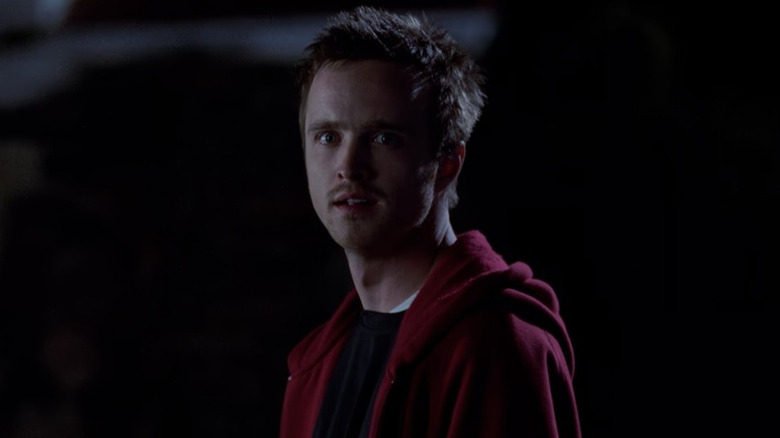 AMC
For almost 100 years, the hooded sweatshirt has been a hallmark of American fashion. Hooded garments have existed for centuries, but the modern hoodie was invented by Champion in the 1930s as practical workwear for the long, bitterly cold winters in upstate New York (per The New York Times). Since its utilitarian inception, the hoodie has become a staple item in the wardrobes of everybody from college students displaying their school spirit to Meta CEO Mark Zuckerberg displaying his brazen disregard for the fashion rules of big business.
The hoodie owes its 21st-century ubiquity to its adoption by pioneers in the burgeoning hip-hop scene in 1970s New York. It would later become the uniform of other subcultures such as skateboarding and hardcore punk music in the 1980s and 90s. While today the garment is worn by everyone from supermodels in high-end fashion shows to New England Patriots coach Bill Belichick during playoff games, the garment still retains some of that original outsider status. According to the New York Times, the garment's "sinister appeal" has cemented its association with the "us-against-the-world" underdog mentality. This association makes it the perfect wardrobe item for the character of Jesse Pinkman.
Jesse's hoodies by the numbers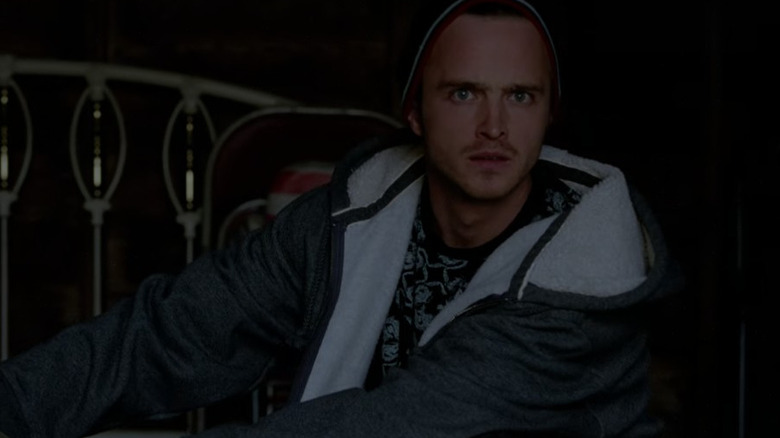 AMC
According to our counting, over the entire 62-episode run of "Breaking Bad," Jesse wears a total of 53 hoodies, resulting in an average of 0.855 unique hoodies per episode. Season 2 has the highest number of hoodies with a total of 18 different specimens — or 1.385 hoodies per episode — but Season 1 is the most hoodie-dense. Over its seven episodes, there are a total of 11 different hoodies, resulting in a 1.571 hoodie-per-episode average, the show's highest.
There are only 19 episodes where Jesse doesn't wear a hoodie at all, most of which occur in Season 4. It makes sense, then, that Season 4 is the show's least hoodie-dense, featuring only three hoodies across 13 episodes: An average of 0.231 hoodies per. Rounding out the show, Season 3 clocks a respectable 1.077 unique hoodies per episode, with 14 different hoodies appearing on screen, and Season 5 edges out its predecessor with a nice 0.438 hoodie-per-episode average, featuring a total of seven hoodies across its 16-episode conclusion.
With so many hoodies to choose from, we've narrowed it down to the top 10 hoodies that appear across all five seasons. All hoodies deserve recognition, but some are a cut above the rest. We're looking at the most memorable, eye-catching, and fashionable hoodies found in the closet of Jesse Pinkman.
Honorable Mention: The Now We're Cooking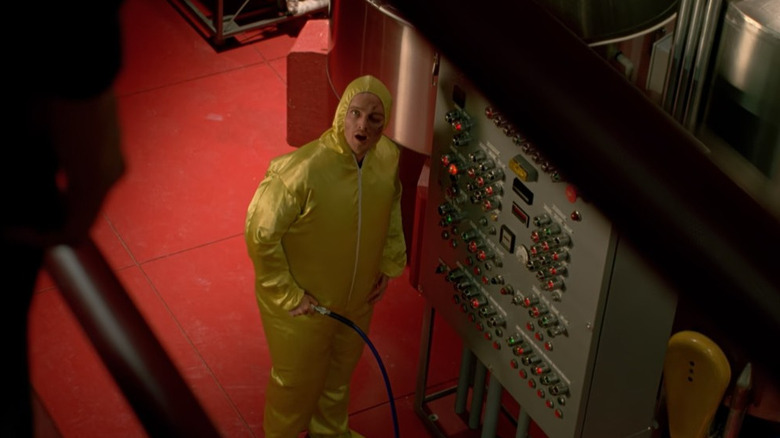 AMC
Yes, technically the yellow outfits worn by Gus Fring's chemists aren't hoodies, but hazmat suits. These synthetic rubber garments first appear in Season 3, Episode 6 during Walt's first cook with Gale, and one is first worn by Jesse in Episode 8 of the same season. They appear numerous times throughout the final three seasons of "Breaking Bad" and are one of the more iconic outfits in the entire franchise.
Despite being more of a safety outfit than a casual one, these coveralls deserve at least a mention here. They zip up like a hoodie, and they have hoods like a hoodie. They're also one of Jesse's most frequently worn outfits, and he even wears one casually while sharing a beer with Walt in Season 5, Episode 3. They're remarkably versatile too. You can wear them formally with matching gloves and respirators for their stated purpose, but you can also tie the sleeves around your waist for a more relaxed look. As if that weren't enough, the suits can be inflated with air for an impromptu Michelin Man costume. Hoodie or not, these safety suits are worthy of inclusion on this list.
10. The Plaid to Meet Ya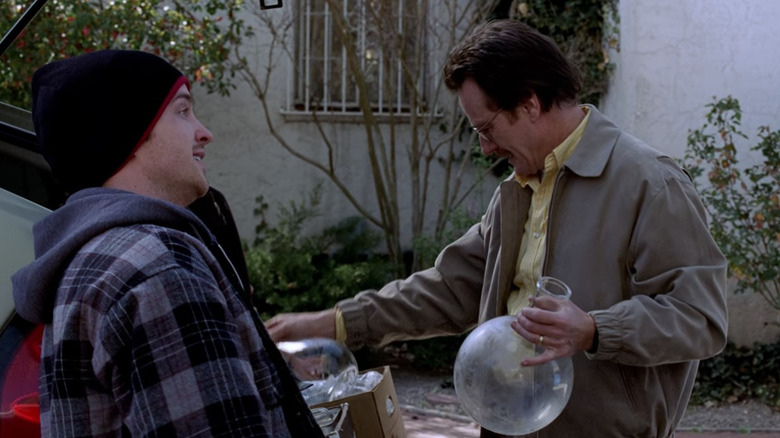 AMC
One of the first hoodies we ever see on Jesse appears multiple times throughout the series. We first see it in the series premiere when Walt rolls up to Jesse's house, his Pontiac Aztek a cornucopia of pilfered laboratory equipment. This zip-up hoodie has a grey and black tartan plaid pattern with red and white accents, which makes it easy to pair with several different colors and outfits. Its thickness makes it a practical choice to combat the cold Albuquerque winters as well.
While it's certainly less expressive than some other hoodies in Jesse's arsenal, this hoodie deserves a spot on the list for its subtlety and versatility. Flashy hoodies are great, but when your former chemistry teacher wants to store stolen meth-making supplies at your house, you need something that's going to keep a low profile without sacrificing the drip. With this hoodie, you can go right from the bank (where your cook partner just withdrew his life savings for you to buy a mobile drug laboratory) to the club (where you can blow all that money) without having to stop at home to change.
9. The Dollar, Dollar Bills, Y'all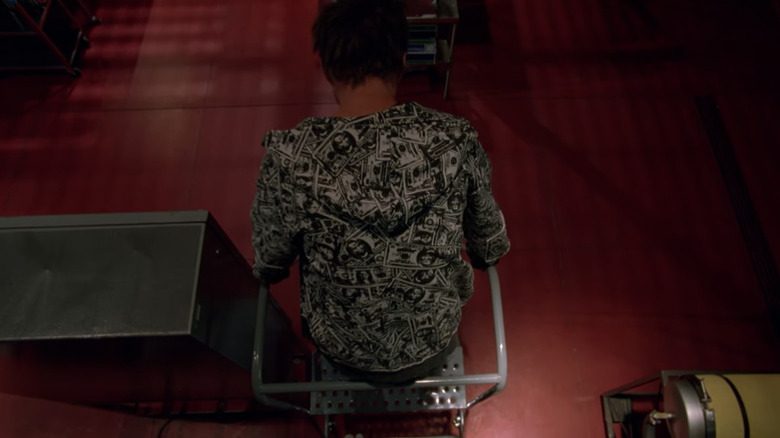 AMC
This hoodie makes an appearance in "Breaking Bad" Season 3, Episode 8. Jesse has just replaced Walt's former lab assistant Gale Boetticher (David Costabile) and is exploring the new super lab set-up while waiting for his partner to return from the hospital, where his brother-in-law, DEA agent Hank Schrader (Dean Norris), is in critical condition.
The hoodie design is simple and unmistakable, covered with different black and white dollar bills. What's interesting about this hoodie is that it might not actually belong to Jesse. He arrives at the lab earlier in the episode wearing a completely different yellow hoodie, and he doesn't seem to leave the lab before donning the dollar bill hoodie. Perhaps the hoodie secretly belongs to Gus or Victor. It could even be Walt's emergency lab sweatshirt.
Regardless of the hoodie's owner or how it managed to arrive at the lab, it's a Jesse Pinkman hoodie through and through. When you start a new, high-paying job, you want a hoodie that lets everybody know that your mind's on your money, and your money's on your mind. This sweatshirt is perfect for that task. The monochrome cash is understated while also demonstrating the wearer's dedication to the grind.
8. The Insane Crown Posse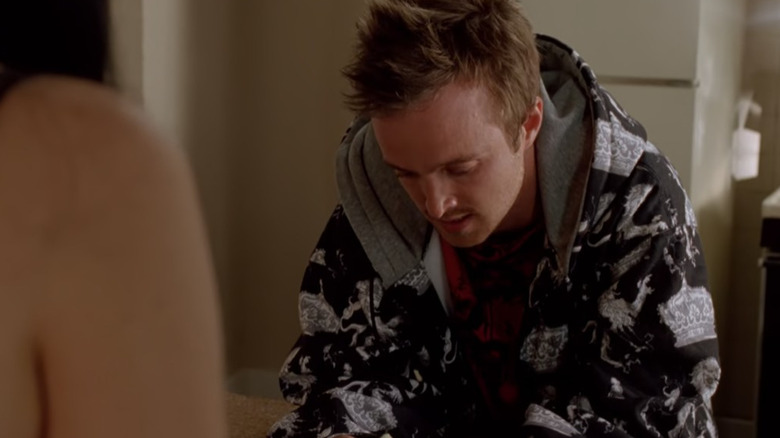 AMC
This Kenpo brand hoodie is black and white and fresh all over. It's the hoodie that Jesse wears when he's looking for a place to rent and meets Jane Margolis (Krysten Ritter) for the first time in Season 2, Episode 5. This oversized zip-up is black with a gray inner hood. The repeated graphic features white crowns and lions, rearing on their hind legs.
While this hoodie isn't as loud and flashy as some other selections from the Pinkman collection, it has a subtle swagger and understated elegance that make it the perfect hoodie for making a first impression. If you want to rent a place without worrying about pesky paperwork like W2s or recent pay stubs, you need a hoodie that communicates that you can abide by the rules of the rental and be trusted to deliver the rent in a timely manner. Having fat stacks can also help with this first impression, but if you want people to know who's the king of the jungle, dust off this hoodie and pair it with a red graphic tee for a pop of color before you head to your open house. You may still have to pay a D.B.A.A. fee, though.
7. The Totally Kafkaesque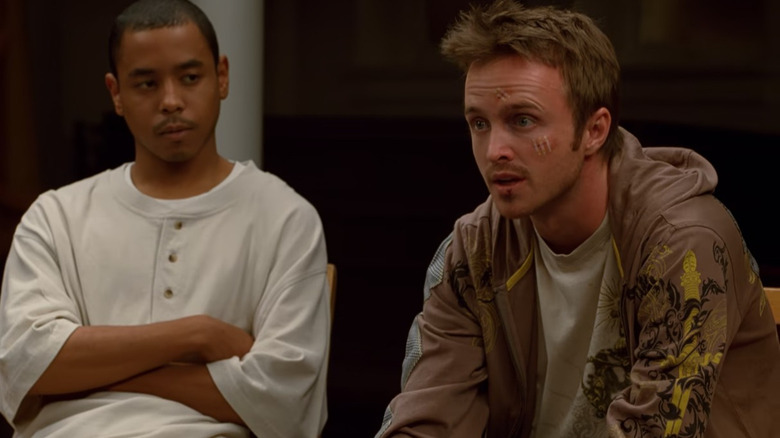 AMC
Jesse first dons this sweatshirt in "Breaking Bad" Season 3, Episode 9 for his money laundering lesson with Saul Goodman (Bob Odenkirk) at a nail salon. Later in the same episode, he wears it to one of his Narcotics Anonymous meetings.
Another hoodie with a lot to look at, this grey zip-up sweatshirt has two distinct designs. On the right sleeve is a repeated series of diamonds with a black and white Prince of Wales check pattern. On the opposite sleeve is a yellow sword running down the length of the arm, covered with intersecting black acanthus leaves in a complex curving pattern. According to Zhki's Gallery, the acanthus leaf symbolizes "immortality –- rebirth –- longevity and healing," making it the perfect accent for Jesse's hoodie as he tries to move beyond the violence of his past and heal from the trauma he's endured.
This hoodie is an excellent choice for a variety of situations. Sometimes the days are packed, and you need a stylish selection appropriate for both nail salon legal consultations and support group meetings. Not too flashy, but still displaying a touch of flair, this hoodie will give you the comfort you need to unpack your past, and the touch of class and sophistication for taking meetings with your attorney

If you or anyone you know needs help with addiction issues, help is available. Visit the Substance Abuse and Mental Health Services Administration website or contact SAMHSA's National Helpline at 1-800-662-HELP (4357).
6. The Rorschach Test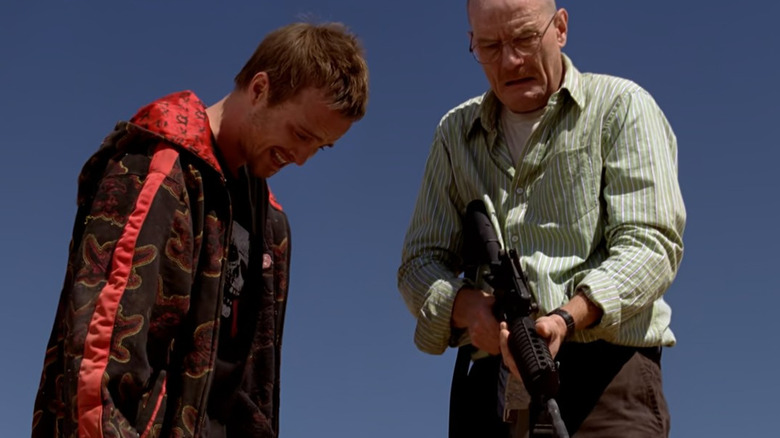 AMC
A "Breaking Bad" Season 2 stand-out, this black zip-up hoodie first appears at the end of the first episode of Season 2 when Walt and Jesse are plotting to kill Tuco Salamanca (Raymond Cruz). It's worn for the duration of Episode 2 when they're kidnapped by the crazed drug dealer and driven out to the desert.
The hoodie design is quite nebulous. Brief close-ups indicate that the design may be a black fleur-de-lis design, outlined with red and yellow thread. The inside of the hood is a bright and shiny red with black fists and crossed blades, and both the hood and the sleeves have a red stripe running down their lengths.
This hoodie begs individual interpretation. Every time you look at the designs on the body, you may see something new. It's also thick enough to provide warmth, should you have to spend several hours in the trunk of a car. But if you're planning on ending up in the desert during the hottest hours of the day, you may want to consider something a bit more breathable.
5. The Cardigoodie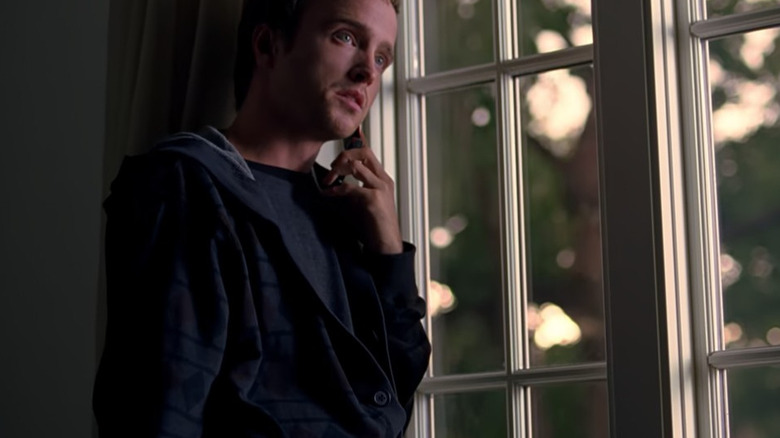 AMC
This unique garment appears only once across all episodes of "Breaking Bad" during Season 3. As Jesse mourns the death of Jane, his wardrobe shifts from the vibrant, eye-catching hoodies from the earlier episodes into a much more muted color pallet. This hybrid hoodie pops up in Season 3, Episode 3, when Jesse calls Jane's phone repeatedly just to hear her voice again.
This is an interesting sweatshirt. It's part hoodie, part cardigan, and all style. Replacing the zipper with some stately buttons, the cardigoodie, as we'll call it, combines the poise and sophistication of the cardigan with the comfort and familiarity of the hoodie. Jesse's turned a corner in his life at this point, and this garment reflects where he's been while also lighting the way for where he's headed. The unique article of clothing is dark grey with some navy-blue stripes and diamonds to give it a slight pattern.
When you need to present yourself as a changed man without sacrificing the familiarity of your old wardrobe, the cardigoodie is a great place to start. This mashup top is perfect for staring pensively out the window at twilight and pining for the simpler times of yesteryear.
4. The Mellow Yellow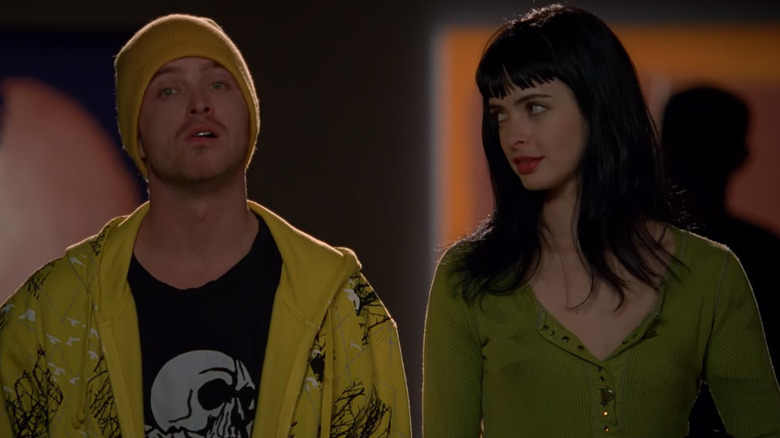 AMC
This hoodie appears in a "Breaking Bad" Season 3 flashback in Episode 11. Jesse picks the outfit for a trip to the Georgia O'Keefe museum in Santa Fe with Jane, which presumably occurs sometime in Season 2. It also shows up in the sequel film "El Camino: A Breaking Bad Movie" during a similar flashback scene. This bright yellow hoodie is covered with bare-branched trees in black, and white splotches that look to be birds flocking to these perches. Beneath the tree and bird design, the sweatshirt has a subtle grey argyle pattern.
This hoodie looks great paired with a yellow knit beanie and a black skull t-shirt. It's the perfect choice for a winter-time trip to Santa Fe. The bare trees and eye-catching yellow mirror Georgia O'Keefe's recurring themes of intense color and unvarnished still-life that "approach abstraction" (via The Hartford Courant). Even if O'Keefe's paintings end up not being quite what you were expecting, you can rest assured knowing that your fit passes the vibe check.
3. The Seeing Red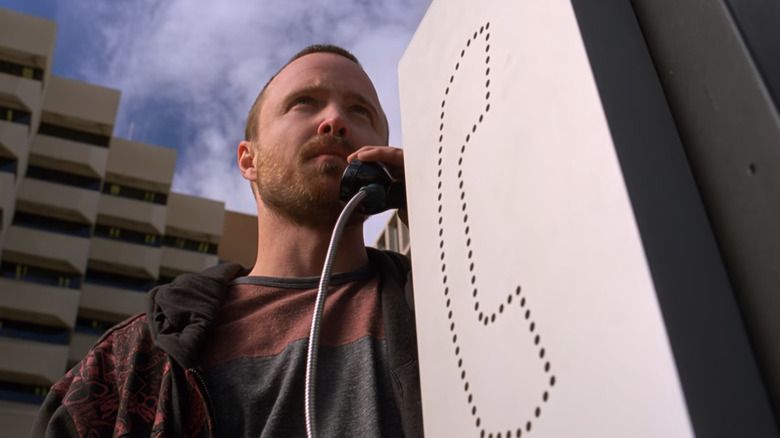 AMC
The final hoodie worn by Jesse Pinkman in "Breaking Bad," this piece first shows up in Season 5, Episode 11 when Jesse and Saul drive out to the desert to meet with Walt after Jesse's arrest. Jesse continues to wear the hoodie for the following three episodes until his imprisonment by Uncle Jack's gang in Episode 14. This William Jacket brand sweatshirt is black with an abstract red design across the shoulders and upper chest.
The hoodie is stylish and symbolic of the journey Jesse has been on across the past five seasons. According to Slate, one of Jesse's signature colors is red. It's the color of the first hoodie we see him wear in Season 1, the color of his car, and the color of multiple hoodies and t-shirts he wears. As Jesse is pulled further into Walt's orbit and away from the person he was at the beginning of the show, red appears less and less frequently, until, by the end of the show, he wears almost entirely black with only the barest hint of red. He hasn't completely lost touch with himself, but the Jesse that remains is completely changed.
2. The Skulls and Roses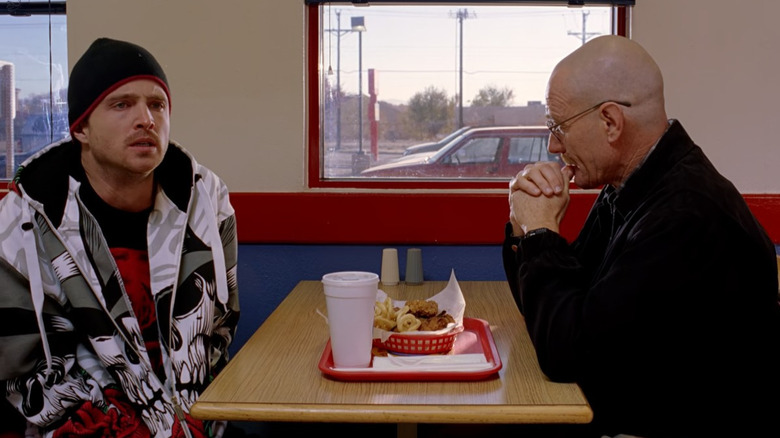 AMC
A selection from the back half of "Breaking Bad" Season 2, this baggy zip-up hoodie first makes an appearance when Jesse arrives at Los Pollos Hermanos in Episode 11 for a potential meeting with Gustavo Fring (Giancarlo Esposito). We see it again when Jesse returns home to a sleeping Jane and proposes they get away for a while and go to Santa Fe.
This hoodie's main feature is a large skull wearing a grey fedora or helmet. The inside of the hood is lined with black fleece, providing an extra layer of warmth and comfort. Beneath the skull are several blooming roses, adding some pizzazz to the otherwise macabre piece. The skulls and roses provide a nice characterization of Jesse at this point in the show. According to Chronic Ink Tattoo, the combination of skulls and roses usually indicates "a struggle between the beautiful and ugly." As Jesse slips further into his life of crime, he becomes torn between the beauty he has found in his relationship with Jane and the violence of his profession.
This hoodie has a lot of character to it. In addition to being an apt encapsulation of Jesse's struggle during the show, there's no denying that the sweatshirt is eye-catching. The skulls communicate a level of danger, while the roses display that the wearer is a lover, not a fighter, at heart. This is a great choice of hoodie for clandestine meetings at fast food restaurants, provided you can sit still long enough to meet your potential employer.
1. The Eye'll Fly Away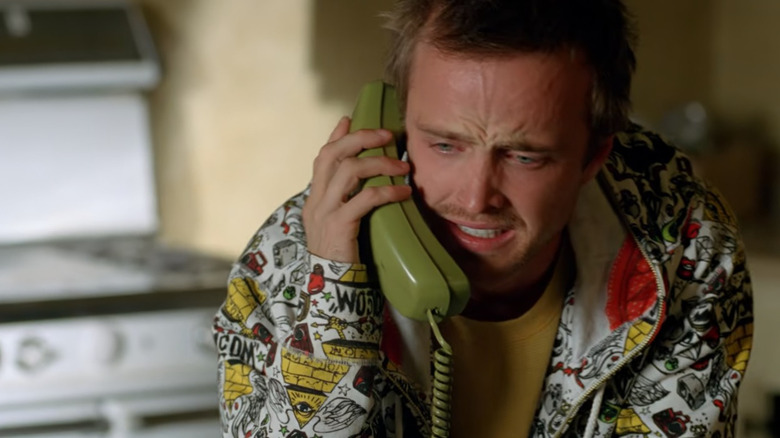 AMC
A top-shelf selection from Season 2 of "Breaking Bad," this Volcom number first appears when Jesse is unwillingly moved out of his aunt's house and calls Walt to ask if he can crash at the White residence in Season 2, Episode 4. This hoodie's got a lot to look at. The most prominent design is a yellow pyramid, with a winged Eye of Providence at the top and talons gripping arrows and an olive branch at the base — a mashup of the two seals on the back of the $1 bill. The hood also zips all the way up — although Jesse never takes advantage of this feature — and is decorated with eyes and a mouth full of sharp teeth.
With this hoodie, the more you look, the more there is to see. It's a true statement piece; a sweatshirt that'll turn heads as you scooter around Albuquerque looking for a place to crash. Warm enough to keep you comfy if you're forced to sleep in an RV, and soft enough to provide comfort after your housing situation goes rotten, this hoodie's only negative is that the white fabric is susceptible to staining should you fall through the roof of a porta-potty. Nonetheless, this is our choice for Jesse Pinkman's best hoodie in "Breaking Bad."