Black Panther's Letitia Wright Is Still Traumatized By Her Horrifying Stunt Mishap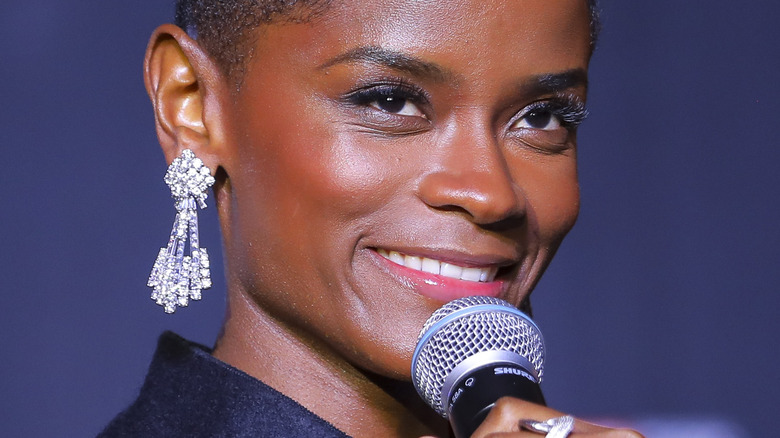 Agustin Cuevas/Getty Images
British actor Letitia Wright was making a name for herself even before she entered the MCU. And it was likely her brief appearances in hit shows like "Black Mirror" and "Doctor Who," as well as her recurring role in the underrated AMC drama "Humans," that helped her get ready to take on the role of Shuri in "Black Panther," "Avengers: Endgame," "Avengers: Infinity War," and the highly anticipated "Black Panther: Wakanda Forever."
But action films can be both physically and emotionally demanding for the actors involved. Wright found this out the hard way during the filming of the "Black Panther" sequel when what should have been a perfectly safe stunt took a disastrous turn. The studio tried to keep things quiet at first, but enough time has passed that Wright finally feels comfortable talking about it openly and honestly. So here are all the important details about the harrowing accident that Wright courageously survived.
She broke her shoulder and suffered a concussion while filming a motorcycle stunt
Letitia Wright was riding on something called a biscuit rig, which is a trailer-like vehicle where an actor rides in relative safety — but directors and cinematographers can capture their faces and movements up close, making the audience feel like they're a part of the action. It's been used in all sorts of movies, from "Drive" to "The Fast and the Furious" franchise, and even the horseracing film "Seabiscuit" (via Film School Rejects). Unfortunately, the rig's safety record was shattered one day while Wright was riding on a motorcycle that was secured to it. In a recent interview with Variety, Wright went into detail about how the rig clipped a median, which knocked the motorcycle loose, sending her and the bike on a crash course.
The movie studio issued a statement that said she had sustained "minor injuries" while filming a stunt and that it wouldn't impact the production schedule. But her injuries weren't exactly that minor. Wright was permitted (and also ordered by writer/director Ryan Coogler) to recover at home and not push herself to get back on set too quickly. But she told Variety that at the time, she just wanted "to finish my film, man ... I think that was one of the first things I said to Ryan. And he was like, 'Tish, you need to recover.'"
Her physical injuries took months to heal, and she's still in therapy for the emotional trauma
Letitia Wright also told Variety that she spent over four months recovering in her London home, with intense medical support during her recovery and an abundance of patience from her colleagues and friends on set when she finally got back to filming in January of 2022. And she needed it because her concussion was so severe that she was still dealing with Post Concussion Syndrome at the time. According to the Mayo Clinic, symptoms of Post Concussion Syndrome can include headaches, dizziness, fatigue, irritability, anxiety, insomnia, loss of concentration and/or memory, ringing in the ears, blurry vision, and sensitivity to noise and/or light. And she had to suffer through some (if not all) of those symptoms while filming one of the most highly anticipated movies of the year (according to Deadline).
Going back to the Variety interview, Wright confessed that she's still in therapy and processing through the emotional trauma of the accident — and that's on top of the grief surrounding Chadwick Boseman's tragic death to cancer two years prior, along with a brief scandal regarding her vaccination status. Despite everything, though, she's maintaining an admirably positive attitude. "I'm just extremely proud of myself. I'm extremely proud of Ryan, of the team, for just the resilience — overcoming adversities every step of the way" and even admits that when filming wrapped, she was so emotional that it brought her to tears. And if the film's reviews are any indication, she has every right to be proud of herself and everyone else involved in the project.