Who Played Sydney Manning On Criminal Minds?
DFree/Shutterstock
Like many procedural crime dramas on TV, CBS' "Criminal Minds" has had a lot of guest stars only appear for a single episode — but even that brief exposure on a major network show gives a helpful boost to many actors' careers. Adrianne Palicki is one of them. She only appeared on the show once, but she was given the chance to cut her teeth on a very interesting and memorable character.
It's Season 6, Episode 13, "The Thirteenth Step," where fans can see an unconventionally brunette Palicki play Sydney Manning, a cold-blooded killer who goes on a murder spree with her new boyfriend, Ray Donovan (Jonathan Tucker). They meet in rehab, and the episode title is an inside joke in the recovery community which references how frequently people in 12-step programs start dating each other (so frequently, in fact, that it's the "thirteenth step"). Their Bonnie & Clyde romance eventually ends in tragedy for the two, but it was a stepping stone toward larger — and even starring roles — in her small-screen acting career.
It was one of many successful TV roles for Palicki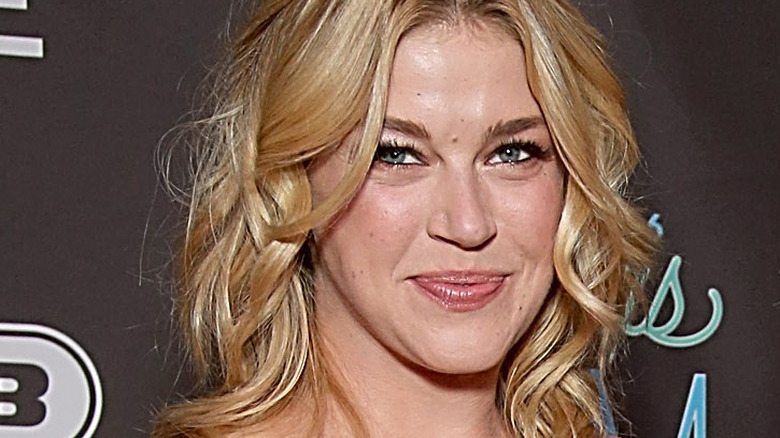 Gary Miller/Getty Images
To her credit, Palicki isn't just a TV actor. She got to dabble in major motion picture acting when she played Jaye in the 2013 blockbuster "G.I. Joe: Retaliation" with Bruce Willis, Channing Tatum, and Dwayne "The Rock" Johnson. And she had some multi-episode guest appearances on some well-known series long before her "Criminal Minds" cameo. She lent her voice to bit parts on "Robot Chicken" starting around 2007, enjoyed a handful of appearances on "Supernatural" from 2005 – 2009, and portrayed the starring role of Tyra Collette on the popular football drama "Friday Night Lights."
Following her appearance on "Criminal Minds," Palicki went on to accept larger, longer-lasting small-screen roles. She was on "Agents of S.H.I.E.L.D." for 31 episodes playing Bobbi Morse, a loyal field agent who temporarily infiltrated HYDRA to help bring down the evil organization. In recent history, she is perhaps most well-known for playing Commander Kelly Grayson on "The Orville." The hit sci-fi series, which oozes influence from successful predecessors like "Star Trek" and its successful franchise spinoffs in the best possible ways, switched from FOX to Hulu for its third season. It's highly rated on both Rotten Tomatoes and IMDb, but according to Newsweek, it's still uncertain whether it will get any more seasons. In the meantime, she's keeping herself busy working on "Quasi," the newest satirical comedy from Broken Lizard, which is currently in post-production (via Deadline).