The Orville Headed To Hulu For Season 3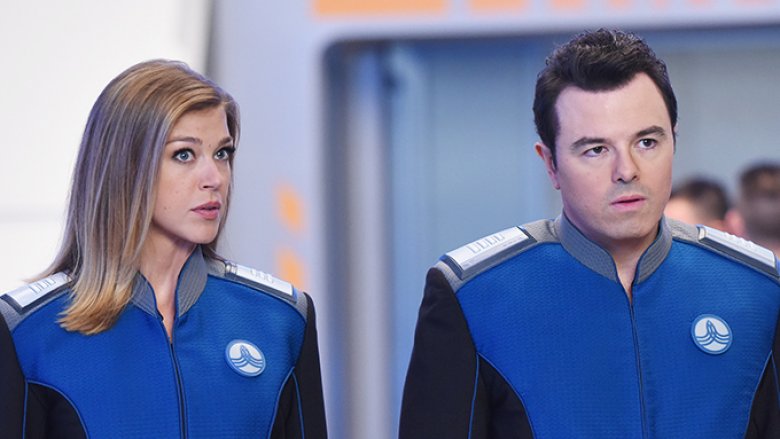 Fox
The Orville has a new home. 
Seth MacFarlane's sci-fi adventure series The Orville will move from Fox, where it had aired its first two seasons, to Hulu for season 3. The man himself announced the shift during San Diego Comic-Con 2019. 
Created and written by MacFarlane, The Orville takes place 400 years in the future in the 25th century and follows the human and alien crew of the U.S.S. Orville, a mid-level exploratory spaceship in the Planetary Union. The series stars Adrianne Palicki as Commander Kelly Grayson, Penny Johnson Jerald as Doctor Claire Finn, Scott Grimes as Lieutenant Gordon Malloy, Peter Macon as Lieutenant Commander Bortus, Halston Sage as Lieutenant Alara Kitan, J. Lee as Lieutenant Commander John LaMarr, Mark Jackson as Isaac, Jessica Szohr as Lieutenant Talla Keyali, and MacFarlane as the commander of the U.S.S. Orville, Captain Ed Mercer.
Citing an anonymous source, Variety reported that MacFarlane was experiencing an overwhelming workload and was struggling to complete the third season of The Orville in time for a mid-broadcast season debut on Fox, which is what prompted the decision to push the show from the cabler to Hulu. MacFarlane released a statement that essentially confirmed this. 
"The Orville has been a labor of love for me, and there are two companies which have supported that vision in a big way: 20th Century Fox Television, where I've had a deal since the start of my career, and Fox Broadcasting Company, now Fox Entertainment, which has been my broadcast home for over 20 years," his statement reads. "My friends at the network understood what I was trying to do with this series, and they've done a spectacular job of marketing, launching and programming it for these past two seasons. But as the show has evolved and become more ambitious production-wise, I determined that I would not be able to deliver episodes until 2020, which would be challenging for the network."
MacFarlane continued, "So we began to discuss how best to support the third season in a way that worked for the show. It's exactly this kind of willingness to accommodate a show's creative needs that's made me want to stick around for so long. I am hugely indebted to Charlie Collier and Fox Entertainment for their generosity and look forward to developing future projects there. And to my new friends at Hulu, I look forward to our new partnership exploring the galaxy together."
As MacFarlane noted in his statement, he and Fox have had a long-standing working relationship. MacFarlane's incredibly popular series Family Guy, American Dad!, and The Cleveland Show are all Fox productions, and he had been under a deal with the company prior to Disney's acquisition of it. Though there's sweetness in knowing that The Orville no longer airing on Fox means MacFarlane has more time (and perhaps even more creative freedom) to make awesome episodes of the show, there's bitterness in realizing that this has to be heartbreaking for the creator, especially given his history with Fox.
Fingers crossed that The Orville jumping to Hulu for season 3 means that the new batch of episodes will be the best of the series' run thus far.