Letitia Wright Recalls Chadwick Boseman Making Fun Of Wakanda Forever's 300-Page First Draft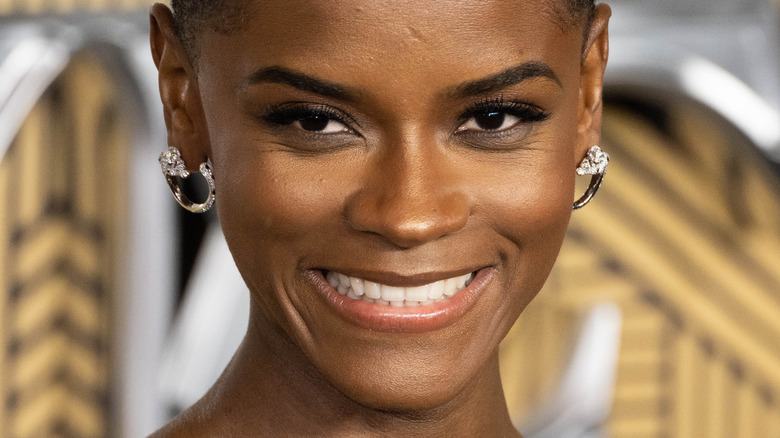 Jeff Spicer/Getty Images
Before 2022 comes to a close, Marvel Studios has one last cinematic project to offer fans of the Marvel Cinematic Universe: "Black Panther: Wakanda Forever." This highly-anticipated sequel to 2018's "Black Panther" from director Ryan Coogler promises to be one of the most emotional MCU installments yet. King T'Challa (the late Chadwick Boseman) has died, and as a result, Wakanda is in a state of disarray. Thus, it's up to his royal family to lead their nation into a new era as outside forces seek to take advantage of the increasing chaos for their own benefit.
Though he may be gone and the focus of the story is on the likes of Letitia Wright, Angela Bassett, and Winston Duke — who play Princess Shuri, Queen Ramonda, and M'Baku, respectively — it's no secret that Chadwick Boseman is at the core of "Wakanda Forever." His portrayal of T'Challa in the MCU inspired moviegoers the world over, and his untimely passing on August 28, 2020, is just as hard to accept now as it was then. His memory will live on for decades to come thanks to his innumerable fans and those fortunate enough to know him personally.
As "Black Panther: Wakanda Forever" approaches its theatrical debut, Letitia Wright has shared a hilarious story about Chadwick Boseman and his reaction to the original 300-page script of the film Ryan Coogler sent him.
Boseman got a kick out of how long the first Wakanda Forever draft was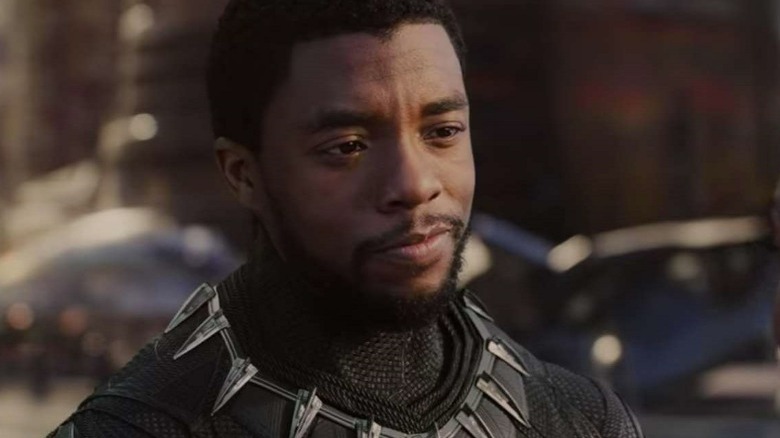 Marvel Studios/Disney
Ahead of the premiere of "Black Panther: Wakanda Forever," Ryan Coogler, Letitia Wright, and Angela Bassett spoke with Variety about the film. Naturally, Chadwick Boseman and his impact on all three of them made their way into the conversation, as did his brief involvement in the upcoming sequel. Not long before Boseman's passing, Coogler and his co-screenwriter Joe Robert Cole had pulled together a rough first draft of what would become "Wakanda Forever." They sent it to Boseman for his input, and as Wright recalls, he had a funny response to receiving the around 300-page document.
"I remember just hearing through the grapevine that even though Chadwick was really unwell, he was making fun of how long it was," Wright told the publication, noting that this was just another step in Coogler's process. When he was done writing, he'd send what he came up with to Boseman for feedback. Sadly, Coogler clarifies that even though he got the massive script, Boseman didn't end up reading it before his death because of how heavily his colon cancer was weighing on his energy levels. "He was too tired to read it. That's what was going on," Coogler told the publication.
Boseman's death brought about serious changes to Wakanda Forever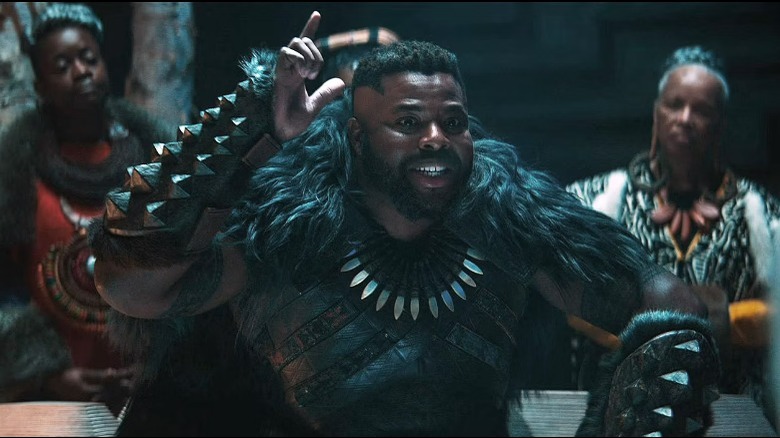 Marvel Studios/Disney
It goes without saying that the death of Chadwick Boseman was an incredibly sad moment for the entertainment world as a whole. Fans and colleagues alike mourned him while celebrating his life and career. Ryan Coogler was no exception, having worked closely with him for some time. One would imagine that this made working on "Black Panther: Wakanda Forever" quite a challenge for the director, who, in the wake of Boseman's death, had no choice but to overhaul the story along with Joe Robert Cole. As he revealed to Inverse in a November 2022 interview, though, the tone didn't change too much.
"The character was going to be grieving the loss of time, you know, coming back after being gone for five years," Coogler shared, pointing to T'Challa's disappearance for five years following Thanos' (Josh Brolin) decimation of half of all life in the universe in "Avengers: Infinity War." As the leader of Wakanda, he had to reckon with the fact that he'd disappeared from his responsibilities and people for half a decade. Coogler adds, "He was grieving time he couldn't get back. Grief was a big part of it." In addition to the tone, another thing he didn't change was the inclusion of Namor, who's played by Tenoch Huerta in "Wakanda Forever."
"Black Panther: Wakanda Forever" premieres on November 11, 2022.