Looper's Exclusive Survey Uncovered Family Guy Fans' Choice For Their Favorite Cameo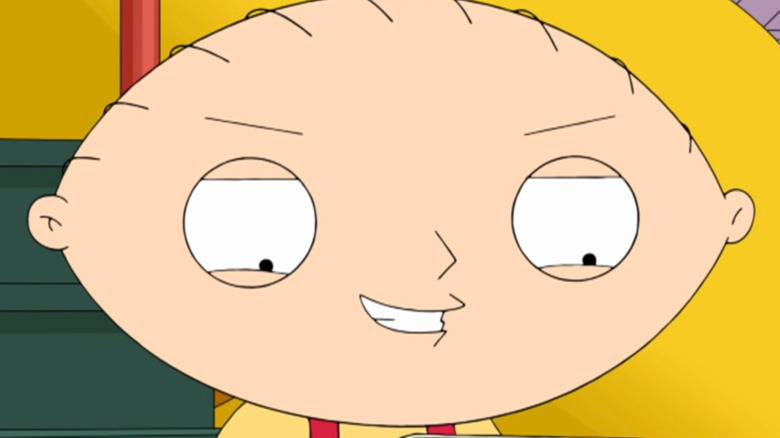 FOX
"Family Guy" specializes in both celebrity impersonations and slipping celebrities into the show via surprising cameo roles. While some voices are impersonated — former President Donald Trump, Ann Landers, and David Letterman are just some of the famous figures who either declined or were not approached to portray themselves during cameo appearances on the show — sometimes celebrities have come aboard either to parody themselves or portray fictional characters. 
Everyone from Don Most to Kenny Loggins to Sarah Paulson has shown up as themselves over time. Some even made regular roles out of their time on the sitcom. Infamously, Adam West portrayed an outsized, outrageous version of himself on the program for decades, until his 2017 passing. When he vacated Quahog's mayorship, his fictional cousin — Wild West — stepped into the empty governor's mansion, voiced by actor Sam Elliott.  
But which celebrity guest star made our readers the happiest? Who gave them the giggles or entertained them most thoroughly? Looper conducted a survey of 606 fans around the country and asked them which "Family Guy" guest star is their favorite.
Fans love Betty White's cameo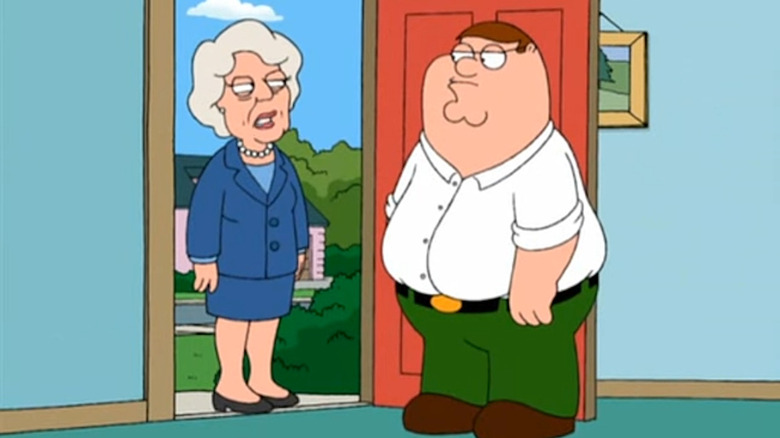 Fox Television
Coming out on top is the late legend Betty White, who lent her voice to Episode 24 of Season 4, "Peterotica." In the episode, Peter Griffin (Seth MacFarlane) pursues a career writing erotic novels. The venture is initially successful. He even convinces Betty White to act as an audiobook reader. White's narration of Peter's "The Hot Chick who was Italian, or Maybe Some Kind of Spanish" is so spicy that it causes a motorist to veer off the road while trying to take his shirt off, resulting in him suing both Peter and White for monetary damages — and an angry White showing up on Peter's doorstep demanding to know what's going on. The actor's work earned her a hefty slice of the poll with 37.29% of our readers calling her appearance their favorite.
In second place is actor/comic Will Ferrell. He pops up twice on the show; first to voice Quahog's founder, Miles "Chatterbox" Musket, in Season 2's "Fifteen Minutes of Shame." He would appear one more time on the show, in Season 3's "Mr. Saturday Knight," as the most wicked character in the whole Renaissance fair, The Black Knight. His cumulative appearances result in him landing 17.33% of our fan's votes.
Rounding out the top three is legendary rock band KISS with 15.84%. The band and its members have shown up multiple times; first in "A Very Special Family Guy Freakin' Christmas," voicing versions of themselves in a Christmas special that Peter adores. In Season 3's "The Road to Europe," we learn the band was intimately involved with Lois Griffin (Alex Borstein) before she met her husband. Lead singer Gene Simmons also appears solo in Season 4's "Don't Make Me Over." 
What do Ryan Reynolds, Liam Neeson and Robert Downey Jr. have in Common?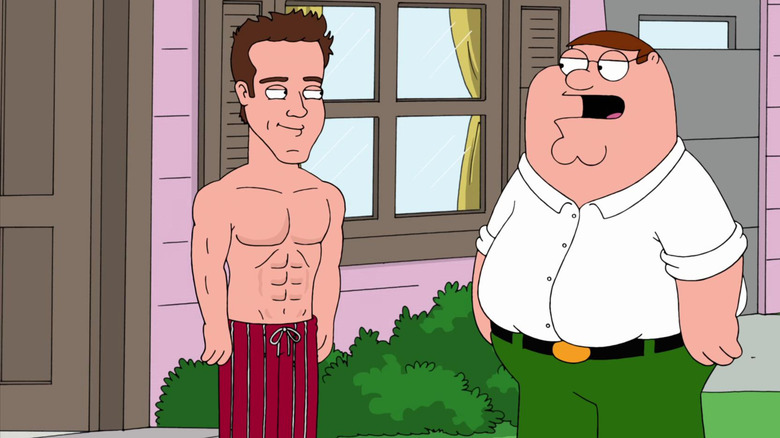 Fox Television
Ryan Reynolds' Season 10 appearance in "Stewie Goes for a Drive" definitely amused our readers. Reynolds' bent take on his own cult of personality as he tries to pursue a friendship with Peter Griffin drew enough chuckles that the actor was asked back to voice himself in Season 16's "Follow the Money," where he again voices himself. The actor aced 11.88% of our poll.
Right behind him (which is an incredibly dangerous place to be, especially in the "Family Guy" universe) is actor Liam Neeson. While he briefly voices himself in Season 12's "Brian's a Bad Father," the actor is probably best remembered in Quahog for Season 13's "Fighting Irish," in which Neeson and Peter end up going at it in a fistfight. Neeson only got .66% less of the poll than Reynolds, coming in at 11.22%.
Finishing up the poll is Robert Downey Jr., who appeared on the show as Lois' long-hidden brother, Patrick Pewterschmidt. Patrick first appears in "The Fat Guy Strangler," Episode 17 of Season 4. After Lois learns about Patrick's life cloistered away by her parents in an institution, she invites him into her family's life, only to discover that her brother is hiding a terrible secret. It turns out Patrick is a serial killer who kills overweight men due to a repressed memory he has of his mother's affair with Jackie Gleeson. While Patrick reappears in the episode "Killer Queen," Downey does not voice him. Robert Downey Jr.'s version of Patrick got 6.44% of our fans' votes.