Does Woody Harrelson Play Carnage In Venom?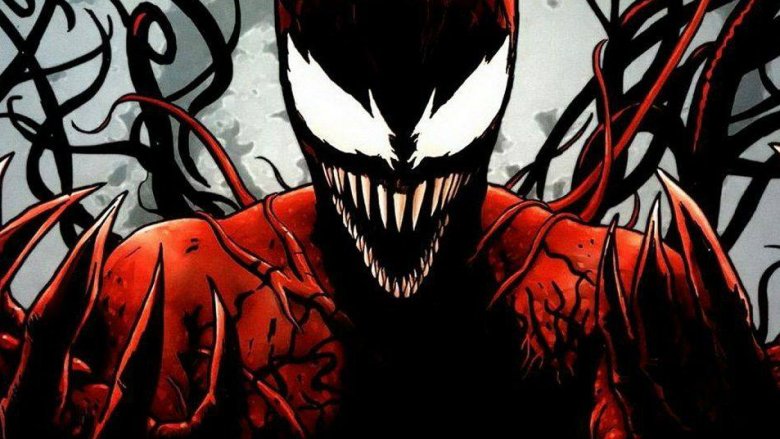 Maximum Carnage, meet delayed gratification.
Rumors have been swirling about the potential inclusion of Carnage in Sony's upcoming Venom movie, but to this point, the villain's potential role in the story has proven difficult to pin down. 
It appears that the reason we haven't heard much about Carnage in Venom may be because he's not in the movie much at all — but when he does show up for his brief appearance, the actor who is playing him just might bring the house down. 
According to a report by That Hashtag Show, Carnage will appear in the movie in a small role in a post-credits sequence, setting up a sequel to Venom's first outing that will pit Tom Hardy's Eddie Brock against his most unstoppable nemesis. 
While nothing has been officially confirmed, reports have emerged stating that the character will be introduced in his human form, the deranged serial killer Cletus Kasady, played by none other than Woody Harrelson.
Carnage is of course a symbiote alien, just like Venom, who is born after the creature attaches itself to Kasady, resulting in an unholy mix of pure violence and rage. Brock first met Kasady in the pages of The Amazing Spider-Man, when the two shared a prison cell on the fictional Ryker's Island. When Brock escaped from prison, he left a piece of the symbiote behind.
According to the That Hashtag Show report, the post-credits scene will shift the action from the east coast to California's San Quentin State Prison. The movie will depict the aftermath of the meeting between Brock and Kasady, reportedly capping off the film with the symbiote approaching Kasady in his cell before a cut to black.
Rumors regarding Carnage have persisted around Venom ever since the movie was announced, but the leaked intel has never been able to pin down exactly where or how the character would appear. Initial rumors suggested that Riz Ahmed would be playing the killer, but these rumors proved to be false. While Ahmed is playing a villain in the movie, it's not Kasady — and frankly, the idea that the London-born actor of South Asian descent would be playing a murderous white redneck was never very convincing. We're not trying to typecast Woody Harrelson, but a character named Cletus Kasady would appear to be thoroughly in the Texas-born thespian's wheelhouse — much more so than any other male actor whose name has been attached to the movie, anyway.
Reports that Harrelson would appear in the movie sprouted up two months ago, with sources cited by TheWrap saying the actor was in talks to play a "henchman of sorts". In Marvel Comics, Kasady has always been portrayed as a lowly, unintelligent brute, remarkable only for his violent insanity, rather than a big ego or leadership skills.
As of now, all of this is only rumor, but it also feels fairly compelling. Reports of Harrelson's involvement in Venom stopped as soon as they began, which for a time made it seem as though the report was untrue. Now, it's starting to look like Harrelson's role might just be a small tease of something more to come.
What do you think? Does it make sense that Woody Harrelson would play Carnage in Venom? Stranger things have happened — like Joaquin Phoenix cozying up to DC to potentially play the Joker, for instance. It's not like Harrelson is afraid of genre fare — not only is he coming off an acclaimed turn in War for the Planet of the Apes, he'll next be seen as a mentor to young Han Solo in the upcoming Solo: A Star Wars Story.
Venom latches onto theaters on October 5. In the meantime, start placing your bets on whether Spider-Man is showing up in this thing, and check out the symbiote-light first trailer for the Sony superhero outing here.