The Watcher's Jennifer Coolidge Teases Wanting Karen To Get Punished In Season 2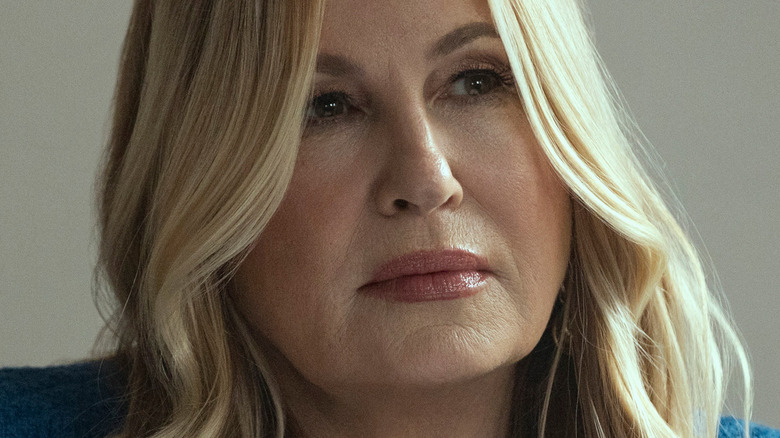 Eric Liebowitz/Netflix
Netflix released "The Watcher," a horror series by the prolific Ryan Murphy, on October 13, in the midst of spooky season 2022. At the time of its premiere, "The Watcher" became a huge hit for Netflix. According to data gathered by the streaming service, subscribers watched 125.01 million hours of "The Watcher" between its release and October 16, earning it the number one spot on Netflix's list of its most-streamed TV shows at that time.
"The Watcher" is based on the true story of a married couple that began receiving threatening letters from someone calling themself The Watcher during the process of moving into a house in Westfield, New Jersey. While the members of the real-life Broaddus family on whom the show's main characters are based ultimately decided not go through with their move, "The Watcher" is something of an alternate reality adaptation of their story in which the couple does indeed move into their New Jersey home in spite of The Watcher's letters.
Unsurprisingly, given its popularity, Netflix renewed "The Watcher" for a second season in early November. While Season 1 effectively covers the full story of the Broaddus family's unusual experience, the show will seemingly now continue fully within the realm of fiction. In light of this news, Jennifer Coolidge, who portrays realtor Karen Calhoun, revealed that she hopes her character is punished for her bad behavior throughout the first season in the series' next chapter.
Jennifer Coolidge thinks Karen never quite got her just deserts in The Watcher Season 1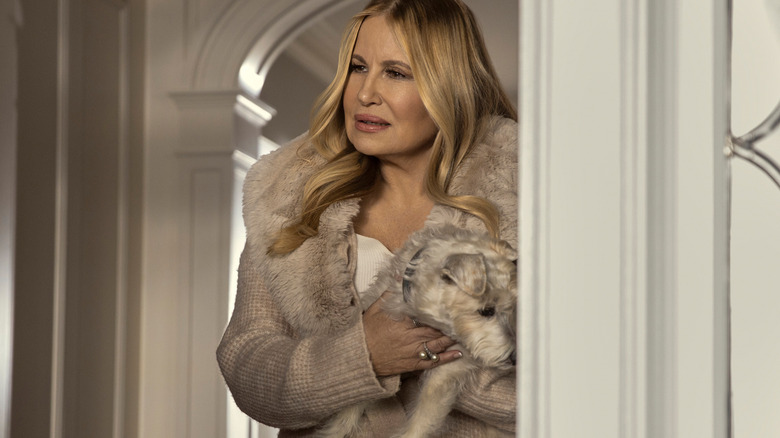 Eric Liebowitz/Netflix
During a panel featuring some of the primary creatives responsible for "The Watcher," showrunner Ryan Murphy asked Jennifer Coolidge what she might like to happen to her character Karen Calhoun in "The Watcher" Season 2. According to an Entertainment Weekly report about this press event, Coolidge responded, "I think Karen needs a good slap across the face. I think Karen needs to be punished."
As viewers who have completed the first season of "The Watcher" are aware, Karen seems to be a friend and ally to Naomi Watts' Nora Brannock at the start of the series, but proves to be a negative influence on Nora by the season's conclusion. While she ends up the target of the mysterious Watcher at one point herself, Coolidge seems to think that Karen hasn't yet faced retribution equivalent to her wrongdoing. "I think Karen's gotten away with a lot," she said at the same press event.
For what it's worth, Coolidge told Collider that she feels a considerable distance between herself and Karen. "I remember thinking that this woman couldn't be any further away from who I am," she said. It's perhaps unsurprising, then, that Coolidge thinks that this character she finds to be the antithesis of her true self deserves to pay dearly for her deceptions come "The Watcher" Season 2.