Famous Actors Who Had Parts On Gilmore Girls And You Barely Noticed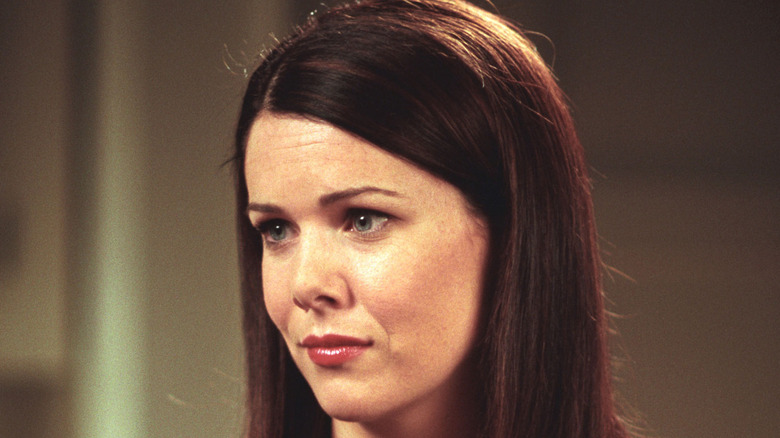 The WB/Netflix
For seven seasons, "Gilmore Girls" fans watched incredible performances from Lauren Graham and Alexis Bledel as Lorelai and Rory Gilmore, respectively. The two women carried the show with witty, fast-paced, and heartwarming dialogue, showing audiences an immensely loving relationship between a mother and daughter. As the show progresses, audiences fall in love with the quirky, ragtag group of characters that make up the town of Stars Hollow, and those that the Gilmore girls befriend along the way.
One aspect of "Gilmore Girls" that makes it so appealing to audiences is its relatable characters and plots. The characters struggle with new careers, going to college, maintaining relationships, and navigating friendships. These are events that almost everyone goes through, so it's easy for viewers to relate to these fictional characters. 
As with any show, the main characters on "Gilmore Girls" are the most memorable, but guest appearances add excitement and hilarity. Throughout the series, there are many cameos from celebrities who either weren't famous at the time but are known actors now. Here are several that you might not have noticed.
Jane Lynch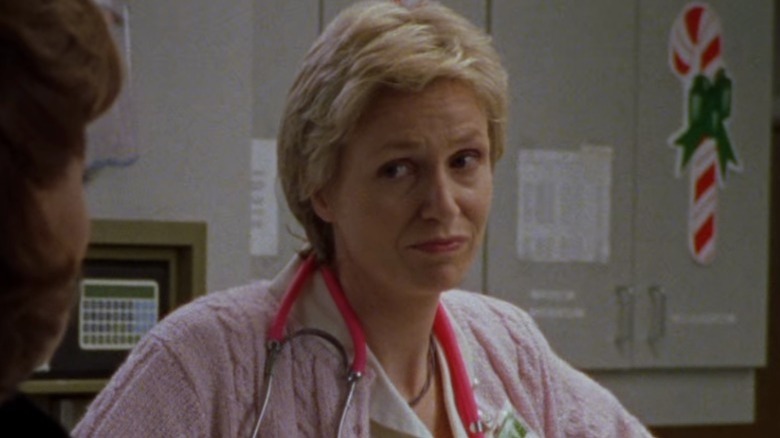 The WB/Netflix
One cameo that fans might not catch is Jane Lynch. In Season 1, Episode 10, Lorelai and Rory rush to the hospital after Richard has a heart attack. Lorelai, who doesn't get the message about Richard's condition in time, is taken by Luke. Upon arriving, she sees Emily arguing with a nurse over what Emily calls "idiotic questions," including pertinent information, like their insurance. Though Emily isn't very calm — as per usual — the nurse isn't very sensitive to her heartache at the moment. Lynch plays the nurse with whom Emily argues.
Jane Lynch is an Emmy-award–winning actress with a lengthy filmography who's best known for playing Sue Sylvester on FOX's "Glee," which first aired in 2009. For her time as Sue Sylvester, Lynch won the Primetime Emmy Award for Outstanding Supporting Actress in a Comedy. Lynch has also won a Screen Actor's Guild award and a Golden Globe award. In addition to her notable role as Sue Sylvester, Lynch has portrayed characters like Sophie Lennon in Prime Video's "The Marvelous Mrs. Maisel" and Sazz Pataki in Hulu's "Only Murders in the Building." Though she would never be recognized for "Gilmore Girls," real fans of Lynch and the show know she went toe to toe with Emily.
Bryce Johnson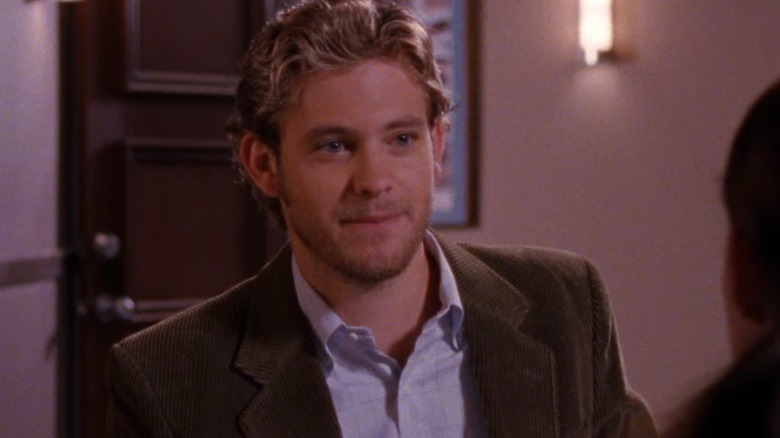 The WB/Netflix
In Season 2, Episode 9, Lorelai is deep in the throes of earning her business degree. It's a plot point that many fans were proud of, and one that spanned most of the season. In this particular episode, Lorelai is at school when she's confronted by a classmate, Paul, who wanted the last burrito from the vending machine. The two strike up a conversation, and he asks for her notes from class. After talking for a bit, he asks her out on a date. The two go out and have a nice time. He's nice and seems like he could be good for Lorelai. However, when Lorelai runs into him with his parents at Luke's diner, she realizes just how young he really is. There's nothing scandalous about their age gap, but he's definitely too immature for someone like Lorelai.
Bryce Johnson plays Paul for this one episode, but he is mostly known for other projects. He plays Jake in the film "Darkness Rising." He also plays Jim in the film "Willow Creek" and Josh Ford in the television series "Popular." However, to "Gilmore Girls" fans, Johnson is likely most known for playing Detective Darren Wilden in the hit teen television show "Pretty Little Liars." Johnson may not be the right match for Lorelai, but he is fun to watch in the episode.
Seth MacFarlane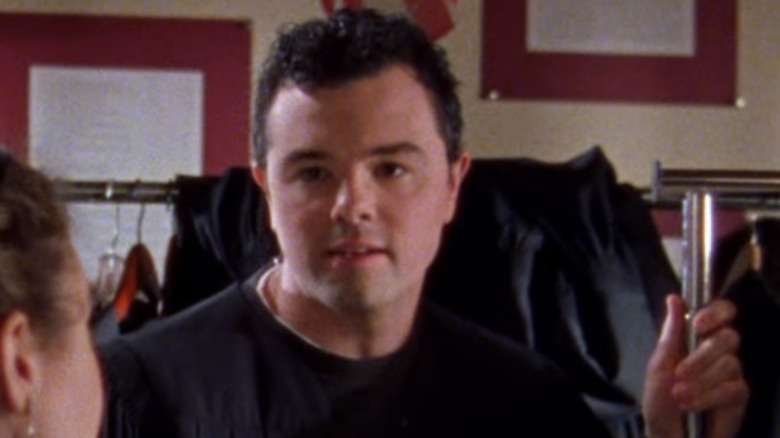 The WB/Netflix
Continuing with the theme of Lorelai earning her business degree, "Gilmore Girls" Season 2, Episode 21 features her graduation. Everyone is so proud of her. Emily and Richard come and hire a video crew to document the whole thing. Rory is proud, too, but ends up missing the event because she takes the bus to New York to visit Jess. While waiting for the ceremony to start, Lorelai talks to a couple of her classmates who are a couple that has just broken up. The man, Zach, starts to talk trash about Emily setting up the cameras and how he hates people with money. They band together with Lorelai but eventually turn on her once they find out Emily is her mother.
Zach is played by Seth MacFarlane, who people usually recognize for his off-screen writing and voice talents. MacFarlane is best known for his writing work and voice work in the animated shows "Family Guy" and "American Dad." He also is a writer and voice actor in the series of "Ted" films about the man whose best friend is his alive teddy bear, and lent his singing talents to the animated children's film, "Sing." However, like his cameo on "Gilmore Girls," MacFarlane also does on-screen work, like his role as Albert in "A Million Ways to Die in the West."
Jon Hamm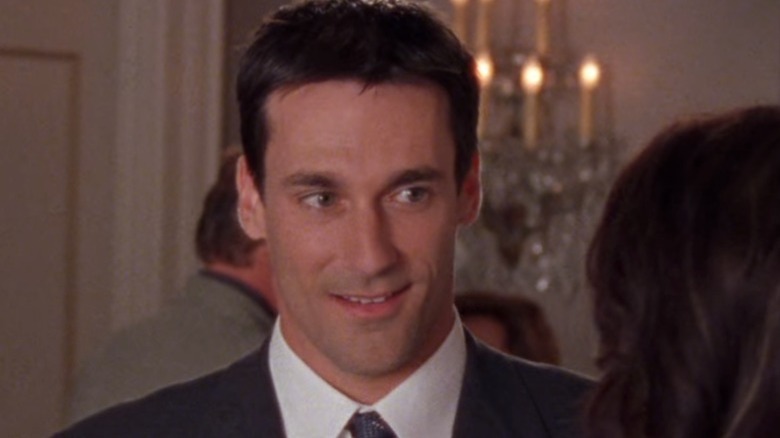 The WB/Netflix
Throughout the show, Lorelai dates her fair share of men. However, in Season 3, Episode 5, she has a great meet-cute with a man at an auction she attends per her mother's request. They both go to the counter for a glass of wine, but the man orders the last glass of merlot. He and Lorelai get into a miniature bidding war over the glass, until the man asks the bartender for an empty glass and splits the wine with Lorelai. They flirt, and after he leaves Lorelai realizes she wants to find his name and number to ask him out. She is forced to turn to her parents for help, and they do help her get his information. However, when she ends up asking the man, Peyton, out on a date, he is incredibly boring and has no idea of his lack of personality. This poses a problem for Emily, as she's friends with Peyton's mother and could potentially be shunned for her daughter's actions.
Peyton is played by Jon Hamm, who's made waves in the film and television industry and, most recently, in Progressive commercials as Flo's potential love interest. Hamm is best known for his leading role as Don Draper in the popular television show, "Mad Men." However, he has also been in a slew of blockbuster films, including "Baby Driver," "Top Gun: Maverick," and "Tag."
Billy Burke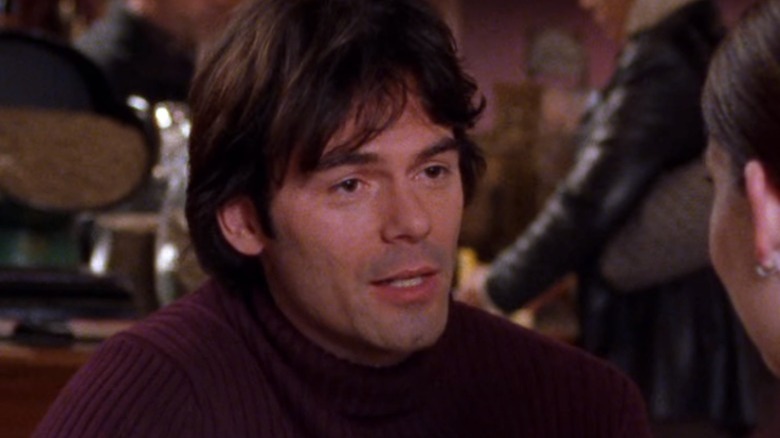 The WB/Netflix
Another one of Lorelai's suitors comes from Season 3. Lorelai and Sookie take a business class for opening their own inn, and run into one of Sookie's old friends, Joe, from when she worked in the Berkshires. Joe's business partner, Alex, takes a liking to Lorelai, and the two bond while Sookie and Joe reminisce on old times. They immediately hit it off, and he seems like the perfect match for her. This is further confirmed when he calls to ask Lorelai, the coffee queen herself, on a date to hit up different coffee shops. They have a great time on the date, but Lorelai finds herself nervous when he wants to take her fishing. He schedules another great date at a lodge and spa after fishing, and another one when they go to New York to see a musical. Though everything seems great with them, Alex and Lorelai eventually break up, and it's never explained why.
Alex is played by Billy Burke, who is most famous for his role as Charlie Swan, heroine Bella Swan's father, in the "Twilight" saga. Burke is also a main character in the television series "Revolution," in the miniseries "Maid," and in the show "Zoo." Burke also had a featured role in the Nicolas Cage film "Drive Angry." Though it's unfortunate that we didn't see his relationship play out more with Lorelai, there are more shows out there to watch Burke shine.
Jason Earles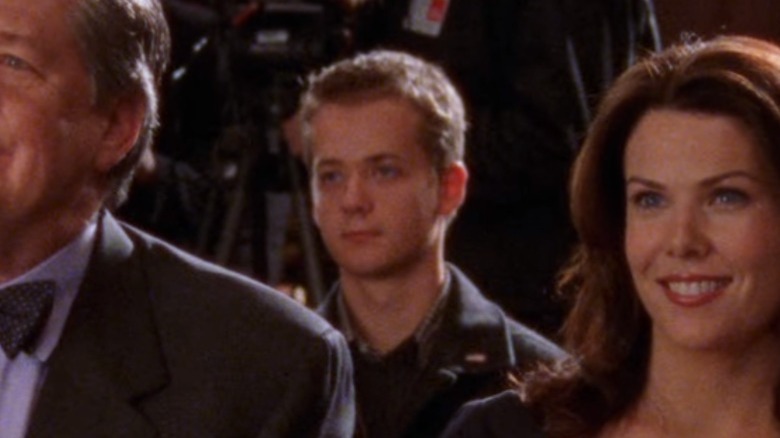 The WB/Netflix
"Gilmore Girls" fans can spot Jason Earles in a smaller cameo. In Season 3, Episode 16, Rory and Paris compete to give a speech at the Chilton Bicentennial. It's a prestigious event with television coverage, and it's really tough competition. However, they both are awarded the opportunity to speak, so they try to make the best of it and create a speech together. A wrench is thrown into the plan when Paris gets rejected from Harvard on the day of the speech. Instead of saying what she and Rory had written, Paris talks about getting rejected from Harvard and the fact that she had sex with her boyfriend. The whole scenario gets out of hand, and the camera keeps panning back to Richard and Lorelai for their reactions in the audience. When the camera is on Richard and Lorelai, you can see Earles in the background as an audience member in between the father and daughter.
Earles is most known for his role as Jackson Stewart in Disney Channel's "Hannah Montana," both the television series and film. Earles is also a main character in the Disney series "Kickin' It," and starred in the Disney Channel film "Dadnapped." Most of his work is in children's programming, specifically Disney, as he also is most recently in Season 3 of "High School Musical: The Musical: The Series," and the Disney films "Space Buddies" and "Super Buddies."
Victoria Justice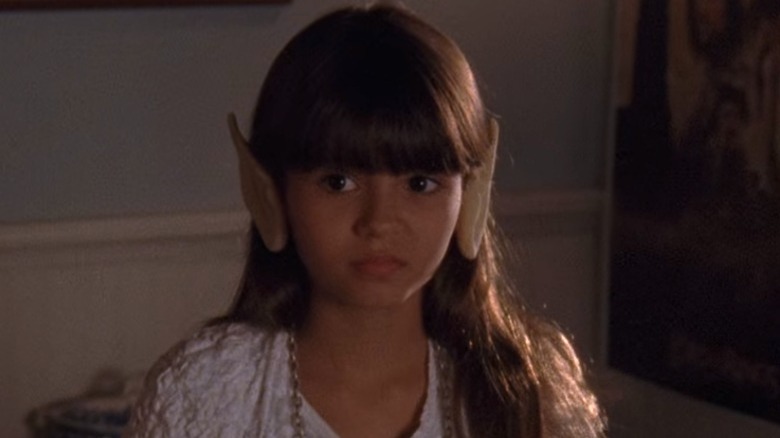 The WB/Netflix
In Season 4, Episode 3, Lorelai and Sookie are still managing the construction efforts of the Dragonfly, so they decide to start a catering company to keep some money coming in. For their first gig, the two host a "Lord of the Rings" birthday for a friend in town's child. During the party, Lorelai plans it and Sookie caters, and though Lorelai's end is met, Sookie makes food that's only mature enough for the adults instead of creating some selections for the kids. This is confirmed when one of the little girls, Jill, tries Sookie's food and promptly puts the rest back, telling her "it tastes like diapers."
The little girl who doesn't like the food is played by Victoria Justice. Aside from this cameo, Justice has been in many productions targeting kids and teens, like the Nickelodeon film "The Boy Who Cried Werewolf," and the films "Fun Size" and "Naomi and Ely's No Kiss List." She's also been in more adult productions like Netflix's "A Perfect Pairing," the film "Trust," and FOX's live-action production of "The Rocky Horror Picture Show." However, she's most known for her roles as Lola and Tori in the Nickelodeon shows "Zoey 101" and "Victorious," respectively.
Max Greenfield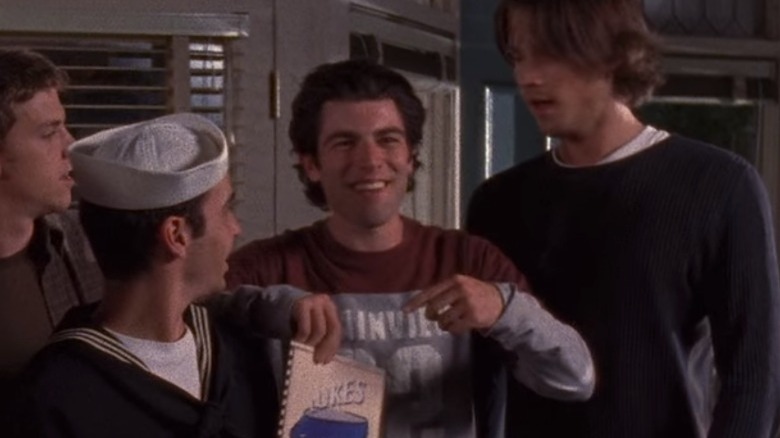 The WB/Netflix
In Season 4, Episode 4, Dean is celebrating his upcoming nuptials. The night before his wedding, Dean's friends get together and throw him a bachelor party. They all get incredibly drunk and head to Luke's diner for a bit of food to help them refuel. One of Dean's friends is the designated driver and in the Navy; another friend is also named Luke and tells Luke Danes that they should start a club for their name. They all sit and talk to Luke for a while about their night and Dean's marriage until a drunken Dean starts saying Rory's name. Luke Danes kicks them all out except for Dean, whom he takes upstairs to his apartment to sleep off the alcohol.
Luke's name-twin is played by Max Greenfield. Undoubtedly, Greenfield is most famous for his portrayal of the character Schmidt on the popular sitcom "New Girl." Most recently, Greenfield is starring in a sitcom with Cedric the Entertainer called "The Neighborhood." He has also been in several films, including "Promising Young Woman" and "Hello, My Name Is Doris."
Monique Coleman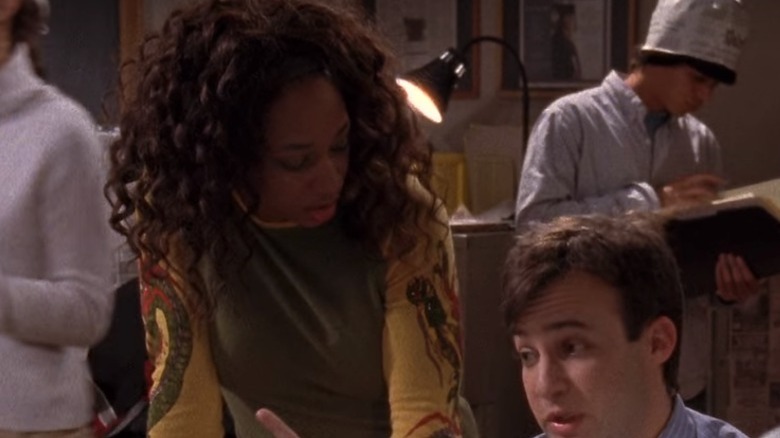 The WB/Netflix
In Season 4, Rory goes to college and she joins the Yale Daily News as a writer. In Season 4, Episode 10, Rory and the other new staffers are forced to wear newspaper hats and deal with Doyle's incessant criticism. One staffer has to argue with Doyle over the quality of her article, telling him that it's perfectly good. In response, Doyle tells her that they don't do "perfectly good" at Yale, and if she wanted to strive for that low level of accomplishment then she should've gone to Harvard.
The staffer in this episode is played by Monique Coleman. She has been an extra in several shows, but is best known for her role as Taylor in "High School Musical" and its two sequel films that follow. Because of her fame from this franchise, Coleman is also going to be a part of Season 4 of "High School Musical: The Musical: The Series," likely as herself. Just like Taylor in the "High School Musical" films, the staffer works hard for the Yale Daily News and is underappreciated for her talents.
Rami Malek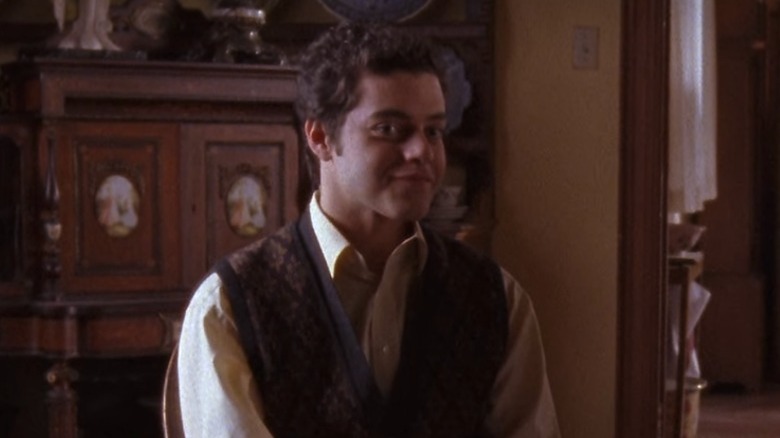 The WB/Netflix
Season 4 has many cameos, including one from Rami Malek. In Season 4, Episode 11, Lane has a group of her friends from her militantly religious college over to study. Their assignment is to interview a leader of high stature in the community, and no one can come up with an original idea. One student wants to interview the pastor, but Lane wants to keep taking suggestions to see if they can come up with something better. Another student suggests the assistant pastor, but Lane still wants to try and keep their options open.
The student wanting to phone the assistant pastor is Rami Malek, who actually got his start as an extra on "Gilmore Girls." After that role, a series of other roles including his acting in "Medium," "Night at the Museum," and "Twilight: Breaking Dawn" followed. To Glamour, Malek said, "It was an opportunity that gave me a stepping stone to get that next job," he says. "[Booking 'Gilmore Girls'] let me feel like this career was not insurmountable." And he was right, as continuing after those smaller roles, Malek booked the lead in the television series "Mr. Robot" and portrayed the influential and fabulous Freddie Mercury in the Queen biopic "Bohemian Rhapsody." To think it all started with "Gilmore Girls."
David DeLuise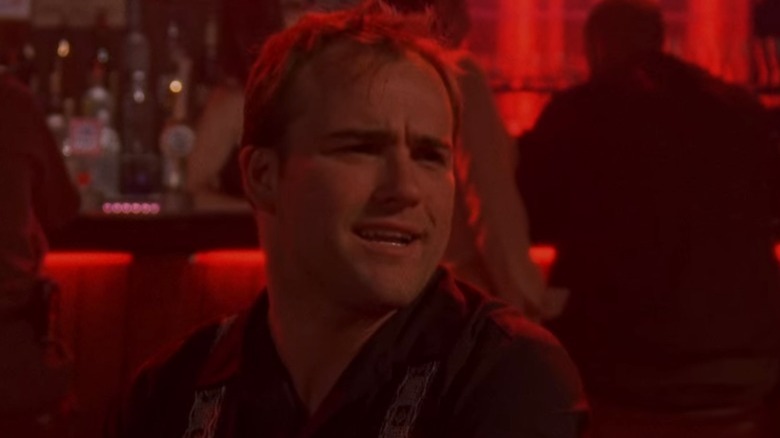 The WB/Netflix
In Season 4, Episode 20, another bachelor party befalls the town of Stars Hollow. T.J. and Liz are getting ready to tie the knot and T.J. has a bachelor party in celebration of the event. The group of friends, including Luke and Jess, go to a strip club to prepare T.J. for his marriage. Luke isn't having a good time at all, standing up to avoid lap dances and talking to Jess to avoid listening to T.J. and his friends' babble.
One of T.J.'s bachelor party boys is his brother, played in the show by David DeLuise. Mostly, DeLuise works in children's programming. He is known for his work in the "Pup Star" films, but is most famous for his role as Jerry Russo in "The Wizards of Waverly Place" television series and film. Though most of his roles are geared toward children, his "Gilmore Girls" cameo shows him in a cruder light.
Leslie Odom Jr.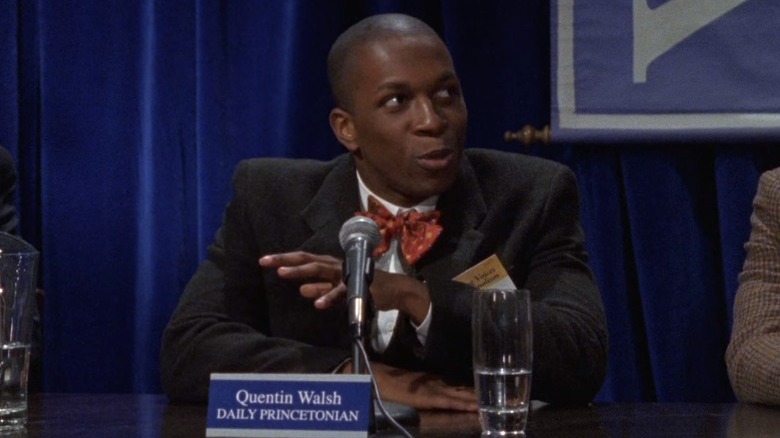 The WB/Netflix
Rory deals with a lot while in her various roles for the Yale Daily News. When she becomes editor, Rory is under a lot more stress and must deal with other school editors. In Season 6, Episode 16, Rory sits on a panel of college editors to answer a variety of questions, and immediately she and the audience are bothered by the Princeton editor, Quentin Walsh. He is described to Lorelai by Rory as the "pompous Princeton guy," and throughout his responses on the panel lives up to that name. However, Rory uses her usual diplomatic nature and charm to win him over professionally by the end.
Quentin's pompous behavior is perfectly portrayed by Leslie Odom Jr. The Broadway phenom and screen acting star is best known for his role as Aaron Burr in the musical "Hamilton," which was both professionally performed on Broadway and recorded for Disney+ for fans to watch at home. He has also starred in movies like "One Night in Miami," "Harriet," and "Glass Onion: A Knives Out Mystery."
Melora Hardin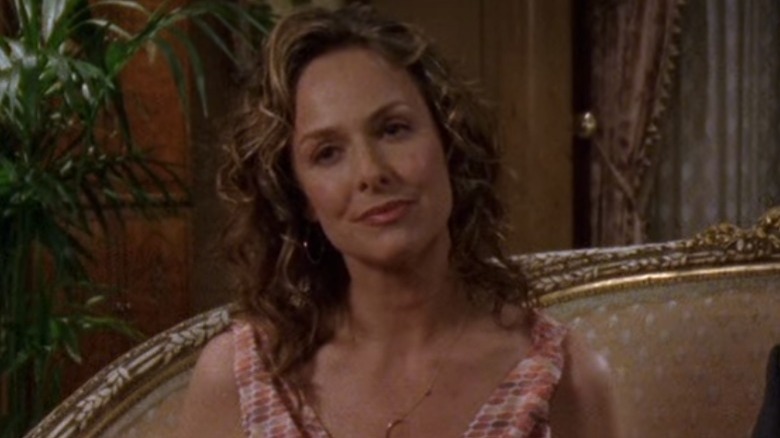 The WB/Netflix
In Season 6, Episode 22, Emily and Richard invite Lorelai and Christopher over for dinner. Unbeknownst to them, Emily is trying to set Christopher up. However, in a plot twist, the person she's trying to get Christopher with isn't Lorelai; it's her friend's daughter, a therapist named Carolyn. Emily says Carolyn just moved to the area and that she owed her dinner, which is why she was invited, but Lorelai and Christopher catch on quickly that she's trying to get Carolyn close to Christopher. He turns to Lorelai for help on how to get out of the situation, and she vows to help him make it through the night.
Carolyn the therapist is played by the illustrious Melora Hardin. She is known for her film roles in "17 Again," "27 Dresses," and "Hannah Montana: The Movie," as well as her TV roles as Jacqueline in the Freeform show "The Bold Type" and Jan Levinson in NBC's "The Office." Though there is plenty of room for comedy in all of her roles, she handles each performance with grace.
Danny Pudi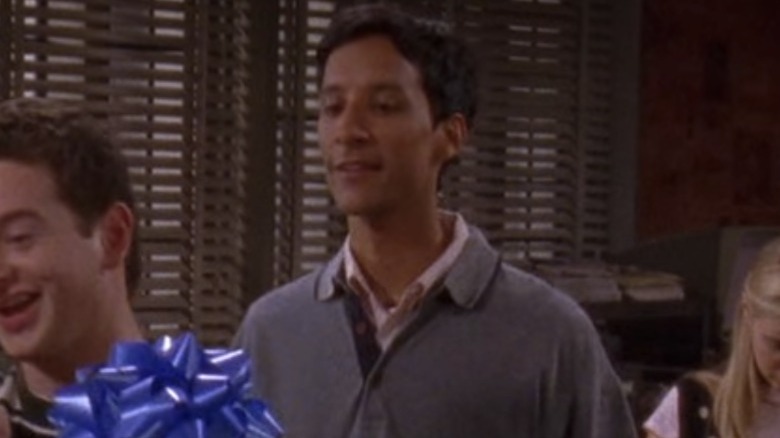 The WB/Netflix
The last notable cameo comes in Season 7, where the audience can spot Danny Pudi for a few episodes. While Rory is in charge of the Yale Daily News, she has to work with a number of staffers who keep the paper running. One of these staffers, who can be spotted in the background a few times, is Raj. He is a hard worker and keeps up with the never-ending wit and fast pace of the newspaper and of "Gilmore Girls" in general.
Raj is played by Danny Pudi. More than anything else, Pudi is known for his role as Abed in the hit sitcom "Community," where several community college students form a study group and chaos ensues. However, Pudi has also been in shows like "Mythic Quest" and "DuckTales," and even had a small role in the Marvel film "Captain America: The Winter Soldier." His roles as Abed and Raj are not too far off in their smarts and work ethic.