A Tulsa King Scene Made Sylvester Stallone Feel Like A Grandfather On Set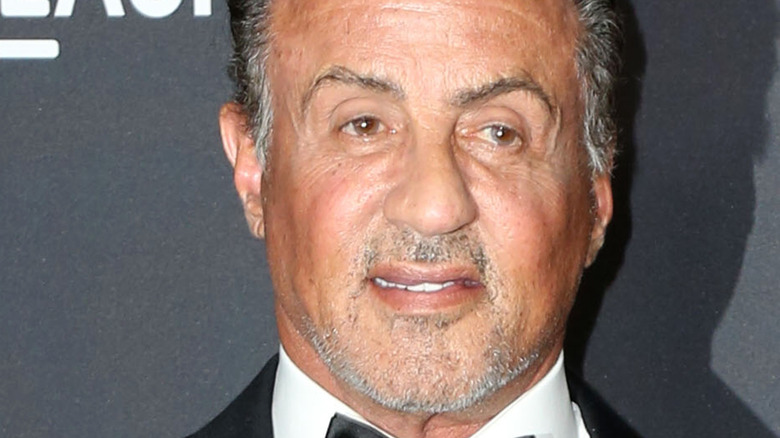 Kathy Hutchins/Shutterstock
Cue "Gonna Fly Now" — Sylvester Stallone has made it to television. The Italian Stallion has been the face of some of the most successful franchises of the past fifty years, including "Rocky," "Rambo," and "The Expendables." Now, he's bringing his talents to Paramount+ and the Sooner State with "Tulsa King."
A collaboration between "Yellowstone" creator Taylor Sheridan and "The Sopranos" executive producer Terence Winter, "Tulsa King" combines the former's Western bona fides and the latter's experience within the gangster genre. Stallone stars as Dwight "The General" Manfredi, an ex-mafia capo who, much to his chagrin, is shipped off to Oklahoma following a 25-year prison sentence. "There's nobody doing nothing," a mob boss tells Stallone's character in the "Tulsa King" trailer. "You can do whatever you want." Manfredi takes that advice to heart and goes about forming his new criminal empire.
Both on and off the screen, Stallone is a veteran force to be reckoned with. Interestingly, however, one particular scene in "Tulsa King" made the actor feel his age.
A love scene with a younger character made Stallone feel his age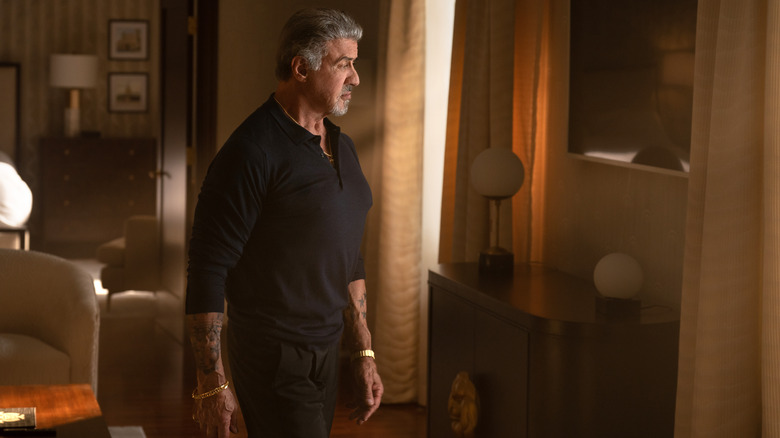 Paramount+
Since making "Rocky" in 1976, Sylvester Stallone has accomplished the remarkable feat of appearing in a box office weekend-topping movie for six consecutive decades. Remarkable, sure, but it also dates the actor. Still, the 76-year-old star admits that his age hadn't quite caught up with him until he filmed the "Tulsa King" pilot, in which his character sleeps with a younger woman, and she flees in a panic upon learning how old he is.
"I kind of felt kind of how I played it," Stallone told The Hollywood Reporter. "Like, I'm almost apologizing — I'm sorry. I didn't know. It crept on me that fast. I'm the oldest guy on the show's set. I could be some of these people's grandfather. So [the scene] was quite flattering and also quite depressing."
The scene may have been depressing, but Stallone isn't taking the experience too seriously. "I've always been averse to the quote 'Act your age,'" he said. "The older I get, the more I try to embrace my inner kid." If anything is slowing down Stallone, it's the aches and pains he's racked up from decades of action movies. "The only way I really feel my age is because I've had so many injuries," said the actor. "I've had five back operations, three neck fusions, both shoulders done, knees, ankles, fist – you name it. It's been more than 25 times that I've been put out. So that I feel. But after I warm up, I feel really good. I don't run out of gas." Indeed, Stallone is showing no signs of slowing down; "The Expendables 4" is currently in production, with Stallone returning as Barney Ross.