Sylvester Stallone Never Expects To Get The Rights To Rocky Back
Sylvester Stallone's Rocky Balboa has overcome some of the most seemingly impossible in-ring brawls. But not even the best training montage out there could help Stallone win one of the biggest battles of his career.
Released in 1976, "Rocky" introduced the world to Rocky Balboa, a down-on-his-luck boxer who gets the chance of a lifetime against the heavyweight champion of the world, Apollo Creed (Carl Weathers). Stallone, who both wrote the film and stars as the titular character, mirrored his creation's story, starting as a struggling actor before hitting it big with "Rocky." The film was a massive hit, becoming the highest-grossing film of 1976 (via The Numbers). "Rocky" won three Academy Awards for best film editing, director, and picture (via IMDb). The success of "Rocky" led to a hearty franchise that continues to this day, with its latest installment, "Creed III," slated for release in March 2023 (via Coming Soon).
Understandably, Rocky Balboa is extremely precious to Stallone, just as the character has been to audiences worldwide. Even through Stallone's extensive career, which has seen him star in successful films and franchises such as the "Rambo" and "The Expendables" series, "Rocky" remained his undeniable crowning achievement, even returning to the role in the first two "Creed" films. However, a series of events have complicated his ownership of the character — and it seems that there's no punching his way to get him back.
Stallone admits his naïve understanding of the entertainment industry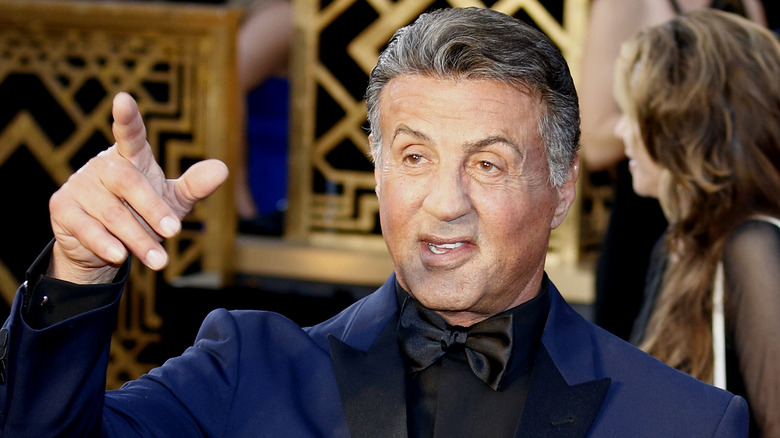 Tinseltown/Shutterstock
In July 2022, Sylvester Stallone took to social media to throw complaints at "Rocky" producer Irwin Winkler and his family, who refused to give Stallone any of the rights to the franchise (via Variety). It's been some time since then, so have things changed? In an interview with The Hollywood Reporter, the three-time Oscar nominee was asked if there was any change in the situation. "No. It's never gonna happen," Stallone says. "It was a deal that was done unbeknownst to me by people that I thought were close to me and they basically gave away whatever rights I would have had. At the time I was so excited to be working and I didn't understand this is a business."
Stallone spoke of the irony of the situation, how he was responsible for Rocky Balboa's existence and so much of his iconic dialogue, yet technically did not own any aspect of the character. He also mentioned that after the first film's release, nobody expected the character and franchise to be kicking decades later. In another interview with Deadline, Stallone stated that ownership rights were not commonly pushed during the '70s.
Irwin Winkler and the late Robert Chartoff produced the first five "Rocky" films between 1976 and 1990. Irwin's son, David Winkler, came on board as a producer starting with 2006's "Rocky Balboa," and has also worked alongside his father on the "Creed" films. Stallone, while not set to star in the upcoming "Creed III," is listed as a producer alongside the Winklers.