Yellowstone's Cole Hauser Relieves Fans' Concerns Over Rip's Fate On The Show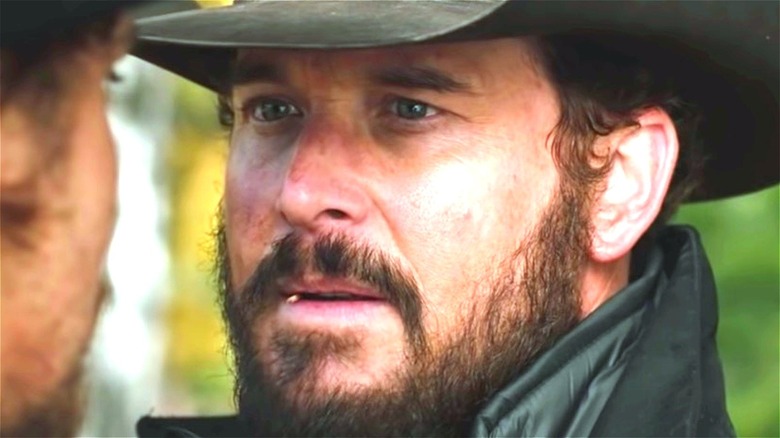 Paramount Network
Rip Wheeler has managed to get himself out of his fair share of scrapes through the course of "Yellowstone." The loyal rancher was even shot when rescuing his future wife Beth (Kelly Reilly) in the second season of the Paramount Network series, but not even bullets can stop the one person most loyal to John Dutton (Kevin Costner) and the Dutton Ranch who isn't blood. 
"Yellowstone" quickly earned a reputation for keeping audiences on their feet after they killed off Lee Dutton (Dave Annable) in the pilot episode. Fans have speculated over the years about Rip's fate, which is understandable considering the amount of life or death situations the man seems to find himself in. The show leaned into these concerns about the fan-favorite character with an Instagram post ahead of "Yellowstone" Season Five that showed Rip and Beth together. The caption to the short clip read: "Celebrating Rip Wheeler today and always. PS: get ready, #YellowstoneTV fans. Something big is coming." 
The promise of a major plot development going hand-in-hand with a video of Rip only fueled fan concerns that the Dutton Ranch may be losing one of its most important figures. Rip Wheeler actor Cole Hauser addressed the speculation while promoting the new season, and fans are going to want to hear what he has to say. 
Even Cole Hauser's mom is worried about Rip Wheeler's fate
Cole Hauser revealed his own mom has kept him up to date on some of the theories about Rip Wheeler's fate, but the actor put the concerns from fans to bed.
"My mom's told me a couple of them and I said, 'Mom, I do the killing. Don't worry about it," Hauser told Today. That being said, the ultimate decision comes down to co-creator Taylor Sheridan, who somehow still finds time to work both behind and in front of the camera on "Yellowstone" while he's also heading a number of other shows for Paramount, including "Mayor of Kingstown" and the Sylvester Stallone-fronted "Tulsa King." 
According to Hauser, he can only confidently say Rip will survive for the short term. "I think we're okay. For now," the actor said. 
In a separate interviewing promoting "Yellowstone," Hauser also confirmed the fifth season does not mark the end of the popular series, despite Sheridan's increasing workload. In fact, Hauser made his comments at a premiere event for the fifth season, and an executive for the network there revealed Sheridan was skipping out on the event because he's hard at work writing the next season (per People).