Dolph Lundgren And Sylvester Stallone Have Patched Things Up Since The Dispute Over The Rocky Spin-Off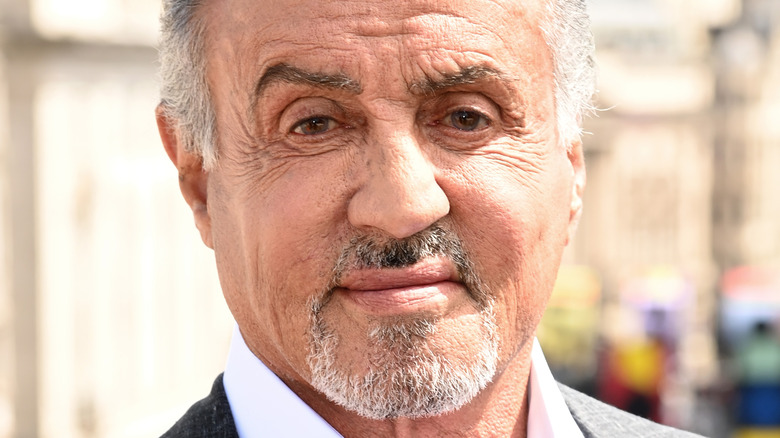 Dave J Hogan/Getty Images
Earlier this year, fans got some exciting news about an intriguing "Creed" and "Rocky" spinoff starring Dolph Lundgren — which wouldn't involve Sylvester Stallone. As you can imagine, the Italian Stallion didn't take too kindly to this.
"I once had nothing but respect for Dolph but he NEVER told me about what was going on behind my back with the character I created for him!!!" wrote Stallone in a since-deleted Instagram post (via ET Online). "REAL FRIENDS Are more precious than gold."
Initially, Stallone had believed reports about his longtime friend and "Rocky IV" co-star would be portraying Ivan Drago without his approval. But Lundgren later explained that he was actually duped into believing Stallone was involved from the get-go. The '80s action star wrote on Instagram: "Just to set the record straight regarding a possible Drago spinoff. There's no approved script, no deals in place, no director and I was personally under the impression that my friend Sly Stallone was involved as a producer or even as an actor. There was a press leak last week which was unfortunate. In touch with Mr Balboa – just so all the fans can relax" (per ET Online).
Things appeared to be squashed between the two after that, but we never actually heard whether Stallone and Lundgren had spoken to one another about what happened. Well, according to a new interview from Stallone, we reportedly do.
Sylvester Stallone says he and Dolph Lundgren are cool now, speaking regularly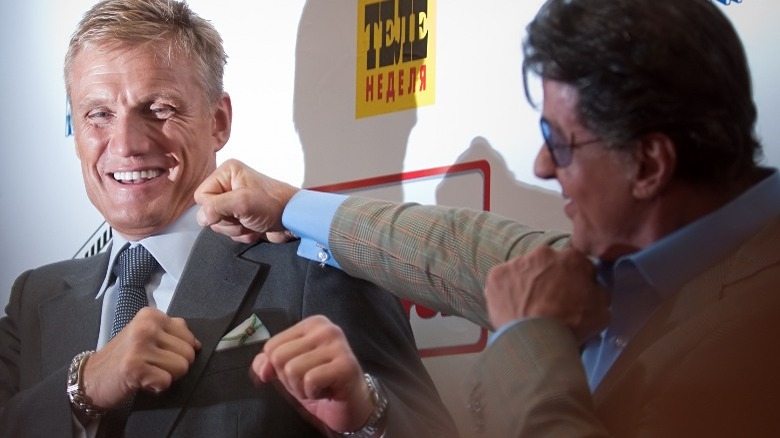 Dmytro Larin/Shutterstock
Speaking to The Hollywood Reporter, Sylvester Stallone revealed that he and Dolph Lundgren put their differences aside after their mini Instagram beef over the Drago sequel, and now they're totally fine.
"Yeah, we did," Stallone said of patching things up. "I'm actually calling him today because he underwent some ankle situation," the acting legend added. According to the Hollywood legend, the entire situation with Lundgren stemmed from a longstanding feud that Stallone has "Rocky" producer — and movie rights owner — Irwin Winkler. Stallone claims he's been robbed of an ownership stake in the iconic boxing movies, telling Variety in 2019: "I have zero ownership of 'Rocky.' Every word, every syllable, every grammatical error was all my fault."
Further describing the situation with Lundgren, Stallone told THR: "This is a classic case of them going around and trying to continually cherry pick aspects of Rocky without even asking me if I want to join in. I'm not an executive producer on the Creed movies. [Director] Ryan Coogler is. [Star] Michael B. Jordan is. [Winkler and Chartoff's] children are. Not mine. I'm the only one left out."
Stallone may no longer be involved with the "Rocky" franchise or the leading man he once was, but he's far from struggling. The three-time Oscar nominee is starring in Taylor Sheridan's new mob drama "Tulsa King" on Paramount+ and is set to appear in "Guardians of the Galaxy Vol. 3" and "The Expendables 4" (via IMDb).