Sylvester Stallone Reignites Longstanding Beef Over Rocky Rights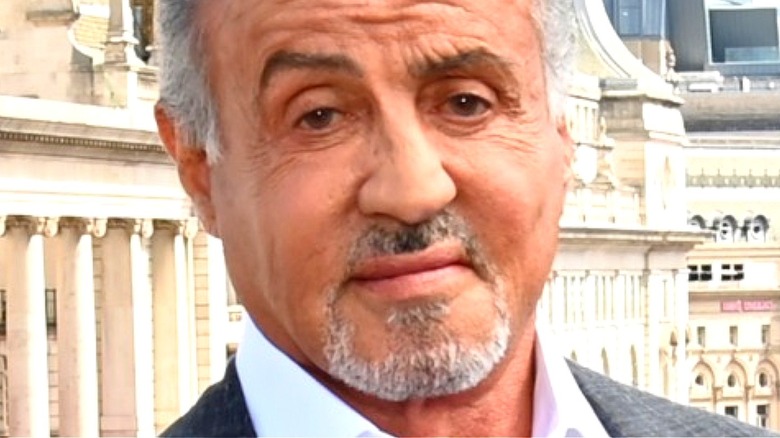 Dave J Hogan/Getty
A longstanding Hollywood feud over the ownership rights to the "Rocky" film franchise has been reignited and thrust into the public eye by Mr. Balboa himself — Sylvester Stallone — following decades of bad blood between him and one of the producers. 
According to Stallone, the acting legend was robbed out of an ownership stake for the iconic boxing movies and he only earned net points for the original 1976 film, which cost a little over $1 million to produce and made $225 million worldwide at the box-office (via Variety). He reportedly received less than six figures for his participation and first-dollar gross on the earlier sequels that came out. "I have zero ownership of 'Rocky,'" Stallone told Variety in a 2019 interview. "Every word, every syllable, every grammatical error was all my fault," he said. "It was shocking that it never came to be, but I was told, 'Hey, you got paid, so what are you complaining about?' I was furious." While Stallone ultimately blames himself about the entire situation — citing his lack of business experience at the time — he believes it's only fair that the people in charge give him what he's due, which is an equity stake in the "Rocky" franchise. And the 76-year-old is officially taking the gloves off.
Stallone posts portrait of Rocky producer Irwin Winkler as knife-tongued serpent, demands Rocky rights back
Taking to his Instagram page on July 17, 2022, Sylvester Stallone decided to post a surrealist portrait of "Rocky" and "Creed" producer — and movie rights owner — Irwin Winkler, with him depicted as a knife-tongued serpent. He requested that Winkler, 93, give him back an equity stake in the "Rocky" film franchise before passing it on to his children one day. 
"A very flattering portrait of the great 'Rocky'/'Creed' producer, Irwin Winkler, from one of the country's greatest," Stallone said. "After Irwin controlling 'Rocky' for over 47 years, and now 'Creed', I really would like to have at least a little [of] WHAT'S LEFT of my rights back, before passing it on to ONLY YOUR CHILDREN — I believe that would be a fair gesture from this 93-year-old gentleman?" Stallone went on to add that he was very sensitive about the "Rocky" ownership situation and feud with Winkler, whom he initially sold the rights to his "Rocky" screenplay to, along with the late Robert Chartoff (via Variety). "This is a painful subject That eats at my soul, because I wanted to leave something of Rocky for my children," Stallone said. 
The emotionally charged post came just one day after Stallone called out Winkler's son, author David Winkler, for a book that he released. The post quickly steered to Irwin, with Stallone writing: "If it wasn't for Winkler there would've been at least another three Rocky's." Back in 1983, Winkler told The Hollywood Reporter that their contractual commitment to Stallone was to have him play Rocky Balboa, and that's it. "We convinced United Artists to give us the money to make it," Winkler said. "They would only give us a limited amount of money, and they said that we had to put up our houses as collateral. We really mortgaged ourselves to make sure that we brought it in on time, and we did."