FBI Fans Feel Bittersweet Over Nina's Season 5 Episode 6 Exit Ahead Of Maggie's Return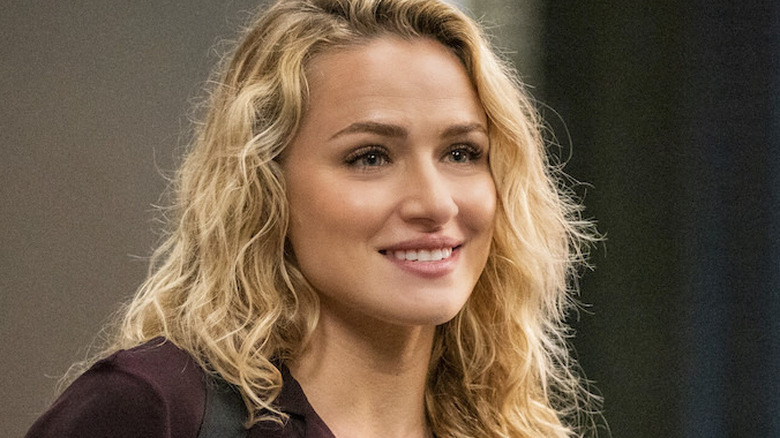 Bennett Raglin/CBS
Working at the Federal Bureau of Investigation is certainly a taxing affair, and the show "FBI" is a fictional look at a bombastic team that has to deal with all sorts of cases, tragedies, terrorists, and domestic attacks. Based in New York City, the team featured in "FBI" is essentially led by Maggie Bell (Missy Peregrym), who comes from a family of law enforcement agents. Ahead of Season 5, Maggie had to take a step away from her position after being exposed to sarin gas, and she was temporarily replaced by Nina Chase (Shantel VanSanten).
However, the reason for Maggie's absence was actually due to real-life events. Taking maternity leave, Peregrym's temporary departure was explained in-universe by the aforementioned chemical agent exposure, and she was saved by partner O.A. Zidan (Zeeko Zaki). Speaking with Variety, showrunner Rick Eid explained how the sarin will change the dynamic between O.A. and Maggie, and added, "It's not always easy to come back after eight or nine months after something like this happens. It's not just on the person who actually suffered the injury. It's also complicated for the person who didn't suffer the injury but maybe blames himself for the other person suffering the injury. We dig a little bit into that kind of psychology." 
Besides this changed dynamic between the two characters, it seems as if fans have coalesced around Nina's departure in Episode 6, and they definitely have some thoughts on the subject.
Fans are excited for Maggie's return, but are sad to see Nina go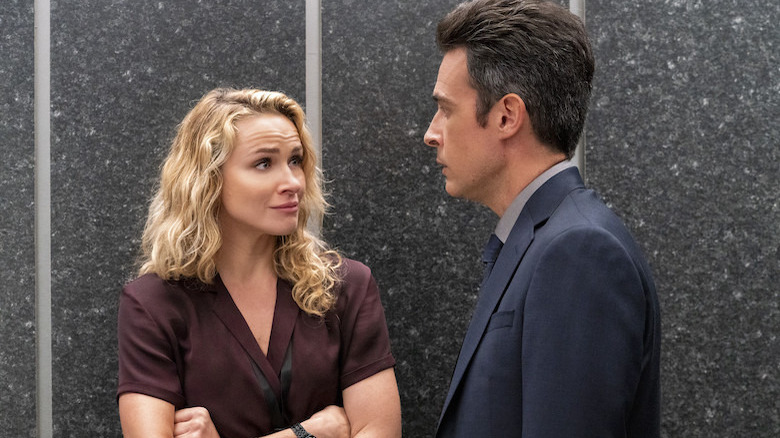 Bennett Raglin/CBS
Episode 6, titled "Double Blind," kicks off with the kidnapping of a young child, which leads the crew of "FBI" to pursue several different leads, before finally realizing that the child's mother Liza (Annika Boras) is actually a CIA agent, and that her child was kidnapped by Chechen terrorists who wish Liza to expose one of the CIA's assets. This means that Liza would be complicit in the death of an agent, but it would result in her getting her son back. However, a subplot in this particular episode of "FBI" lets fans know that Nina is pregnant by Stuart Scola (John Boyd), and the episode ends with her resigning her position in order to raise her child. As a sign of her popularity, several fans took to Twitter to express their adoration for the character.
Starting the conversation, @Kaitlin_floyd said, "I'll be glad to have Maggie back. But I will miss Nina." Others also felt the same way about Nina's departure, with @kelstrofmyheart saying that they love Nina, but will be happy to see Maggie return back to the show. @CGoerlich added, "I liked Nina but I'm glad Maggie is coming back!!! I do hope Nina makes a few appearances in the future." @ooh_hayy_redd was completely shocked by this recent turn of events and hopes that things will work out for Nina and Scola.
The FBI showrunner says that Nina will be back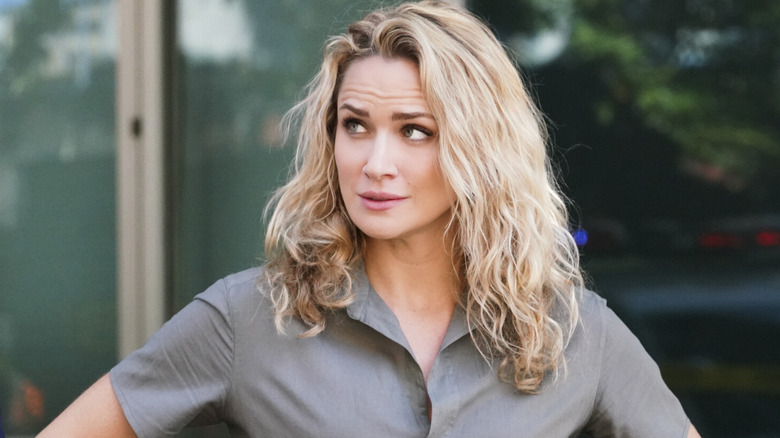 Bennett Raglin/CBS
However, the above comments weren't the only ones focusing on Nina taking a leave of absence. Both @Olicity4Life and @Country_Gal93 expressed similar opinions, and conveyed that they are excited to see Maggie return to "FBI," but will miss Nina. @tlselle72 wondered if the "Double Blind" episode was going to be the one where Nina left the show and Maggie returned, to which @Seriesjunkie_ replied and stated that Maggie will be popping up in the next episode. @laura_navins felt like this current resolution to Nina's story was a fitting end, and said, "Nina being pregnant sets up her exit perfectly to bring Maggie. I will miss her. @TheRealShantel has been phenomenal on the job."
In a recent interview with TV Insider, showrunner Rick Eid explained what fans of "FBI" might expect in the future in regards to Nina, and said, "We didn't want to kill Nina off. She's been an incredible addition to the show, and intertwining her story with Scola's allows us to keep her character alive. It also gives Scola's character another dimension; he's now facing fatherhood on top of being an FBI Agent." Eid continued, "Though Nina is leaving the team, she's still an FBI agent, and her relationship with Scola will continue in some capacity. We'll see her again soon." In other words, even though Episode 6 ended with Nina resigning her position with the team, this won't be last time fans get a chance to see Nina in some capacity. Whether she is helping an investigation or raising a child, Nina will be back, at least according to the "FBI" showrunner.