The White Lotus Has Fans In Stitches Over The Peppa Pig Comment In Season 2 Episode 2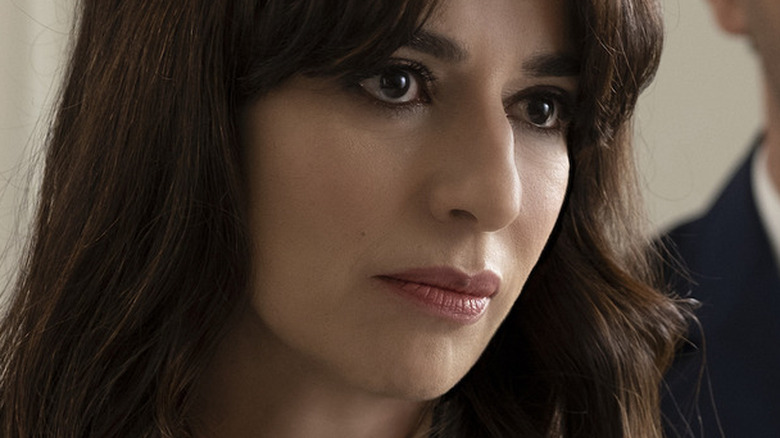 HBO
Fans of HBO's "The White Lotus" are screaming on the internet over this week's surprise "Peppa Pig" reference. Ever dramatic and romantic to a fault, Jennifer Coolidge's career-reviving character, Tanya, appeared in Episode 2, "Italian Dream," as one of her favorite Italian icons — not that hotel manager Valentina (Sabrina Impacciatore) could tell.
Standing in the hotel courtyard with a rented Vespa and her emotionally neglectful husband, Greg (Jon Gries, delightfully returning from the show's 1st season), Tanya is dressed in a very specific — and very pink — outfit, attempting an homage to famed Italian actor Monica Vitti. When she asks Valentina to guess who she is, eagerly playing at smoking a cigarette as a hint, Valentina responds, "Uh ... Peppa Pig?" It was a clear high point in an otherwise moody, introspective episode that saw several characters attempting to wrestle with what they believe are their worst demons — Dominic's (Michael Imperioli) acknowledgment of his infidelity and Harper's (Aubrey Plaza) attempt to reconcile with Cameron (Theo James) are among many deceptive moments sure to breed more problems than they solve).
Though Tanya is dealt a devastating blow in the episode's final moments as Greg is revealed to be leaving the hotel to cheat on her, fans are mostly focusing on the unintentional diss she received from Valentina before her Vespa ride.
Fan's can't handle Valentina's confusion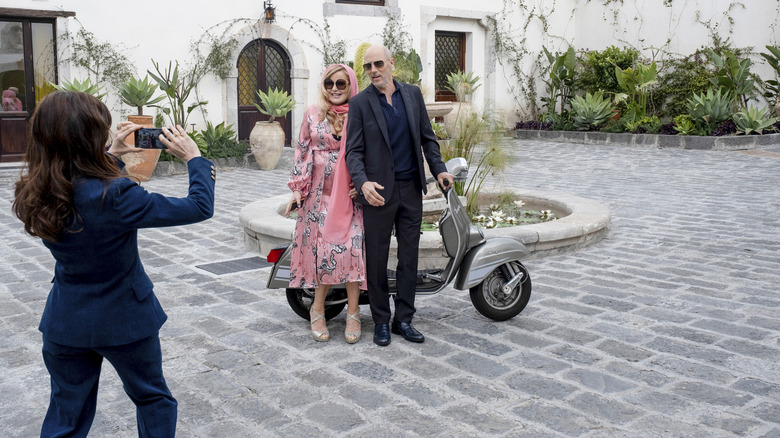 HBO
Twitter user @giselleb1234 referenced the unintentional jab in this week's episode with a photo, while also writing that she had a good laugh over it. Voice actor and writer Katie Tuohy shared a similar sentiment, tweeting, "The way Valentina said 'Peppa Pig.' I swear my soul just left my body," along with a photo of a woman in a hospital bed. Meanwhile,@itz_just_w wrote, "I choked on my water." Self-appointed "gay news" source @heyjaeee shared a photo of Tanya's all-pink look as part of a series of hilarious tongue-in-cheek live reaction tweets to the episode. @ScriptedTanya (seemingly not a reference to Coolidge's "White Lotus" character) tweeted about the moment with a picture of the character's actual outfit inspiration.
Tanya's outfit was also the talk of the r/TheWhiteLotusHBO subreddit, with Redditors similarly busting up over Valentina's reaction. One user wrote, "PEPPA PIG I CAN'T," to which another responded "Haha Valentina [Impacciatore] is killing it. Her taking the picture. 'Bravo, Monica, bravo, Monica.'" In the same thread, another user said "I swear I thought she was going to say Pepto Bismol." In response to another thread praising the joke, a user linked a comedically doctored Wendy Williams video (seen here, on YouTube). Both Jennifer Coolidge and Sabrina Impacciatore have been standouts just two episodes into the show's sophomore season. Impacciatore specifically had large shoes to fill, following Murray Bartlett's Emmy award-winning turn as Armond last season. Though her hotel manager, Valentina, is quite different from Armond, she is a refreshing, biting presence in this season of "The White Lotus."
"The White Lotus" airs Sundays on HBO.