Why Jennifer Coolidge Avoids Watching The White Lotus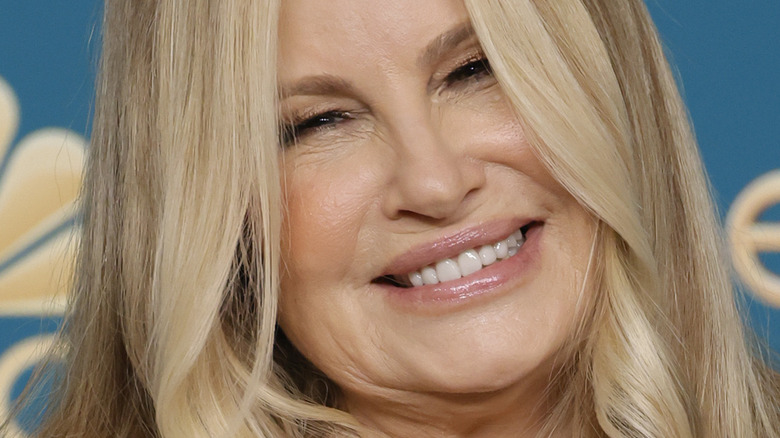 Frazer Harrison/Getty Images
In a show of featuring several generations of talented actors, none stole scenes in "The White Lotus" quite as memorably as Jennifer Coolidge. As Tanya, a wealthy socialite escaping to Hawai'i to scatter her mother's ashes, she showcased a baffling range of dramatic prowess, while still effortless basking in the off-beat comedic timing she's been known for since "Legally Blonde." A longstanding fixture of Hollywood's cult and camp classics, "The White Lotus" has pushed Coolidge into the overwhelming mainstream of prestige television. 
Alongside series creator Mike White and actor Murray Bartlett (not to mention his infamous suitcase scene), Coolidge was awarded an Emmy Award for her performance on the series, emerging from a talented crowd that included many of her own castmates. To experience such universal success at any point in one's career is often the stuff of dreams — that is, to be seen and praised by thousands in one of the year's best entertainment offerings. 
For Coolidge, at least, the relationship is more complicated, because she hasn't seen much of "The White Lotus" herself.
Who was Tanya on The White Lotus?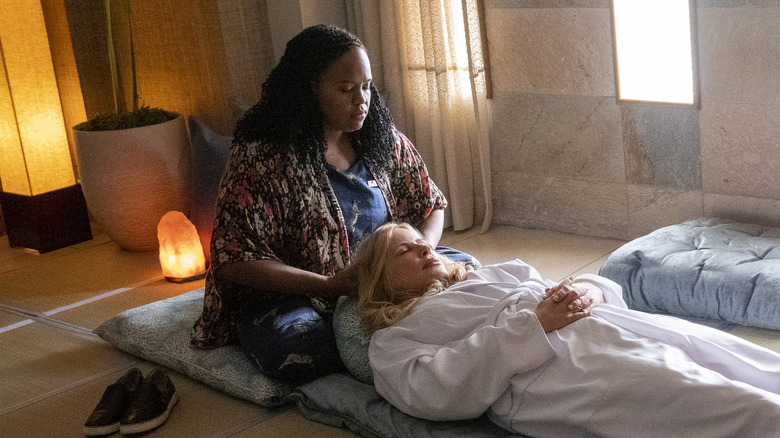 Warner Media
Coolidge's Tanya is vapid to the point of delirious, her grief and privilege propelling her though the show's plot at glacial pace. As she first enters the hotel's spa, her voice moves through the air like a bow across a cello, meeting care specialist Belinda with a deceptively angelic greeting. Indeed, she initially appears to Belinda as a gift from above, with Tanya becoming so fixated on her ability to relax people that she encourages Belinda to craft a plan for a business she promises to financially assist. 
Though this could be life-changing for the working class spa employee, it becomes painfully clear that — out of sheer selfishness — Tanya will ultimately flake on her promise and leave her vacation friend with nothing but shattered hopes and broken promises. It is a challenging role for anyone to play, as Tanya fully embodies the unintentional and often well-meaning ways these rich guests harm those they come into contact with. She's not evil, she's just that careless, genuinely.
Why can't Coolidge watch herself?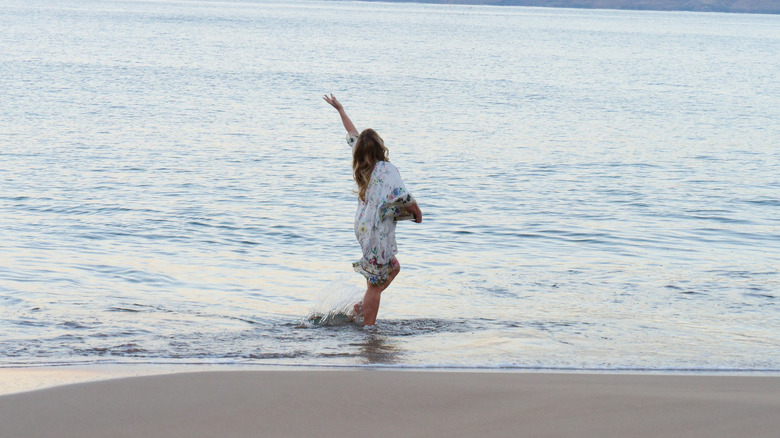 Warner Media
The actor expressed a great deal of anxiety about accepting the role in the first place, which — according an interview with InStyle — was always meant for her. 
When he speaks about the matter, it's clear that Mike White is something of a cheerleader for his cast — a feeling that becomes most present when talking about Coolidge. "One minute, she seems fragile, like it's all going to fall apart," he said in a profile for Variety, "and the next minute she's sturdy and doing hilarious riffs. Just when you think all hope is lost, she knocks it out of the park." White had to push her to accept "The White Lotus," with Coolidge saying to InStyle's Rachel Brodsky that she felt insecure about her physical appearance at the time. Indeed, Tanya is another in a long line of Coolidge characters who have their sexuality used as something of a punchline, as noted by Vulture, which may either have audiences focusing on her body or being made to laugh at it. 
"The White Lotus" ultimately treats Tanya with respect and care, though Coolidge still hasn't seen most of her performance. She describes to InStyle that she hates watching herself on screen, saying "Every time I go to watch it, I was like, 'Is that really how I am?'" 
Even if Coolidge isn't watching herself, thousands of fans new and old have, and will likely continue to do so in the wake of her hard-earned Emmy victory.