Mila Kunis Totally Bombed Her Beverly Hills, 90210 Audition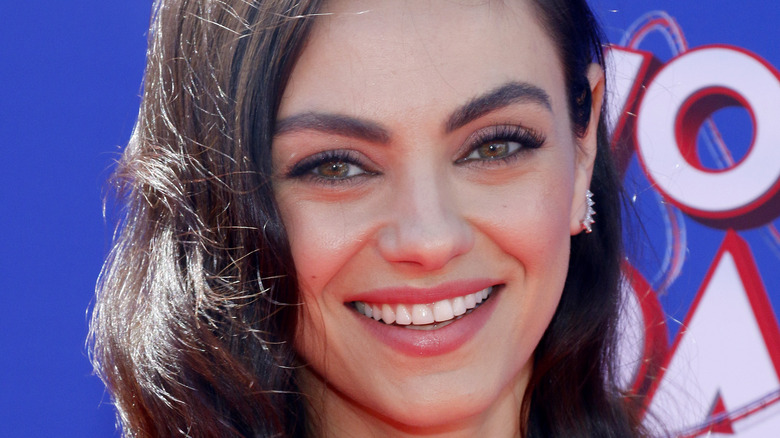 Tinseltown/Shutterstock
Before she was the star of "That '70's Show" and hit films like "Bad Moms," Mila Kunis was a young actress auditioning for television guest spots. But the performer explained to Vanity Fair how she loved being in the industry so much that "I didn't care that I didn't get a part, it was okay." From her perspective as a Ukrainian immigrant (via The Sun), Kunis was simply happy to have the opportunity.
Kunis' first credit was on "Days of Our Lives," according to IMDb, but she also made appearances on "Baywatch" and had a recurring role on "7th Heaven." The actress was stunned that her hobby had become so high-profile: "I'm like in junior high and I get to be on television?! This is crazy" (via Vanity Fair).
Still, early on, Kunis auditioned and failed more often than she succeeded in earning parts. Here's more about the time she utterly blew her chance to appear on "Beverly Hills, 90210."
Mila Kunis froze up during the audition
Mila Kunis told Vanity Fair that as a teenager, she loved "Beverly Hills, 90210." So getting a callback for the teen drama was very exciting news. However, when she returned for a second audition, "They didn't tell me that Jason Priestley, who was directing the episode, was going to be in the room."
The young Priestley was a heartthrob figure for many young people who watched "Beverly Hills, 90210" (via Everything Zoomer). So when Kunis saw him in the room with her, she didn't have the best reaction to the surprise. "I froze. I froze, guys! Okay? I choked. And I was like, '*gasp*'" (per Vanity Fair). 
Of course, stunned silence doesn't make for the best audition tape, and Kunis lost the part. But the actress always went in with low expectations, figuring, "Who cares? I'm never gonna get it, but it's gonna be fun."
Instead, Kunis would join the cast of a very different teen-centered series, "That '70's Show," where she'd meet her future husband, Ashton Kutcher, and begin the next steps of a major film and television career. Who knows? Maybe blowing the "Beverly Hills" audition was the best thing that could have happened to her.