Whatever Happened To Coco Jack After Shark Tank?
DFree/Shutterstock
We may receive a commission on purchases made from links.
Sometimes the greatest creations are ones we didn't know we needed. Amongst these is Dave Goodman's handy invention, the Coco Jack. Created while on a vegan diet, Goodman realized how inefficient most coconut opening techniques were. The kit comes with a special mallet and striking ring tool, where the user can hammer the ring into the top of the coconut to open up a perfect hole, as well as a scooper to take out all the coconut meat. This allows for a less messy way of opening the coconut. Goodman went all in for his product, selling his New York apartment and creating an Indiegogo campaign for funding. However, the campaign was never fully funded, only making $5,775 of its $15,000 goal. Goodman remained determined to get his product out to the world. 
On this mission, he would find himself on Season 6, Episode 21 of "Shark Tank" where he offers the sharks 15% of his business in exchange for a $125,000 investment. Although he's been working on the product for 12 years, Goodman reports that he's only made about $325,000 within the last nine months. Many of the sharks aren't the fondest of Goodman's business. However, both Kevin O'Leary and Mark Cuban put offers on the table. Goodman goes with Cuban, who makes an offer for $125,000 at a 7% convertible debt to 25% equity. Since the episode's airing in 2015, has Goodman been able to slice out what he needs to ensure a successful business? 
Coco Jack just couldn't cut it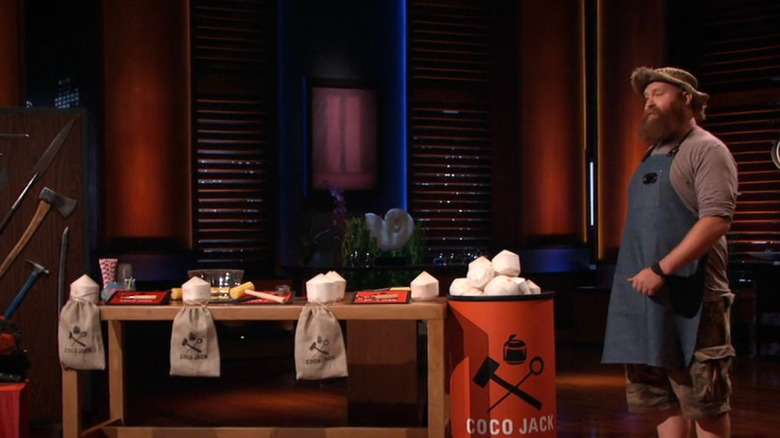 ABC
So how did things end up going with Dave Goodman and his helpful coconut opening product, the Coco Jack? Sadly, not particularly well. Goodman was excited about the collaboration between himself and investor Mark Cuban, saying, "This is bringing me into the peer group of people who are massively successful like Mark. "I'm really excited about that" (via Inc.). However, according to the Shark Tank Blog, the deal between the two never closed. Goodman partnered with Malibu Rum to use their brand, but due to the extensive number of knockoffs that began to spring up, this didn't go very far. 
As of now, the Coco Jack company seems to be closed down. Their Facebook and Instagram accounts have not posted since 2017, while their Twitter account has been entirely suspended. Similarly, it seems that there is nowhere to get the product anymore. The company's website no longer exists, while the only listing on Amazon describes the product as "currently unavailable." The only hint of life with Coco Jack seems to be Goodman's Linkedin account. Here, he is still listed as the founder of Coco Jack, which claims it is still currently running. However, seeming as though the account has not been updated in some time, it's more than likely that it is simply outdated information. Goodman's product had promise to it, but it seems that the road to getting it to become a full-fledged business was too much for the entrepreneur.