Henry Cavill Missed Having Sam Claflin On Set For Enola Holmes 2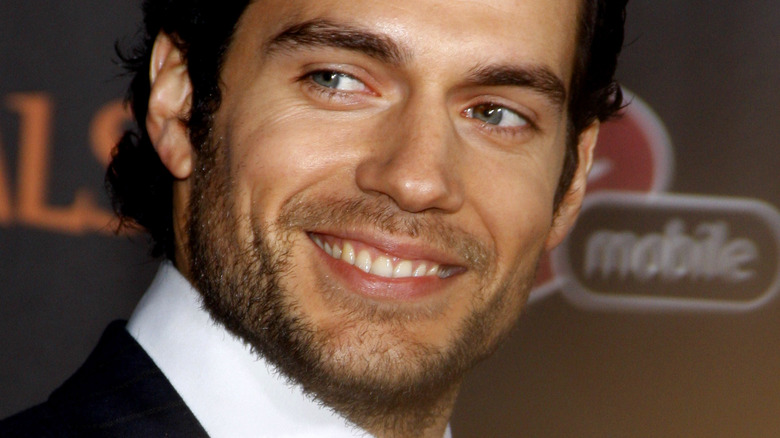 Tinseltown/Shutterstock
We may receive a commission on purchases made from links.
*Contains spoilers for Enola Holmes 2*

Plenty of fans didn't know what to expect when Netflix released "Enola Holmes," the film adaptation of a popular young adult fiction book series penned by author Nancy Springer. What they got was a highly entertaining portrayal of the titular character Enola, younger sister to the famous Sherlock Holmes. "Stranger Things" star Millie Bobby Brown wonderfully took on the role of the character with Henry Cavill, wearing Sherlock's famous deerstalker hat. With the film's open-ended conclusion (with Enola finding her purpose in life), the ball was in Netflix's court to decide if a sequel was to be made. Well, the studio took the ball and ran with it, producing and recently releasing the second installment, "Enola Holmes 2."
In the sequel, Brown reprises the title role, whose character is now more independently focused on her own detective work after successfully stepping out from the shadow of her famous brother. Now, she's heading up her own detective agency and taking on a mysterious new case of a missing girl. And although this second installment has several cast members returning, such as Louis Partridge, Susan Wokoma, and Helena Bonham Carter, there is one main character obviously missing. The vacancy is that of Sam Claflin, who plays Sherlock's brother, Mycroft Holmes, in the original.

Henry Cavill may get another shot to work with Sam Claflin again
With fans of all ages excited about Netflix's release of "Enola Holmes 2," both actors and viewers needed to adjust to the fact that a main character from the original, Mycroft Holmes, would not be involved. In an interview with Screen Rant, co-star Henry Cavill expressed his excitement for the movie's return, as well as the disappointment of Sam Claflin stepping away. "Absolutely love to have the whole team back together. I missed Sam [Claflin] desperately, but to have the whole team back together was wonderful," he said. When Director Harry Bradbeer spoke with Collider, he explained why Claflin was absent, as well as the chances of his possible return.
When asked about the reasoning for Claflin skipping out on the sequel, Bradbeer explained it had nothing to do with the film's story direction nor his performance. "Well, it was Sam's schedule that became very clear, so Sam was not going to be in it," he says. "We were very sorry that Sam couldn't be in this one." Assuming his schedule would allow it, Bradbeer declared that it's possible for fans to see Claflin appear in a future film. " Absolutely love him, and we would love to have him again, " he fondly replied. This should be music to Cavill's ears, should he become Sherlock Homes again in a future film. Until then, fans will have to patiently wait to see if he reprises his Superman role in an upcoming DC film.