Why HBO Made The Surprising Move To Cancel Westworld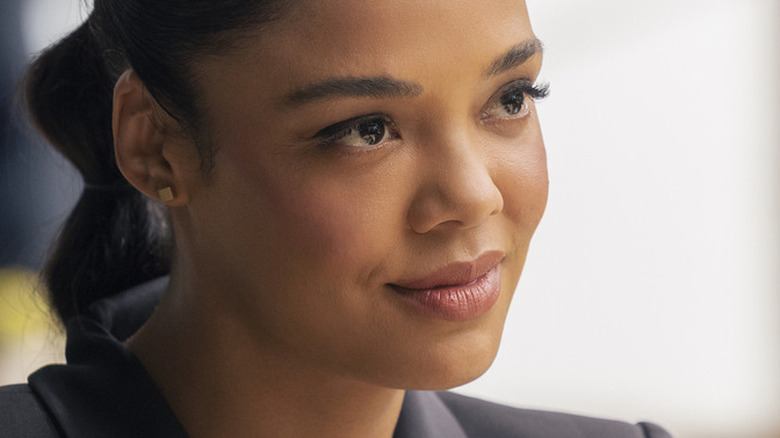 John Johnson/HBO
Have you ever questioned the nature of your reality? Would you act violently if given the option? Do you choose to see the beauty in the world? These are the many philosophical questions "Westworld" attempted to address over its four-season run. On November 4, the sprawling and mind-bending futuristic drama was canceled by HBO in a stunning move.
This revolutionary reimagining of Michael Crichton's 1973 thriller assembled an astounding array of talent during its run, including Anthony Hopkins, Evan Rachel Wood, James Marsden, Thandiwe Newton, Ed Harris, and Jeffrey Wright. With a unique narrative featuring uncanny human-like robots built to serve guests at expansive theme parks, the series proved to be a sci-fi drama with a deep well of mystery and splendor. 
Beginning life with an enormous $100 million budget and sky-high expectations as HBO's possible successor to "Game of Thrones" (per The Hollywood Reporter), "Westworld" unfortunately never quite captured the magic of the network's ultra-popular fantasy series. Perhaps due to its increasingly convoluted plot or the years-long gaps between seasons, it appears that the interest of both audiences and critics waned as the series went on, which is likely what led to the surprising cancellation. 
Declining viewership likely led to Westworld's cancellation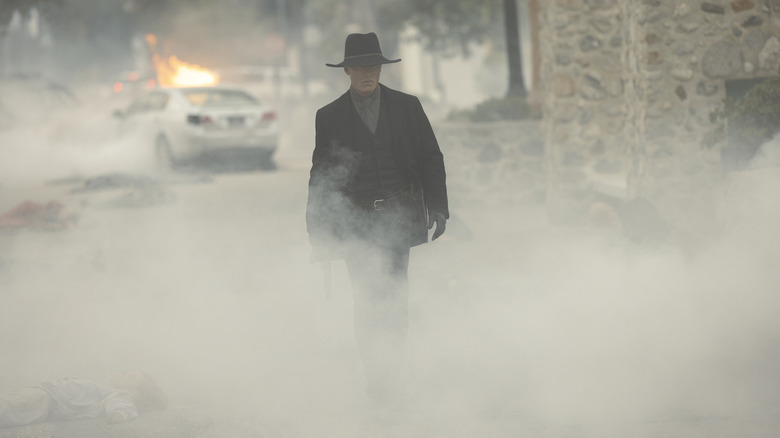 John Johnson/HBO
In the case of "Westworld," we may never know the full story of why HBO made the decision to pull the plug. However, it would appear that viewership numbers are likely at the root of the decision. As reported by The Hollywood Reporter, while the series' inaugural season brought in around 12 million viewers, that number had dropped to just 4 million viewers by the 4th season. In fact, the Season 4 finale, now the series finale, brought in a meager 390,000 viewers (via TV Series Finale), which is a small drop in the bucket compared to Season 1's impressive 2.2 million viewers for its finale (via Deadline). 
While The Hollywood Reporter notes that sources claim the recent budget-minded upheavals at Warner Bros. Discovery weren't a factor in the cancellation, it's hard to imagine that the series' high budget and dwindling ratings didn't put it in conflict with, as Lesley Goldberg writes, "the premium cable network's fiscal accountability."
In a joint statement to The Hollywood Reporter, series creators Jonathan Nolan and Lisa Joy said of the show, "We've been privileged to tell these stories about the future of consciousness — both human and beyond — in the brief window of time before our AI overlords forbid us from doing so." Though we may never see a 5th season, or have our lingering questions answered, we can look forward to their highly anticipated "Fallout" adaptation on Amazon Prime.