HBO Unexpectedly Pulls The Plug On Westworld
HBO's "Westworld," a science-fiction drama adapted from author Michael Crichton's novel of the same name, has concluded with its fourth season and will not be renewed for a fifth. Widely considered among the most prestigious offerings in the premium cable network's current lineup, the show chronicled a world in which theme parks full of perfectly human-like robots begin to gain consciousness, prompting violence and ethical conundrums in equal measure.
Breaking the story, The Hollywood Reporter pointed to the surprising nature of the cancelation, as the show's co-creator, Jonathan Nolan, said last month that he was in negotiations with the network for a fifth and final season to wrap up the series' storylines. Additionally, "Westworld" has garnered a staggering 54 Emmy nominations. However, THR also noted the drop in ratings season-over-season for "Westworld" and the accompanying decline in Rotten Tomatoes scores, as well as fan complaints about the show's increasingly arcane lore and mystery box storytelling.
Westworld goes the way of the old west, the latest victim of WB's aggressive heel turn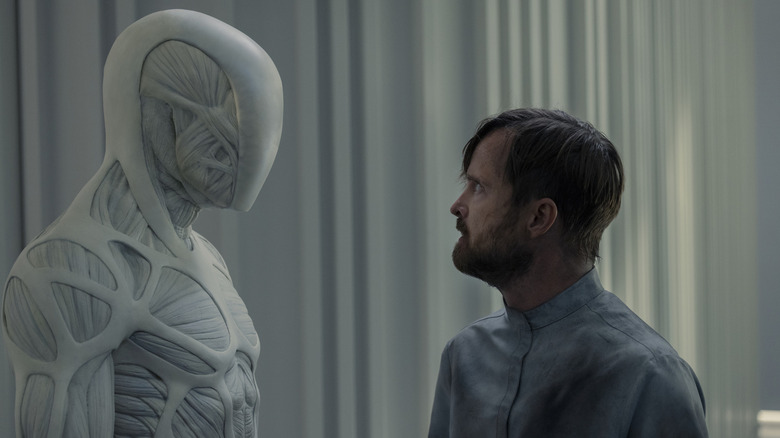 Warner Media
"Westworld" is only the latest project from Warner Bros. to get the can as its firebrand CEO David Zaslav seeks to pare down the company's offerings in a zero-sum gambit for the studio's bottom line. After WB canceled the nearly-completed "Batgirl" film in August, streaming-exclusive movies such as "Moonshot" and "American Pickle" began to vanish from HBO Max, the company's flagship streaming service. The Hollywood Reporter raised similar concerns while noting that, according to insiders, Zaslav's cost-cutting spree was not the cause of the "Westworld" cancelation. As pointed out by Variety, Zaslav's stated goal is to save the company $3.5 billion in cost-saving synergies.
"Westworld" was an admittedly expensive venture, with the Film LA Television Report from 2019 asserting that the series almost certainly exceeded $100 million per season. It employed high-profile actors such as Aaron Paul, Evan Rachel Wood, Jeffrey Wright, and James Marsden. All four existing seasons are currently streaming on HBO Max.