Harry Potter's Daniel Radcliffe Almost Had A Role In Everything Everywhere All At Once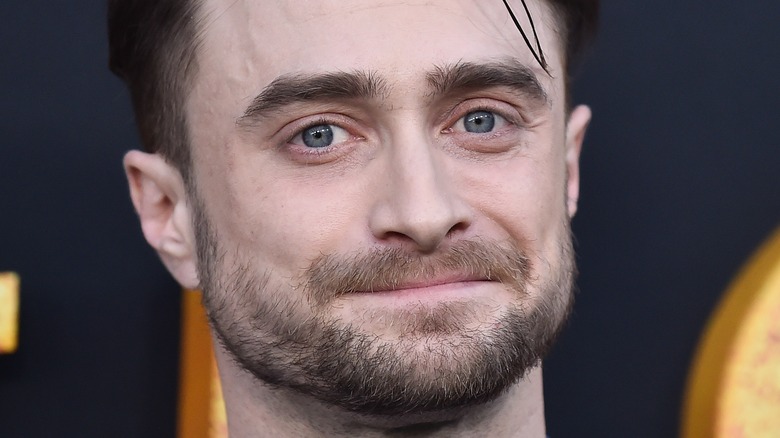 DFree/Shutterstock
In case you hadn't heard, the multiverse is all the rage in cinematic circles these days, with franchise heavies like Marvel Studios and (to a lesser degree) DC Entertainment continuing to dabble in the endless possibilities of infinite realities. While filmmakers for both of those blockbuster machines continue to do intriguing things with the multiverse concept, they were all pretty much upstaged when indie powerhouse A24 dropped "Everything Everywhere All At Once" on the movie-loving masses.
The action-packed dramedy features legendary actor Michelle Yeoh as Evelyn Wang, a middle-aged Chinese immigrant whose life hasn't exactly gone according to plan. But when an unexpected turn of events allows Evelyn access to untold alternate realities, she's soon swept up in a head-spinning existential adventure beyond her wildest dreams.
As conjured by co-writers and co-directors Dan Kwan and Daniel Scheinert (aka the Daniels), the fantastically original journey Evelyn undertakes has proven beyond the wildest dreams of pretty much anyone who's seen "Everything Everywhere All At Once." And the film — which also fronted stars Jamie Lee Curtis, James Hong, Ke Huy Quan, and Jenny Slate, among others — rightfully rode a wave of critical praise and audience adoration to unseat 2018's horror masterpiece "Hereditary" as A24's highest-grossing movie of all time (according to Variety). 
Turns out "Everything Everywhere All At Once" could've hit theaters boasting even more star power as the Daniels were once eyeing "Harry Potter" icon Daniel Radcliffe for a role.
A prior engagement kept Radcliffe from reteaming with the Daniels
Daniel Radcliffe has, of course, been more than vocal about how much he enjoyed working with the Daniels over the years, recently gushing over his "Swiss Army Man" experience to GQ. Not surprisingly, the actor heaped praise on the duo when speaking to Empire in April 2022. Radcliffe confirmed he was very nearly in "Everything Everywhere All At Once" himself. "I'm so excited. It's the best," he said when asked if he had yet to see the film. "At one point they were trying to get me in for it." Unfortunately, Radcliffe was committed to a play at the time and was thus able to reteam with the directors. 
The former "Harry Potter" star went on to say he's "still gutted" about the missed opportunity. Another one is sure to arise, however, as Radcliffe added he'd sign on to pretty much any project the Daniels want him for script unseen, noting "I would follow those guys to the ends of the earth, really." Encouraging as that prospect is, it's still a bit of a bummer the actor missed out on "Everything Everywhere All At Once."