The Transformation Of Daniel Radcliffe From Harry Potter To Now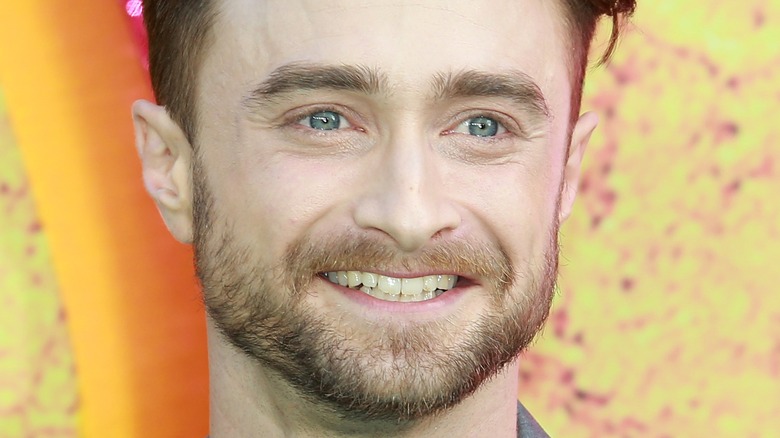 Cubankite/Shutterstock
For ten years, the "Harry Potter" film franchise brought magic and wonder to moviegoers worldwide. Whether they were fans of the original books or being introduced to the Wizarding World for the first time, people of all ages were drawn into the epic saga of the boy wizard and his fight against the evil Lord Voldemort. After scouring the world for the perfect young actor to play the title role, the casting team discovered 11-year-old Daniel Radcliffe, a name that would become synonymous with the franchise for years to come. There's way more to him than just Harry Potter, however.
Though he may be forever remembered as the Boy Who Lived, Daniel Radcliffe's career didn't end after the "Harry Potter" films. In fact, the British actor has had quite a successful run of TV, film, and theater roles over the last decade. Some may have been more lucrative than others, but the fact that Radcliffe is still getting regular work (and being offered a variety of roles) goes to prove that not every actor falls victim to typecasting. He's been on a remarkable journey since his time at Hogwarts, and he's transformed in the years since. 
Radcliffe squeezed in a couple of roles between Harry Potter films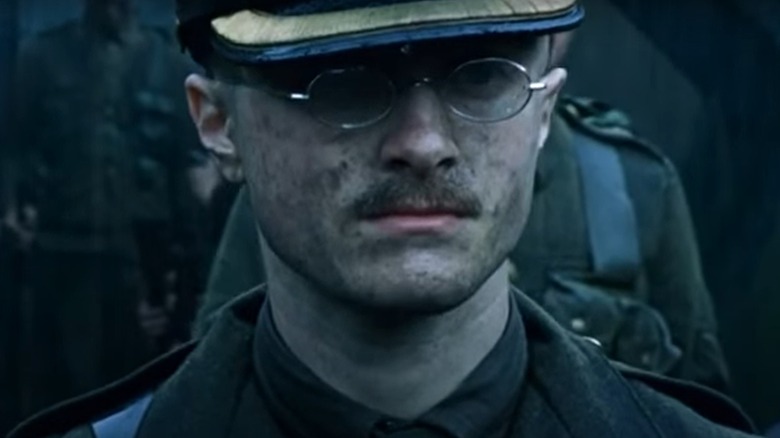 ITV/YouTube
The "Harry Potter" franchise may have essentially raised Daniel Radcliffe and his young co-stars, but fans might be surprised to know that the actor managed to fit in a couple of other projects between visits to Hogwarts. In 2007, the Brit starred in two very different films.
In "My Boy Jack," Radcliffe plays John Kipling, the son of renowned English author Rudyard Kipling. This TV movie is based on a play by David Haig (who plays Rudyard Kipling) and tells the true story of how John joined the British Army at the onset of World War I. John went MIA after being sent to the front line, and his family's subsequent efforts to discover his fate are covered here. "My Boy Jack" received mostly positive reviews, with outlets like the San Francisco Chronicle praising Radcliffe's performance in particular.
Radcliffe also appeared in the coming-of-age drama "December Boys," an independent Australian film. He plays a young man named Maps, one of four orphaned boys who hope to get adopted. Director Rod Hardy initially wanted Freddie Highmore to star, but Highmore's mother (who works as a casting agent) suggested someone else. "She said, 'How would you feel about having Daniel Radcliffe in your picture?'" Hardy told MovieHole. "I was a bit surprised — he wasn't my first choice, but only because I didn't think we had a chance." The film failed to make any waves, scoring just 42% on Rotten Tomatoes.
He had a stint of successful theater roles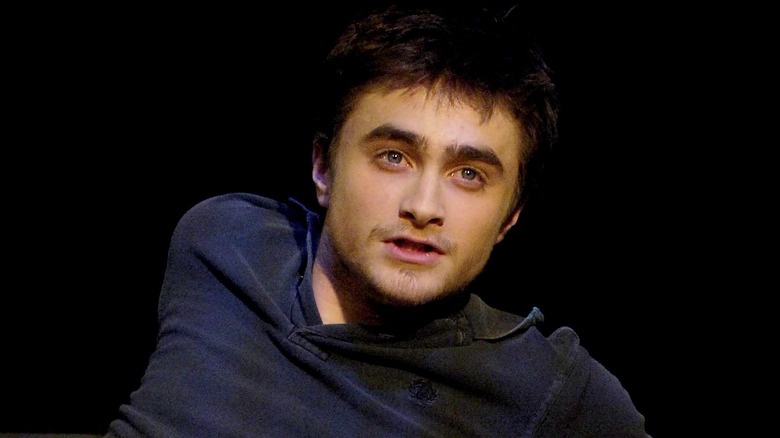 Avalon/Getty Images
Branching out from films, Daniel Radcliffe made his stage debut in 2007, starring in the psychological drama "Equus." A play chock full of strange and somewhat disturbing themes, "Equus" follows a psychiatrist who takes on the case of a young man with an unhealthy obsession with horses. Radcliffe played Alan Strang, the young man in question, for one year in London's West End and for two years on Broadway. Critics hailed the then 17-year-old Radcliffe for his daring performance, which was a huge deviation from his role as Harry Potter. A series of headlines during the show's run put a spotlight on the fact that Radcliffe had a nude scene during the play — an idea that he seemed to find absurd. "I'm only naked for about seven minutes in a show that runs about 2¼ hours," he told USA Today.
As "Harry Potter and the Deathly Hallows – Part 2" hit cineplexes in 2011, Radcliffe returned to Broadway to star in the Tony-nominated musical "How to Succeed in Business Without Really Trying." Over the years, he has appeared in various other stage plays, including "The Cripple of Inishmaan," "Rosencrantz and Guildenstern Are Dead," and "Endgame."
He met the Woman in Black
From the 1950s to the 1970s, the British production company Hammer Films was considered horror movie royalty. After a long hiatus, Hammer found itself under new ownership in 2007 and has since released several new films, including 2012's "The Woman in Black." Based on Susan Hill's novel of the same name, the film stars Daniel Radcliffe as grieving widower Arthur Kipps, who investigates strange paranormal happenings in a dreary English village. When Arthur witnesses the deaths of several children caused by a strange female entity, he must uncover the horrifying mystery of a vengeful ghost before his own son becomes the next victim.
Kipps was Radcliffe's first starring role in the post-Potter period, and he hoped that it would help to put some distance between him and the boy wizard — or at least be a step in that direction. "I was never under any illusions that this would be the one film that I would do and everyone would say 'Oh, he's no longer Harry Potter,'" Radcliffe told Den of Geek in 2012. "I don't think that's going to happen, but I think it will start that. I think I look very different in this film, I think it's a very different type of performance that I give." Despite the fact that "The Woman in Black" scored mixed reviews, critics largely approved of Radcliffe in the role. "Mostly, 'The Woman in Black' shows that Radcliffe will have no problem shedding his Potter image," said Movie Metropolis.
Radcliffe was drawn to some unique roles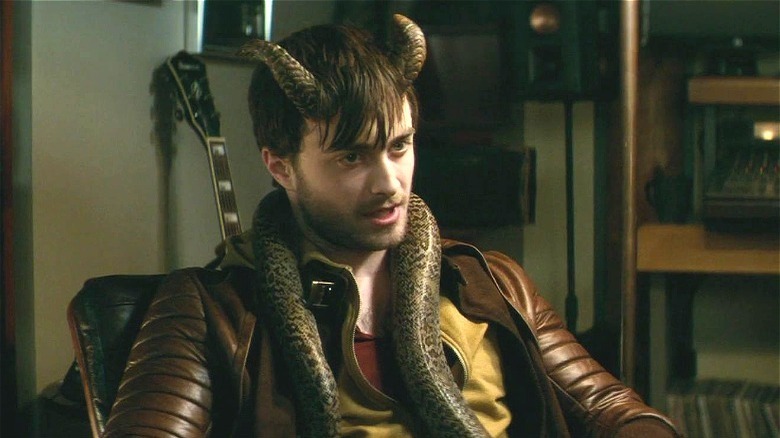 Dimension Films
It's not unusual for an actor who is known for portraying an iconic character to seek out drastically different roles. Daniel Radcliffe went on to play a young man with strange supernatural appendages, a sentient corpse with curious versatility, and an internet troll forced to fight in a futuristic underground death match. Confused? Let's break it down.
In 2013, Radcliffe was cast in the Alexandre Aja supernatural horror "Horns." He plays Ig, a young man suspected of murdering his girlfriend. Ig wakes up one morning to find he has grown a pair of horns and suddenly has the ability to force those around him to divulge their darkest secrets. Both a blessing and a curse, the horns assist Ig in finding out the truth of his girlfriend's death.
Radcliffe took on an especially bizarre character in the absurdist dark comedy "Swiss Army Man" in 2016. He plays Manny, a dead body that saves the life of a marooned man (Paul Dano) with its excess gas. The movie was met with acclaim at Sundance that year and was the first feature film from directors Daniel Kwan and Daniel Scheinert, the minds behind "Everything, Everywhere, All at Once."
In 2019, Radcliffe starred in the bonkers action-comedy "Guns Akimbo," directed by New Zealand filmmaker Jason Lei Howden. Radcliffe plays Miles, a computer programmer who angers a local crime syndicate and is forced to fight in a death match after having guns nailed to his hands. Unfortunately, the movie's frenzied energy and video-game-like action weren't enough to save it from a poor script, according to some critics.
He played several roles based on real people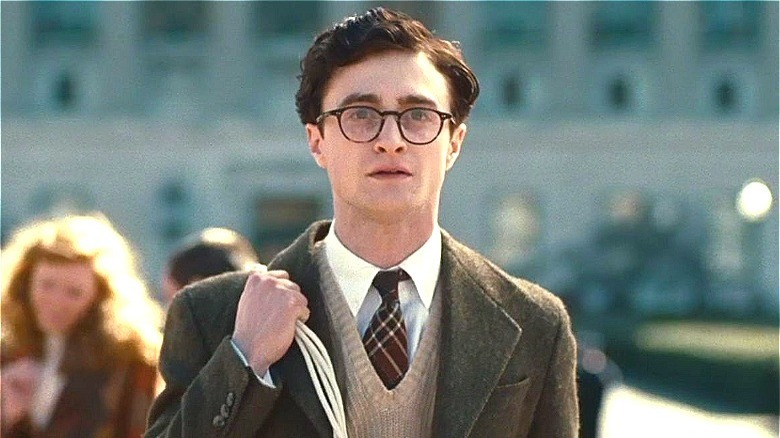 Sony Pictures Classics
We all love a good fantasy, but there's something really satisfying about true-to-life tales, whether it's a deep dive into the life of a known figure or a retelling of historic events. After leaving the Wizarding World, Daniel Radcliffe took on several film roles that were rooted in fact and the lives of real people.
In "Kill Your Darlings," released in 2013, Radcliffe plays famous American writer Allen Ginsberg. The film depicts Ginsberg's days at Columbia University, where he meets and befriends fellow writers Jack Kerouac (Jack Huston) and William S. Burroughs (Ben Foster), the pioneers of the Beat Movement of the 1950s. The film also tells the true story of the killing of David Kammerer (Michael C. Hall) by Lucien Carr (Dane DeHaan).
In 2015, Radcliffe co-starred in the British docudrama "The Gamechangers," portraying Rockstar Games president Sam Houser. The series tells the true story of the legal battle between attorney Jack Thompson (Bill Paxton) and Rockstar (creators of the "Grand Theft Auto" franchise) following a series of murders that were supposedly inspired by the violent video games.
Radcliffe also appeared in the true crime drama "Imperium" as an FBI agent who goes undercover as a white supremacist. The film was based on the true experiences of retired FBI agent and writer Michael German. The former "Harry Potter" star would go on to portray more true-to-life characters in movies like "Jungle" and "Escape from Pretoria."
He played a romantic lead in What If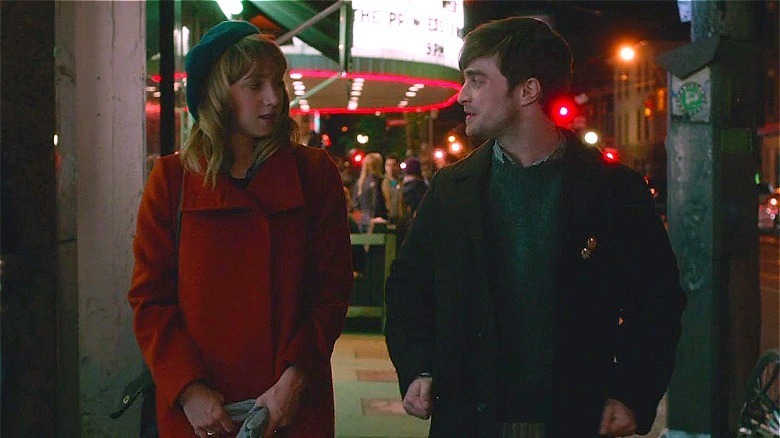 Entertainment One
Shortly after the release of "Horns" in 2013, Daniel Radcliffe took on a more conventional project with the film "What If." In this indie romcom (released under the title "The F Word" in some countries), Radcliffe plays med school dropout Wallace, who is living in Toronto with his sister following a bad breakup. When Wallace meets Chantry (Zoe Kazan), the cousin of his best friend, the two strike up a friendship that unexpectedly leads to them developing romantic feelings for each other. Unfortunately, Chantry is already in a committed relationship.
"What If" received favorable reviews after its premiere at the Toronto International Film Festival and was nominated for three Canadian Screen Awards (winning for best adapted screenplay). While critics claimed that the movie followed a basic romantic comedy formula, they also considered it an enjoyable ride, with some comparing it to the indie darling "500 Days of Summer." The movie also stars Adam Driver, Mackenzie Davis, and Rafe Spall.
He played the younger Jon Hamm in a British TV series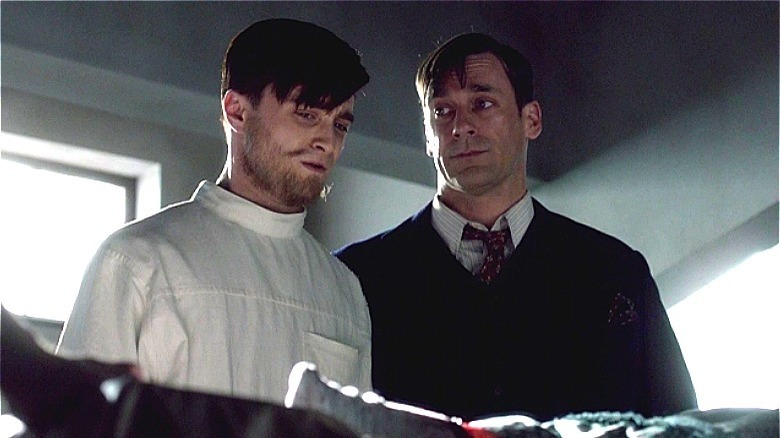 Sky Arts
Daniel Radcliffe's career kept him very busy in the early 2010s. Beyond the releases of the final "Harry Potter" movies, performing on stage, and doing other films, he also managed to squeeze in a two-season TV series. In "A Young Doctor's Notebook," Radcliffe plays a morphine-addicted doctor at the height of the Russian revolution. The British show was a hit with critics and was nominated for a Satellite Award in 2013.
Based on short stories by Russian author Mikhail Bulgakov, "A Young Doctor's Notebook" is the story of Dr. Vladimir Bomgard, a character portrayed by Radcliffe as a young man and Jon Hamm in middle age. The older Bomgard reflects on his early days while working in Muryevo Hospital. He is sometimes seen watching (and occasionally interacting with) his younger self in meta sequences filled with dark comedy.
The partnership between the two actors was full of laughter and absurdity, according to Radcliffe. "Jon [Hamm] is a very funny guy and we are very irreverent, and yeah, we have a lot of fun," he told reporters during a Television Critics Association press tour (via Showbiz Junkies) in 2014. Hamm also reportedly recommended Radcliffe for the role. "It was incredibly flattering that he suggested me to play the young him, which is an incredible compliment."
Radcliffe co-starred with James McAvoy in Victor Frankenstein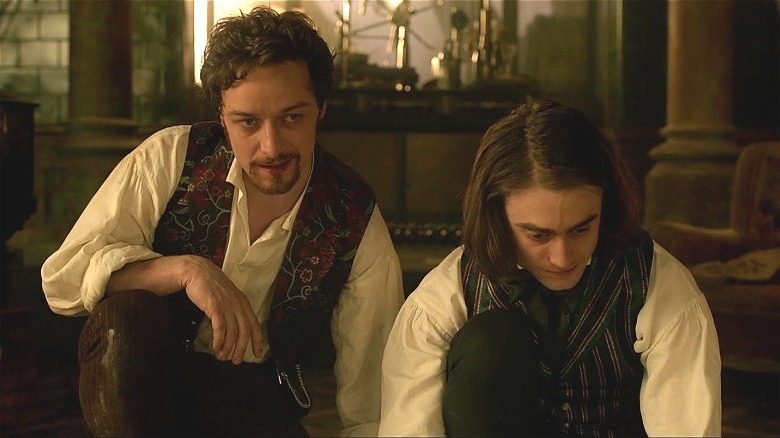 20th Century Fox
Over the decades, more and more classic tales have been rebooted for both big and small screens. To keep the source material fresh, an often-used creative device is to tell the story from the perspective of a supporting character. In 2015's "Victor Frankenstein," viewers are given the classic Mary Shelley horror story from the point of view of the mad scientist's lowly assistant Igor. The film stars Daniel Radcliffe as Igor and James McAvoy as the titular character.
In this reimagining written by Max Landis and directed by Paul McGuigan, Igor is a circus performer in love with an aerialist named Lorelei (Jessica Brown Findlay). After being discovered for his knowledge of anatomy by medical student Victor, Igor is taken in by the ambitious scientist to assist him in his laboratory. The two men face numerous perils as their experiments begin to cross the line and draw the unwelcome attention of a fanatical policeman.
"Victor Frankenstein" failed to come to life at the box office, making a worldwide total of just $34 million against a budget of $40 million. It was also panned by the majority of critics, who claimed that the film brought nothing new to the genre and didn't improve upon its source material.
Radcliffe played an evil genius in Now You See Me 2
Going against the heroic grain, Daniel Radcliffe took on the role of the antagonist in 2016's "Now You See Me 2." In this sequel to the action heist adventure "Now You See Me," the illusionist team known as the Four Horsemen are hired by a tech genius named Walter Mabry (Radcliffe) to steal an illegal computer chip. They learn too late that Walter is the son of Arthur Tressler (Michael Caine), who was financially ruined by the group in the previous film. Now, his angry heir is looking for revenge.
In a 2015 interview with BuzzFeed, Radcliffe talked about what drew him to the picture. "'Now You See Me 2,' what was attractive about that was the cast," he said. "The first movie's really fun. It's great. But, like, the thing that made me want to do it was the fact that I would get scenes with Mark Ruffalo and Michael Caine and Woody Harrelson and Jesse Eisenberg." Unfortunately, Radcliffe's presence wasn't enough to make the magic happen. The sequel bombed with critics, scoring just 33% on Rotten Tomatoes.
He voiced himself and several other characters for The Simpsons
Fox
For many professional entertainers, the height of celebrity comes when they are asked to make a guest appearance on "The Simpsons." After a role in the show's annual "Treehouse of Horror" special in 2010, Daniel Radcliffe returned to voice characters in two more episodes, once in 2014 and again in 2018.
In "Treehouse of Horror XXI," Radcliffe voiced the character of Edmund, Lisa's vampire love interest in a "Twilight" parody segment titled "Tweenlight." He later played the titular character in the Season 25 episode "Diggs," a young falconry enthusiast who befriends Bart. Radcliffe then made a cameo as himself in "No Good Read Goes Unpunished," encountering Homer at a video game convention.
"The Simpsons" wasn't Radcliffe's only foray into voice acting. He also worked on two episodes of the hit stop-motion series "Robot Chicken," voicing Thomas the Tank Engine ("Hemlock Gin and Juice") and the cannibalistic Terminus leader Gareth ("Robot Chicken Walking Dead Special: Look Who's Walking").
He was in the interactive Unbreakable Kimmy Schmidt special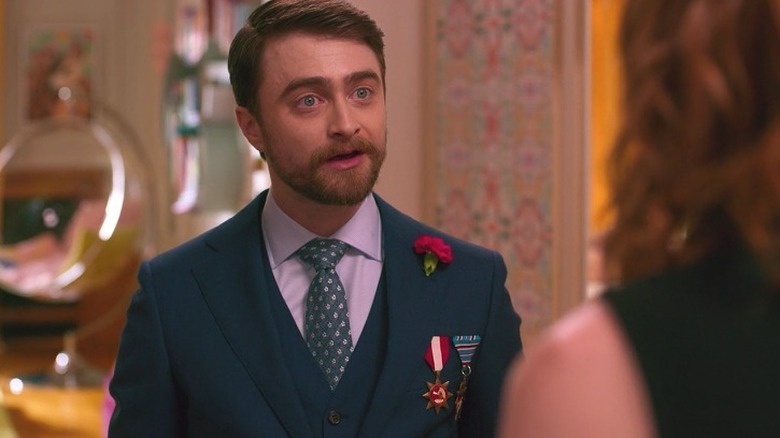 Netflix
Over recent years, Daniel Radcliffe has widened his repertoire to include light comedy. In 2020, he appeared in the Netflix interactive special "Unbreakable Kimmy Schmidt: Kimmy vs. the Reverend," playing Kimmy's fiancé Prince Frederick.
The special begins with Kimmy (Ellie Kemper) preparing for her upcoming wedding. She is joined by her closest friends, Titus Andromedon (Titus Burgess), Lillian Kaushtupper (Carol Kane), and Jacqueline White (Jane Krakowski). When Kimmy finds a book in her backpack that doesn't belong to her, she goes on a quest to find the book's owner, which leads her down the path of a wild adventure.
Frederick is 12th in line for the throne of England, and the pair are absolutely smitten with each other. The prince matches Kimmy's zeal for life and holds a fascination for American culture and vernacular. Proving his range of acting skills, Radcliffe managed to keep up with the zany antics and humor that were so prevalent throughout the series.
Radcliffe shows off his comedy chops in Miracle Workers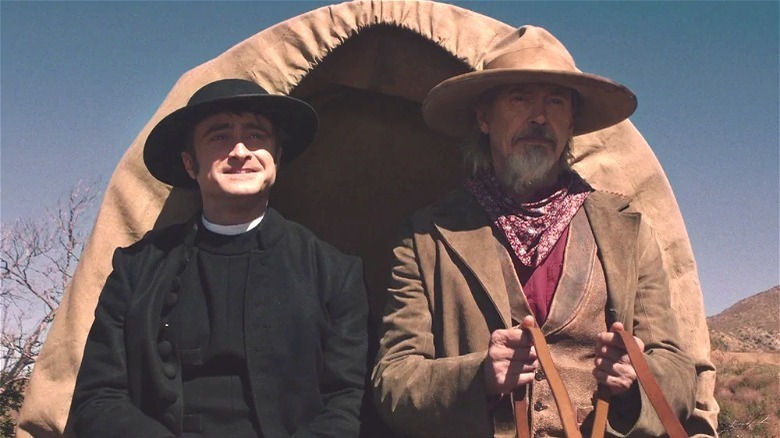 TBS
Continuing his foray into comedy, Daniel Radcliffe joined the cast of the TBS series "Miracle Workers" in 2019. The show was created by author Simon Rich and is based on his novel and short stories. Each season takes place with new characters and settings, with the ensemble cast remaining the same. Co-starring Steve Buscemi as God (with a capital "G"), the show's first season gives viewers an imaginary sneak peek into what's really going on upstairs. Radcliffe plays Craig, an angel working in heaven's basement office who is disturbed to learn that the boss has lost all hope in humanity and plans to end the world. 
Season 2, subtitled "Dark Ages," has Radcliffe playing the timid and bumbling Prince Chauncley, who is fearful that he will not live up to his cruel father's expectations. Season 3 puts the cast in a frontier adventure, as Radcliffe takes on the role of Reverend Ezekiel Brown. The reverend decides to lead the people of a small plague-ridden town to a new "promised land." However, the Oregon Trail is much more treacherous than it seems. The show gives the Brit the chance to show just how versatile an actor he has become.
He reunited with his Harry Potter co-stars for an HBO anniversary special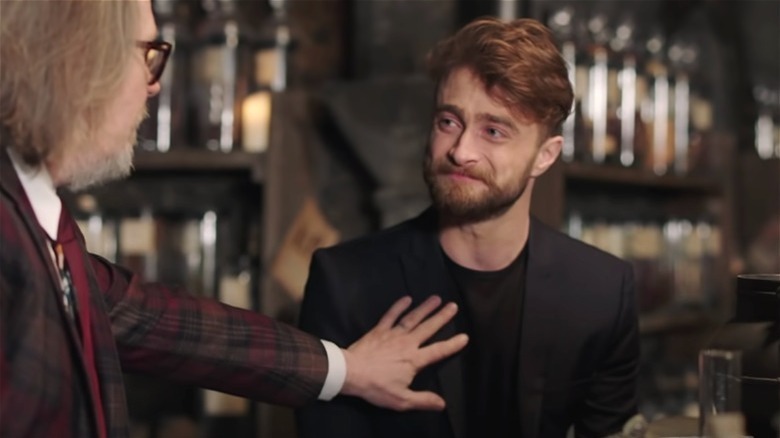 HBO Max
There is no question about the impact that the "Harry Potter" movies have had on fans of the series. Audiences around the world watched as the characters they came to love grew up before their eyes, facing great dangers as well as personal struggles. As for the actors who did the actual growing up, they became a family both on and off the screen, no doubt shaping each other's childhoods as they shared a life-changing experience.
In 2021, two decades after the first "Harry Potter" film was released, the cast came together to relive their days at Hogwarts via a reunion special on HBO Max, "Harry Potter 20th Anniversary: Return to Hogwarts." The event was nothing short of magical, as Daniel Radcliffe was reunited with co-stars Emma Watson, Rupert Grint, Gary Oldman, Helena Bonham Carter, Tom Felton, Robbie Coltrane, and more. Both laughter and tears were shared, as well as unforgettable anecdotes and fond memories.
The event was an emotional one for Radcliffe, who would emphasize the impact the cast and crew of the movies had on his life. "There are people on these films that are foundational to who I am, as a person and an actor," he said (via CinemaBlend). "I feel so lucky to be where I am and to have the life that I have and be able to work with the people I work with now, but none of it is possible without this."
He plays the villain in The Lost City
Radcliffe plays a villain once again in the Sandra Bullock and Channing Tatum romcom "The Lost City." A screwball comedy that has been compared to "Romancing the Stone" and the "Indiana Jones" films, "The Lost City" was hailed by critics as a light, fun-filled popcorn movie that is a perfect escape.
Radcliffe plays Abigail Fairfax, a wealthy eccentric who kidnaps romance author Loretta Sage (Bullock) when he discovers that her popular novels are based on facts. He wants to know all about a hidden city that possesses a priceless treasure. Fairfax then transports Sage to a mysterious island to find the artifact. Meanwhile, Alan Caprison (Tatum), a cover model who poses for Sage's books, takes it upon himself to go and rescue her.
According to Radcliffe, who spoke with Sharp about the film, he's starting to really enjoy playing the bad guy. "As a villain, you are freed from the responsibility of being sympathetic, or likeable, or any of those things, which is a nice thing to not have to worry about," he said.
Radcliffe is playing Weird Al Yankovic in the upcoming biopic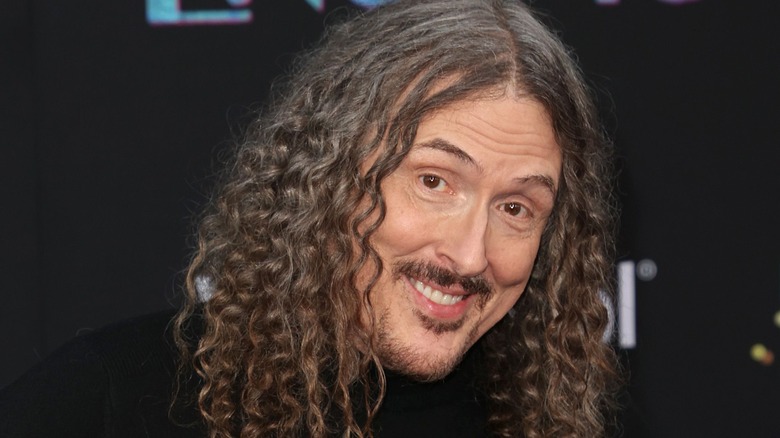 Kevin Winter/Getty Images
Though Daniel Radcliffe has portrayed a few roles based on real people, it's likely that no one would have predicted this one. In January 2022, Deadline announced that Radcliffe would take on the role of the master of musical parody Weird Al Yankovic in an upcoming biopic based on the life of the five-time Grammy Award winner.
The Roku exclusive film (titled "Weird: The Al Yankovic Story") is helmed by Eric Appel. The script was reportedly written by Appel and Yankovic, who worked together previously on the "Funny or Die" short of the same title. In the short, "Breaking Bad" star Aaron Paul plays Yankovic in a fictional movie trailer. Paul was originally set to appear in a cameo role in the film, but the actor canceled on the day of filming due to contracting COVID-19.
According to Yankovic, it was Radcliffe's impressive elocution that got him the job. On an episode of "The Graham Norton Show," Radcliffe performed a song by American troubadour Tom Lehrer titled "The Elements," a tongue-twister of a ditty that he nailed almost perfectly. "There are MANY reasons why I wanted to cast Daniel Radcliffe in my movie, but this is what really clinched the deal for me," Yankovic tweeted.