How Jordan Peele And Keegan Michael Key Were Convinced Their Wendell & Wild Characters Should Resemble Them - Exclusive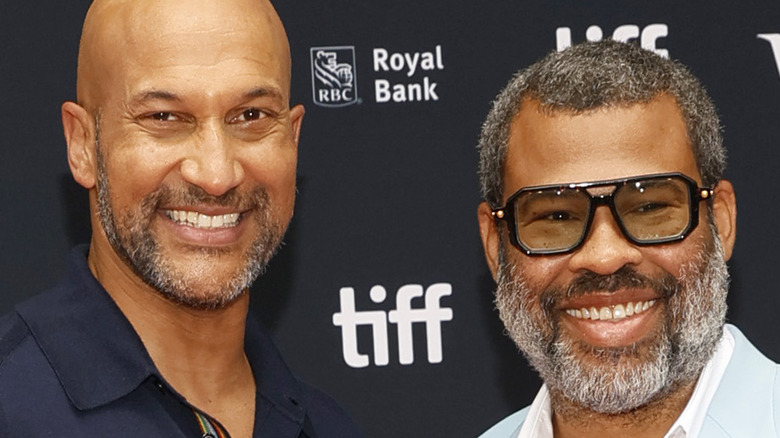 Jemal Countess/Getty Images
The comedy duo of Keegan Michael-Key and Jordan Peele are back together for the new stop-motion animated adventure "Wendell & Wild," and thanks to director Henry Selick, their appearances in the new Netflix original movie come with a personal touch.
Selick has directed such classics as "The Nightmare Before Christmas," "James and the Giant Peach," and "Coraline," where puppets are moved slightly and shot frame by frame to bring them to life on film. For "Wendell & Wild," Selick originally asked the stars of Comedy Central's hit "Key and Peele" sketch comedy series to voice the title characters, but Peele — who would soon embark on writing and directing what would become an Oscar-winning horror thriller with "Get Out" — asked the director if he could be more involved behind the scenes. As a result, Peele signed on to produce "Wendell & Wild" and co-write the screenplay with Selick.
In the film, Wendell (Key) and Wild (Peele) begin the story working for their devilish father, Buffalo Belzer (Ving Rhames), in the confines of a hell-like underworld. Dreaming of a better life, the pair of demon brothers get their chance when a 13-year-old orphan girl, Kat (Lyric Ross), summons the mischievous duo to the Land of the Living. Wendell & Wild have the power to help Kat make peace with her guilt over the loss of her mom and dad years before but can't seem to find a way to stay out of trouble in the process.
The interesting thing about "Wendell & Wild" is that Key and Peele actually resemble the characters they play, albeit in an exaggerated way. Selick told Looper in an exclusive interview that the creation of Key and Peele's familiar-looking puppets didn't happen by accident, but he needed his stars to sign off on the idea before filming.
The designs of a visionary caricature artist changed Key and Peele's minds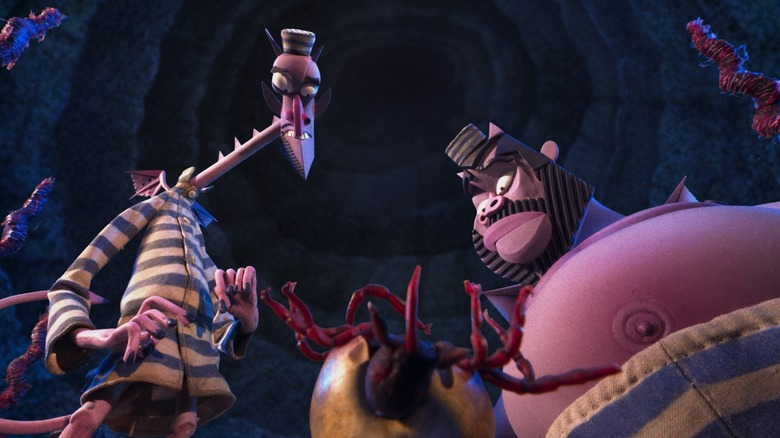 Netflix
While the idea of creating a character in the likeness of an actor seems flattering, Henry Selick said Keegan-Michael Key and Jordan Peele were initially hesitant to look like their "Wendell & Wild" demon doppelgangers.
"Initially, I always imagined that — at least starting with the demons — I wanted them to resemble the voice actors, Key and Peele," Selick told Looper. "They were pretty resistant because a caricature can go sideways. It could be corny, kind of bad, but I felt strongly that a lot of the magic of Key and Peele, in their show, is their ability to transform themselves into all sorts of different characters, genders, ages. I wanted this to feel like another transformation, but they were very resistant. They thought it could be stupid, but I had a secret weapon."
That weapon was visionary designer Pablo Lobato, "who does gorgeous artistic caricatures," Selick said. Once he got Lobato to sign on to the film and give his Key and Peele-like take on the characters, the duo began to warm up to the Selick's idea that they should resembling Wendell and Wild.
"He did his first designs and caricatures of them, and they were happy [and] said, 'Oh, yeah, this could be okay. Maybe my neck's a little too long!' [Keegan-Michael] said to me," Selick recalled. "There were a few fussy moments, and Jordan had to remind Keegan-Michael, 'Well, we are demons. I think we can go with this.'"
Also starring the voices of Angela Bassett and James Hong, "Wendell & Wild" is streaming exclusively on Netflix.