Wendell & Wild's James Hong On Why 2022 Is One Of The Most Memorable Years In His Seven-Decade Career - Exclusive Interview
Albert L. Ortega/Getty Images
With more than 450 credits to his name after kicking off his screen career nearly 70 years ago, legendary actor James Hong is undoubtedly the most prolific actor working in Hollywood today. Having amassed an impressive list of live-action and animated credits in both film and television, Hong has appeared in such movie hits as "Blade Runner," "Big Trouble in Little China," and most recently, "Everything Everywhere All at Once."
As a voice actor, Hong has lent his distinct vocals to such high-profile projects as the "Kung Fu Panda" movies and TV series and the animated "Star Wars: Rebels" and "Star Wars: Visions." Yet for all the voice roles Hong has performed over his illustrious career, "Wendell & Wild" is unique in that it marks the first time Hong voices a character for a stop-motion film.
Co-written by Henry Selick and Jordan Peele and directed by Selick — the legendary director of "The Nightmare Before Christmas" and "Coraline" — "Wendell & Wild" makes its long-awaited debut on Netflix Friday, October 28. Keegan-Michael Key and Peele voice the titular characters of Wendell and Wild, respectively, a pair of demon brothers who look to escape their hellish existence in an underworld prison by convincing a guilt-ridden 13-year-old orphan, Kat (Lyric Ross), to summon them to the Land of the Living. The trade-off is tempting to Kat since it gives her a chance to make peace with the loss of her parents, and it provides Wendell and Wild the opportunity to live the life they've long been dreaming of.
Since they were a pair of troublemakers in their underworld prison, Wendell and Wild can't help but stir up all kinds of craziness for Kat and her fellow students at her Catholic boarding school, as well as the denizens of the once-vibrant town that was home to Kat's parents before their untimely deaths. Hong voices the pivotal role of Father Bests — a priest and headmaster of the school who is desperately trying to save the facility from closing — whose wild encounter with the mischievous demon brothers yields unexpected results.
In an exclusive interview with Looper, Hong discussed his work with Selick, Key, and Peele, and why 2022 has been an especially exciting year in his distinguished career.
Hong was mesmerized by the stop-motion animation of Wendell & Wild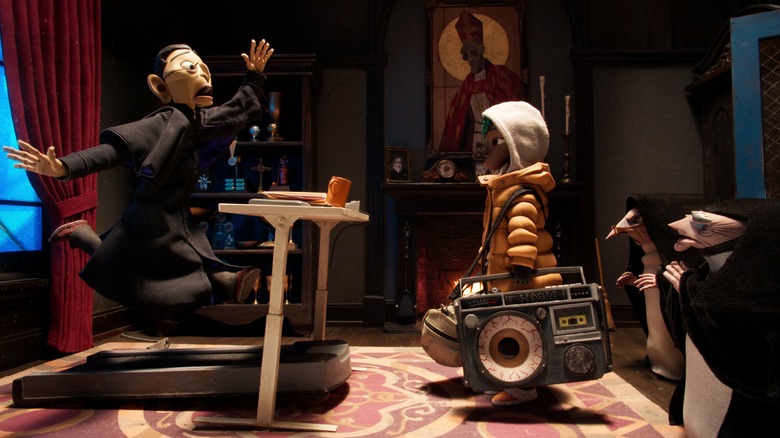 Netflix
I scanned your legendary list of credits on IMDb, and throughout the 450-plus titles listed, I didn't see any stop-motion movie titles. For an actor who's done it all, did knowing this was a stop-motion film make you approach the role in any different way?
No. For the voice actors in "Wendell & Wild," we were just instructed to act. That's our job. The stop-motion is up to director Henry Selick and Jordan Peele. Let them create the stop-motion.
I admit that after having seen the preview, it is different. It's mesmerizing. It created a different effect, and the character and the artistry ... When you see it, you'll know what I mean. The characters are very different, and I would encourage people to see it and give me their opinion, if possible. Tell me on my official James Hong page on Facebook. I'd love to hear their opinion.
It's brilliant. What was your reaction to seeing Father Bests the first time you watched the film? It really is an entirely different quality of animation.
That's true. Well, I can't expose too much about my character because I'm not supposed to. Besides, I want people to see [it like] you ... I want other people to give me their opinion [of] what they think Father Bests is like. Basically, Father Bests, he thinks he is — and I'm sure he is — the best, true to his name. He runs the school, and he's got to keep it alive. You know how tough it is to keep a school running, and he doesn't have the funds.
He solicits these two goofy guys, Wendell and Wild, to help him, and they only make things worse. But I can't tell you too much. You have to let the audience see it and judge for themselves. I loved doing the character. I had so much fun doing it.
Finding familiar-looking faces in the animation
Netflix
I hope you at least get a puppet of Father Bests out of this production. They are pretty cool-looking characters, aren't they?
Yes. The characters were created to look a little bit like the real person, like myself. I see a resemblance of myself in that priest hood. Did you see any resemblance to James Hong?
Absolutely. In Wendell and Wild, too, you can see how they resemble Keegan-Michael Key and Jordan Peele. Talking about those two, you worked together with them on "Key & Peele" in 2013. Did Jordan Peele mention that to you as part of the reason they wanted you for this particular film?
No. I never really spoke to him personally, but I'm glad he kept me in mind, which means that I did a great job in "Key & Peele." Even during those days when I did that crazy scene in the alley with these two guys, I said, "What's going on? Do these guys know what they're doing?" I must have done a good job ad-libbing and rolling with the punches in those days [to get the role with them in "Wendell & Wild"].
I knew even then they had something [and were] going to make it big, and here it is with "Wendell & Wild" and all those movies that [Jordan has] done, and he's got so much more to come. I wish I was, let's say, 20 or 30 years younger to keep pace with him. But I arrived at this ... 70 years I've been in this industry.
A legendary year for an acting legend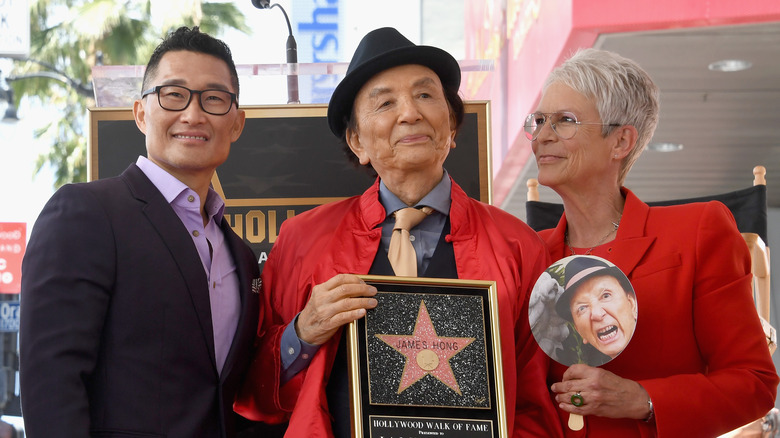 Albert L. Ortega/Getty Images
Congratulations for every single year of your career — and 2022 has especially been a big year for you. Obviously, you're in "Wendell & Wild," and you got your long-deserved star on the Hollywood Walk of Fame last summer. Plus, you have a wonderful turn in "Everything Everywhere All at Once." I'm sure all these things are thrilling for you not only from a career standpoint but also for the strides the entertainment industry has made in Asian American representation. Would you agree?
Yes. That movie, "Everything Everywhere All at Once," I hope it gets nominated, and I hope it wins some kind of award to get recognition for Asian Americans. They're mentioning about giving me a Lifetime Achievement Award at the Academy Awards, so I hope that comes to be.
But there have to be more Asian American actors recognized in this industry. Seventy years ago when I started, there were no roles for Asian Americans that were top roles [and] that were human beings. We were all cliché characters. Now, [Asian American] directors are winning Academy Awards for big-time movies. You might say there's been progress in 70 years, but I hope there's going to be a lot more progress in the next 10 years for the Asian American actors. There are so many of us waiting — young people that are talented, waiting in the wings to come forward. They just need a chance.
Also starring the voices of Angela Bassett and Ving Rhames, "Wendell & Wild" debuts on Netflix Friday, October 28.
This interview was edited for clarity.