Love Is Blind Fans Are Praising SK's Mom As The Star Of Season 3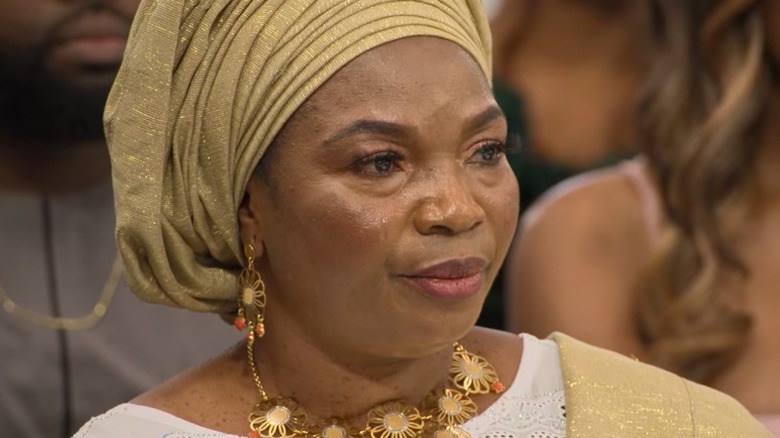 Netflix
"Love is Blind" is easily one of the most popular reality dating shows out there right now. Each season of the Netflix series, which is hosted by Nick and Vanessa Lachey, brings in 15 men and 15 women, with each group kept separated from the other. The individuals then date in the "pods," where there is a wall between the man and woman to keep them from seeing each other in order for them to form an emotional connection separate from physical attraction. A couple can then see each other after they have gotten officially engaged. Afterward, the series continues to follow the engaged couples until their wedding day about four weeks later, when the individuals must decide if they want to marry the person they got engaged to in the pods.
Season 3 is well underway, with just one episode left (alongside the special reunion episode). The last batch of episodes, which was released to Netflix on November 2, showcased the first of the weddings: SK and Raven's. After they both gave emotional vows, SK shocked Raven, the wedding guests, and the viewers when he said no.
Raven then left the altar, retreating to the room where she had gotten ready. She was then visited by SK's mom, Adeola, who wanted to check in on how Raven was doing. This came after Adeola had already made sure that Raven felt welcome in the family and within the Nigerian culture. During the wedding, Adeola could even be seen mouthing "I do," urging SK to do so, while SK was hesitating before giving his answer.
Naturally, fans are loving SK's mom — and even calling her the star of the season.
Twitter users have been praising SK's mom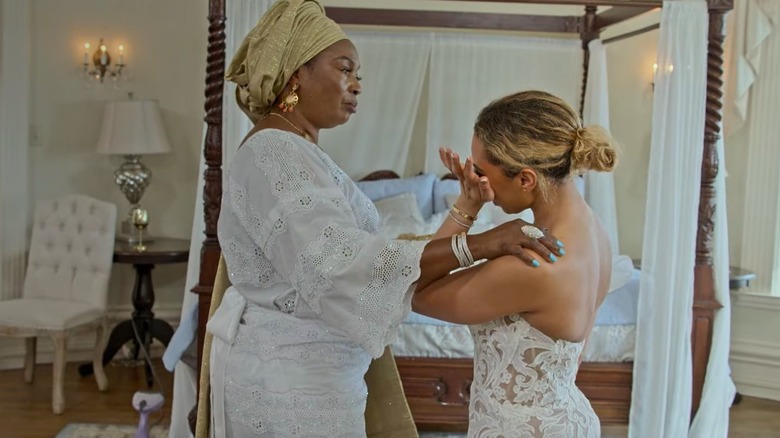 Netflix
Following the release of the last batch of episodes, fans have been flooding Twitter to announce their love for SK's mom, Adeola. One user, @deuxbyun, wrote, "i was BAWLING with her when sk's mom came to comfort her after sk said no." Another user, @DamnitGena, included a screenshot of Adeola hugging Raven to console her and wrote, "Sk's mom is such a Gem for the compassion and acceptance she showed towards Raven. She was the best person all season! Honestly a dream mother in law." Similarly, @trishayri wrote that she hopes her own eventual mother-in-law will be like Adeola.
Further, @meaganforde wrote, "no we need to protect SK's mom at all costs." Meanwhile, @MaciParr had nothing but praise for Adeola, calling her the sweetest woman ever. Another user, @jennyappless, petitioned for Adeola to get her own show, declaring that she is the best person to show up in all three seasons of "Love is Blind." In agreement, another user wrote, "Can we have a show of just SK's mom telling us life advice?"
@RobynDMarley_ pointed out that when Adeola consoled Raven, she gave her the mother-daughter moment that Raven needed since her own mom opted not to come to the wedding. Finally, @kissesfordayss put into words what all these fans were thinking, writing, "Honestly the star of the season is SK's beautiful mother. I really appreciate how she made Raven comfortable always."
Raven has praised SK's mom publicly as well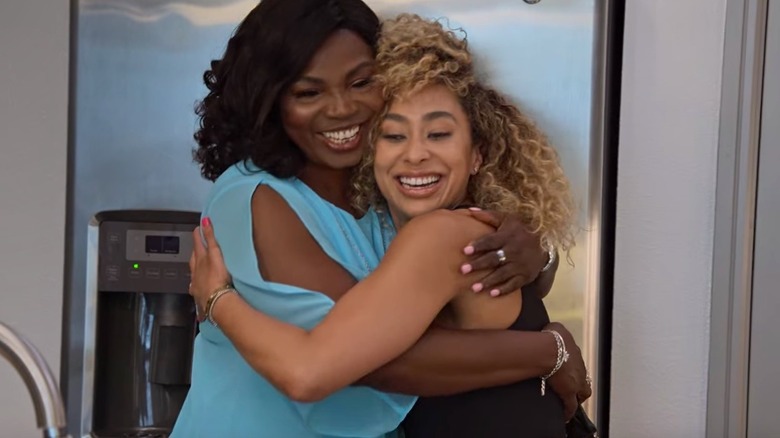 Netflix
Fans of "Love is Blind" are not the only ones who love SK's mom — Raven herself also loves her almost-mother-in-law. On October 26, the second batch of episodes for Season 3 came out — which included Raven meeting SK's mom for the first time. Adeola was accepting of Raven right away and, after SK told Adeola that Raven was worried about being accepted in the Nigerian culture, Adeola quickly put Raven's fears to rest by telling her that she is already welcome in their family.
The day that the episode came out, Raven took to Instagram to express her admiration for Adeola. Alongside a screenshot from the series of Raven and Adeola hugging, Raven wrote, "This is truly one of my favorite experiences of the entire experiment. Sk's mom is the kindest, most loving woman and I'm so glad y'all got to experience her brilliance with me."
Then, referencing a moment in which Raven was confused about how to eat a Nigerian dish, jokingly added, "And yes she still loves me even tho I ate amala with a fork ok."
We can't wait to hear an update on what happened between Raven and SK after SK said no at the altar — and hopefully get an update on SK's mom, as well — when the reunion episode airs on Netflix on November 9.