Ryan Coogler Admits He Did Consider Recasting T'Challa For Black Panther: Wakanda Forever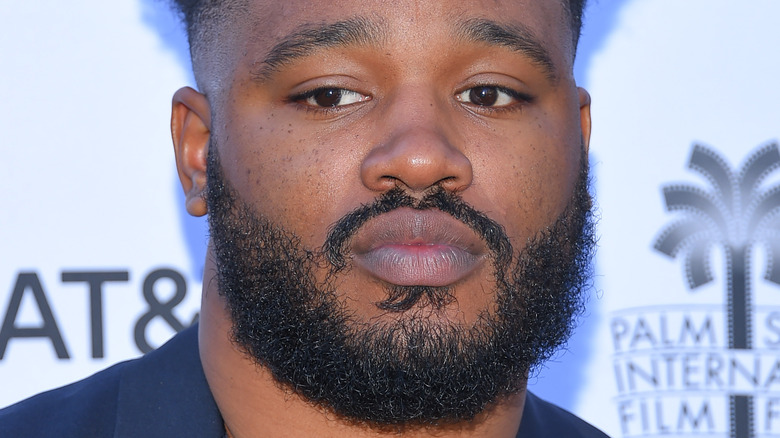 DFree/Shutterstock
2020 saw the passing of Chadwick Boseman. The T'Challa actor died from colon cancer months before "Black Panther: Wakanda Forever" was set to begin production. Marvel Studios postponed the highly-anticipated sequel to the Oscar phenomenon, giving the cast and crew time to grieve over the late actor and decide on next steps. Director Ryan Coogler and Marvel Cinematic Universe architect Kevin Feige ultimately decided not to recast the role of T'Challa, a decision that led to mixed reception, especially from Boseman's brother (via TMZ).
While over 60,000 fans petitioned on Change.org to have the King of Wakanda recast, Marvel VP of Development Nate Moore made it very clear: T'Challa will not be seen on screen again out of respect for Boseman. "When Chad passed, it was a real conversation we had with [director Ryan] Coogler about, 'What do we do?' and it was a fast conversation," Moore revealed while speaking on the Ringer-Verse podcast in November 2021, months after it had started production, per Variety. "It wasn't weeks, it was minutes of we had to figure out how to move that franchise on without that character. Because I think we all feel so much of T'Challa in the MCU on the screen ... is tied to Chadwick's performance."
The marketing for "Wakanda Forever" has directly confirmed that T'Challa has passed in-universe, though it remains to be seen how Coogler and co-writer Joe Robert Cole tackle it. Scrapping away the original idea for the "Black Panther" sequel may have been difficult, but from the rave social media reactions "Wakanda Forever" has received, it's clear that Coogler has delivered another winner.
While Marvel VP Moore revealed that the decision to decide the future of "Black Panther" was done in minutes, the writer-director has confirmed that he considered recasting T'Challa.
Ryan Coogler considered everything following Chadwick Boseman's death
Writer and director Ryan Coogler recently appeared on Marvel Studios' "Wakanda Forever: The Official Black Panther" podcast to discuss the sequel. The nearly 40-minute long chat dived deep into the world of Wakanda, how the Marvel Cinematic Universe has evolved, and how Chadwick Boseman's death influenced and changed the sequel. Coogler had previously spoken about how the actor's passing particularly influenced the film's visual style. The conversation eventually led to the director being asked to discuss the significance and responsibility of a new actor taking on the role of Black Panther. Coogler candidly replied, opening up about his thought process in not recasting T'Challa, a character who continues to inspire millions of fans across the world.
"You consider everything, when something like that happens, it's like 'I don't think I can come back and make another one, I don't think I can do this. I don't think there should be another one.' You go through all of the extremes," the director said, opening up about his conflicting feelings about returning to Wakanda. Getting emotional, Coogler confirmed that recasting was considered an option. "It's a complicated thing to even say," the "Black Panther" helmer said before opening up about why the thought of recasting dissipated, and it all boils to being honest and seeking out the truth.
Ryan Coogler was in pursuit of truth while making Black Panther: Wakanda Forever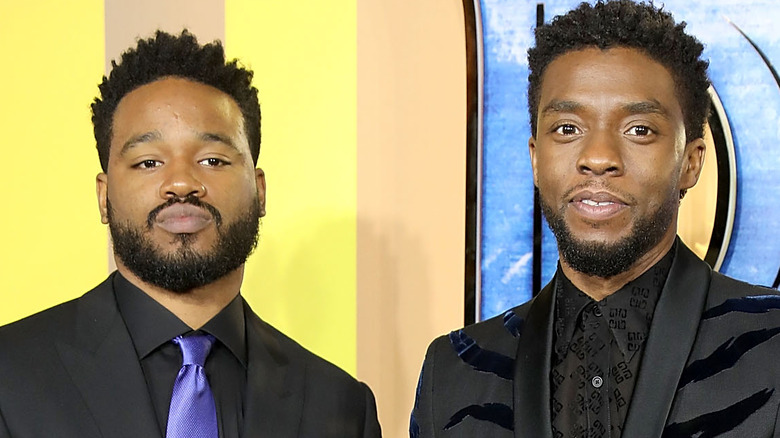 Tim P. Whitby/Getty Images
Ryan Coogler continued by opening up about how his job as a director is to spend hundreds of days convincing his cast and crew to believe in ideas that he finds truthful. "I have to believe in something enough to go convince other professionals to believe in it as well for an extended period of time," he said before discussing how it's important that the final product has to be truthful. Expanding on his role, Coogler explained how his responsibility is to "weed out" anything in the film or creative that screams "nope" to him. "I have [to have] a fighting chance of putting something out in front of the audience, that the audience can believe in and not be taken out of for two hours ... they have to believe in some kernel of truth that's happening on the screen," he said.
In the pursuit of his truth, which shaped "Wakanda Forever," Coogler was clear about one thing: "Chadwick's gone from the physical sense, he wasn't walking through that door ... he was the guy." Truth is often considered to be the search for belief, and Coogler recognized that if he didn't believe in the idea of recasting T'Challa, there was no truth in his vision. "For somebody else to be him, for us in the world that we created, we wouldn't have believed it. No matter how good the actor was, it would've been lacking the necessary truth for us to do a good job," Coogler shared, echoing Marvel VP Nate Moore's comments.
What exactly was the truth that Coogler was searching for? Chadwick Boseman. "Our truth was lost, which is a fact of life. It's the gift and the curse of life. Heroes, great men, die."