Ryan Coogler Reflects On Chadwick Boseman's Profound Influence On Black Panther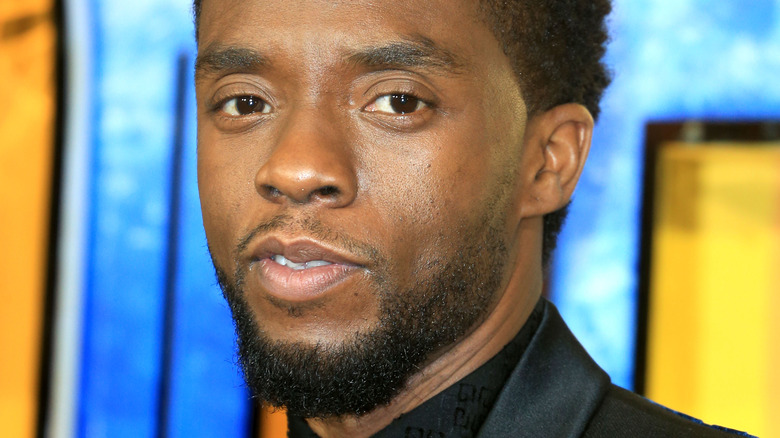 Fred Duval/Shutterstock
Upon its premiere in 2018, "Black Panther" was the rare Marvel property to bridge the divide between die-hard MCU fans and comic-agnostic critics. Indeed, the film boasted an impressive 96% on Rotten Tomatoes and appeared on year-end lists from The Guardian, the Los Angeles Times, and Barack Obama, to name a few. The box office, perhaps a more accurate reflection of populist appeal, was similarly robust, and "Black Panther" remains one of the highest-grossing movies of all time (via Box Office Mojo).
Integral to the success of "Black Panther" was the magnetic cast, specifically Chadwick Boseman's role as T'Challa, the king of Wakanda. Already a venerated actor, Boseman became a superstar overnight, not to mention the face of a cultural phenomenon. Following Boseman's tragic death in 2020, the weight of his absence will surely color the upcoming "Black Panther: Wakanda Forever." Still, the late actor remains a profound influence on "Black Panther."
Chadwick Boseman laid the groundwork for Black Panther in Captain America: Civil War
In the new Marvel podcast "Wakanda Forever: The Official Black Panther Podcast," MacArthur Fellow and "Black Panther" series scribe Ta-Nehisi Coates interviews the individuals who helped bring Wakanda to life. In the inaugural episode with director Ryan Coogler, the discussion naturally turned to Chadwick Boseman and his profound influence on T'Challa and the entire "Black Panther" universe.
"His significance to ['Black Panther'], it can't be overstated," said Coogler. "Chadwick was hired for a movie called '[Captain America:] Civil War' way before they knew for sure that 'Black Panther' was going to be a movie." Indeed, Boseman was in a unique position to workshop T'Challa years before he would helm his own film, and he took the job seriously, working to develop the character's accent on his own based on the Xhosa language.
For Coogler, Boseman's attention to detail and sense of ownership over T'Challa in "Civil War" did vital early world-building for "Black Panther." "[Boseman] was basically there to bring life to the character, but what Chad was also doing was protecting us before 'us' was even a thing. He was on set advocating for what Wakanda should be," said Coogler. "He was so good in ['Civil War'], and the decisions that he made were so amazing, that it seemed like T'Challa was always a thing when you watched that movie."
Chadwick Boseman was a steward of T'Challa and Wakanda
Since Chadwick Boseman originated the role of T'Challa in a non-Black Panther movie, he was in a unique position to flesh out the character before a director had even signed on to do "Black Panther." "He was having hard conversations about what Wakanda was going to be, and those conversations relied on his talent," said Coogler. "You talk about Marvel being ten steps ahead of the game, Chadwick was 30 steps ahead of the game. In many ways he was ahead of the studio, in terms of being confident in what was going to work."
Once production on "Black Panther" began in earnest, Boseman went above and beyond his role as the lead actor. According to Coogler, the term "team player" underestimates Boseman's involvement. "He gave feedback, and it wasn't just personal feedback," noted Coogler. "He came to every audition that I needed him at. He gave feedback on what it was like to play across from these people. He read every script."
Moreover, Boseman brought his years of experience to the "Black Panther" set. "Chad was a writer, he was a director, he was an African cultural historian. He knew Shakespeare. He knew it all," Coogler said glowingly. "He brought a level of seriousness and earnestness and he was more confident in me than I was in myself at the time." Coates best summarizes Boseman's indispensable role in the creation of "Black Panther." "It sounds like he was a steward of the character, a steward of Wakanda before there was even a movie."
For the team behind the upcoming film, making "Black Panther: Wakanda Forever" without Boseman is a tribute to the actor that brought the franchise to life. "Black Panther: Wakanda Forever" hits theaters on November 11.