Black Panther's Ryan Coogler Could Tell Something Was Wrong With Chadwick Boseman Weeks Before His Death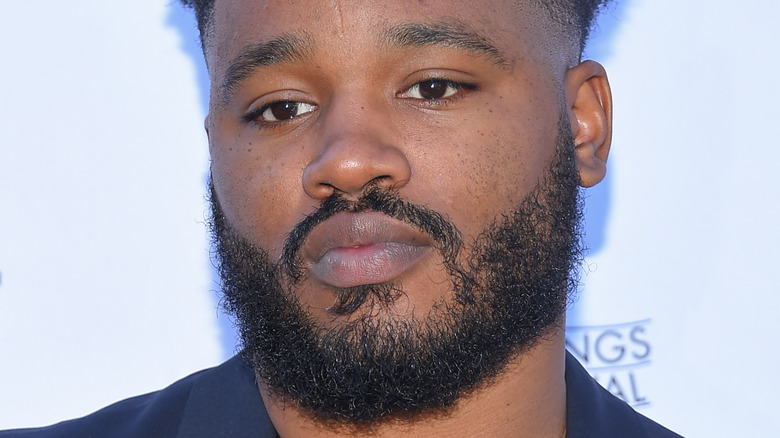 DFree/Shutterstock
Director Ryan Coogler's 2022 superhero outing "Black Panther: Wakanda Forever" offers an exciting return to the world of Wakanda from his original 2018 film "Black Panther," but it notably does so without the aid of the first movie's leading man — Chadwick Boseman. While the sequel's original screenplay was heavily focused on Boseman's T'Challa, the actor tragically died at the age of 43 in 2020 following a long-term battle with colon cancer (via The Associated Press).
The news of Boseman's death caught both the actor's fans and colleagues by surprise. Though he had been dealing with his diagnosis since 2016, Boseman had barely let anyone know about what was happening to him until the very end of his life (via The Hollywood Reporter). Even Marvel Studios' top executive Kevin Feige was blindsided by the information, only learning of Boseman's struggle with cancer on the day of his death (via The Independent). However, one individual who did pick up on the idea that something was amiss with the movie star weeks before his death is none other than Coogler himself.
Coogler's last phone call with Boseman tipped him off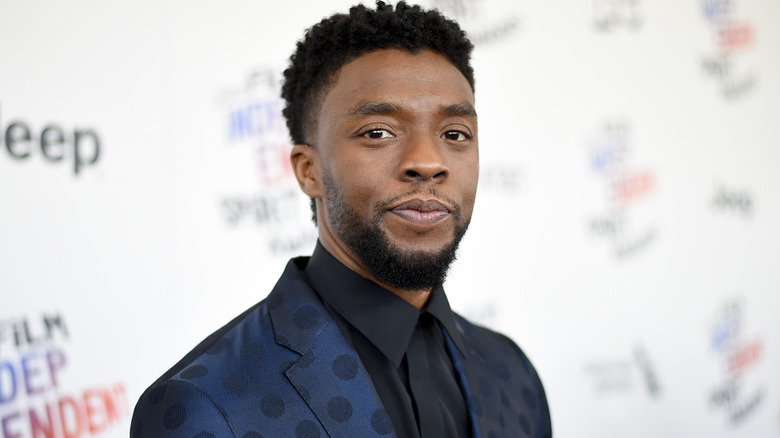 Kevin Mazur/Getty Images
In the first episode of "Wakanda Forever: The Official Black Panther Podcast," Ryan Coogler spoke about his experience with Chadwick Boseman's death. The director revealed he began to suspect that something was wrong with the actor weeks before his passing.
According to Coogler, he had been trying to reach Boseman via phone to no avail after he completed the original "Black Panther: Wakanda Forever" script. After several days of radio silence, Boseman finally gave the creative a call back to talk about the film. "I could tell he was tired," Coogler began.
The director described the phone call, noting that he could tell Boseman was laying down. The actor was also with his wife Taylor Simone Ledward. "He kicked Simone out because he told her he didn't want her to hear nothing that could get him in trouble with his NDA," Coogler recounted. "She didn't want to leave him, so I could tell something was up."
While the pair spoke on various matters, including the birth of Coogler's first child and the public wedding ceremony Boseman and Ledward were planning, the star told the director that he felt it was better if he didn't read the "Black Panther" sequel's script. "He didn't want to get in the way of whatever notes the studio might have, so he was like, 'It's better if I read it later,'" Coogler said. "I found out later that he was too tired to read anything."
Boseman's death hit Coogler hard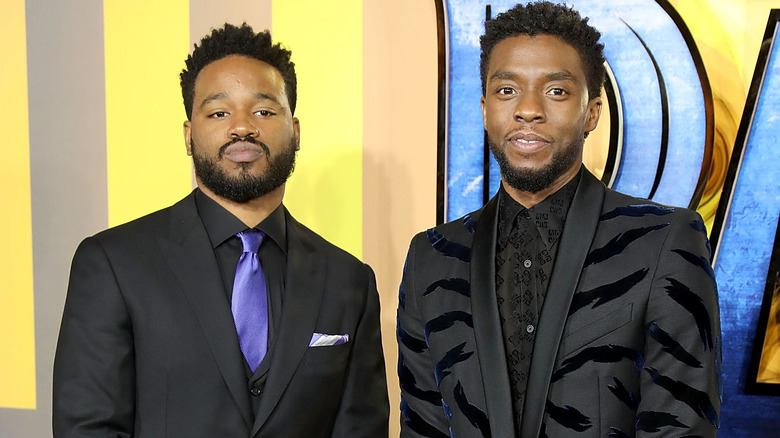 Tim P. Whitby/Getty Images
Ryan Coogler's final conversation with Chadwick Boseman may have planted seeds of suspicion in the director's mind, but he was still caught off-guard by the news of the star's death several weeks later. During his intial interview in "Wakanda Forever: The Official Black Panther Podcast," Coogler recalled that his manager and agent called to inform him before the story broke publicly. "I didn't want to believe it, so I called Denzel [Washington] and I spoke with him," he said. "I was like, 'Yeah, maybe it's a rumor.' So I was texting Chad. You know, you go through that denial."
Boseman's death hit the director hard. In the wake of the tragedy, Coogler almost made a huge life-changing decision, nearly quitting the entertainment industry altogether. "I was at a point when I was like, 'I'm walking away from this business,'" the director told Entertainment Weekly. "I didn't know if I could make another movie period, [let alone] another Black Panther movie, because it hurt a lot. I was like, 'Man, how could I open myself up to feeling like this again?'"
Coogler ultimately decided to continue his creative pursuits, including "Black Panther: Wakanda Forever," which he shifted to center upon Wakanda mourning the death of Boseman's King T'Challa. "I was poring over a lot of our conversations that we had, towards what I realized was the end of his life," he said in the interview. "I decided that it made more sense to keep going."