Shelley Duvall Returns To Horror In The Trailer For The Forest Hills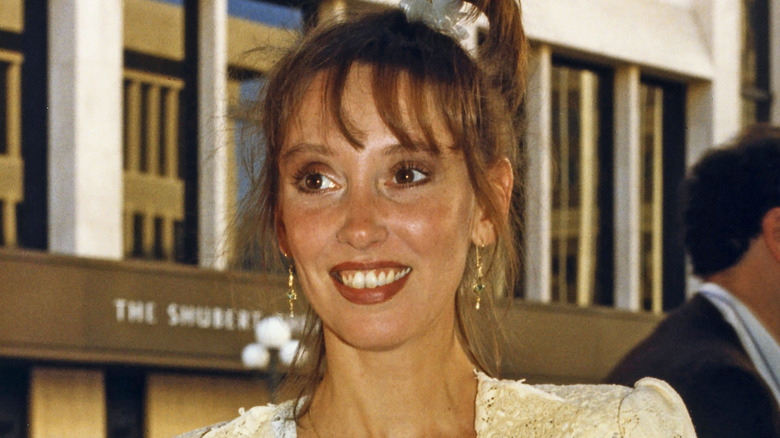 Vicki L. Miller/Shutterstock
If you've been keeping up with the news, you know the last few years have been tricky for legendary actor Shelley Duvall. That largely stems from a troubling 2016 appearance on "Dr. Phil," in which she appeared disheveled and mentally unwell. Though that "Dr. Phil" segment was widely condemned as both exploitative and sensationalistic by many (per E News), its impact was no less startling if only because not many people had actually seen Duvall since she left Hollywood in the 1990s. 
The actor rose to prominence two decades prior, having been discovered by associates of Robert Altman in the 1970s, and appearing in several of his films (via The New York Times). By 1980, she was an A-lister working opposite Jack Nicholson in Stanley Kubrick's "The Shining." Duvall's nerve-shredding turn as the beleaguered Wendy Torrance remains her best-known work, and arguably her best screen performance. We, of course, now know that both the grueling shoot and Kubrick's cagey methods in coaxing her performance took a serious physical and mental toll on the actor (per Us Weekly).
Duvall was understandably in no rush to return to the horror realm and has largely avoided the genre altogether in the years since. And as it happens, she's avoided any film projects at all for the past two decades (via CNN). That's about to change as Shelley Duvall has made her genre return in the new horror film "The Forest Hills." And we now have the trailer to give us a glimpse into her return to the big screen.
If you or someone you know is struggling with mental health, please contact the Crisis Text Line by texting HOME to 741741, call the National Alliance on Mental Illness helpline at 1-800-950-NAMI (6264), or visit the National Institute of Mental Health website.
The Forest Hills looks to blend the psychological thriller with classic Werewolf lore
"The Forest Hills," is written and directed by genre guru Scott Goldberg and follows the harrowing descent of a man named Rico (Chiko Mendez) in the aftermath of a traumatic head injury. We get our first look at Rico's spiral in the just-released trailer for "The Forest Hills," which includes bloody sights of murder, mayhem, and werewolves. As for that last bit, it's not entirely clear if Rico's visions of werewolves are real or simply induced by his injury. And from the looks of things, Goldberg and company are going to have a lot of fun exploring that gray area.
As for Shelley Duvall, she's portraying Rico's mother in "The Forest Hills," and we only get a brief look at her in the trailer. But from that look, it's clear she and Rico are probably not on good terms. It should be fascinating to watch Duvall lean fully into a potentially nasty bit of character work. It'll also be nice just to see the former star back on the screen after her 20-year absence.
Duvall is not the only recognizable genre vet to appear in "The Forest Hills." Fans will also be quick to spot "Terminator 2" star Edward Furlong and "The Howling" and "Cujo" star Dee Wallace Stone in the trailer. The ensemble of genre players should more than peak any horror lover's interest in "The Forest Hills," which is set to release sometime in 2023.