Hannah's Dream In AHS: NYC Episode 5 Has Fans Making Callbacks To Double Feature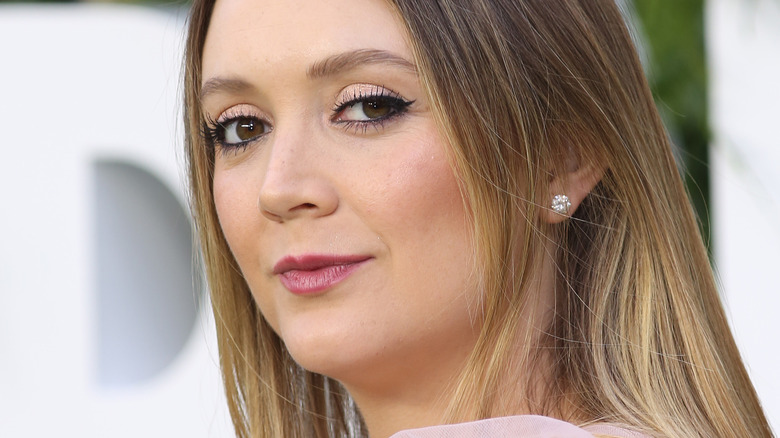 Lia Toby/Getty Images
"American Horror Story: NYC" puts all of its characters through the ringer, with fans having reason to worry about Gino, Patrick, and the rest of the cast on what's essentially an episodic basis. However, few major players in this season have as much on their plate as Billie Lourd's Hannah. Between uncovering a strange virus affecting both the human and deer population of the city, seemingly getting pregnant with the baby of Adam (Charlie Carver), and harboring a mysterious connection to the villainous Mai Tai Killer, it's nothing short of an understatement to say that the doctor has a fair bit going on.
As it turns out, Hannah can't even find time to rest in her own dreams either, as Episode 5 sees her experience a terrifying nightmare. While the scene gets its point across pretty clearly, continuing to hint at Hannah and Adam's relationship and that she is, indeed, pregnant with his child, some fans quickly noticed that the sequence bears more significance than that. In fact, Hannah's dream seemingly incorporates a massive callback to "American Horror Story: Double Feature."
The alien baby's back, baby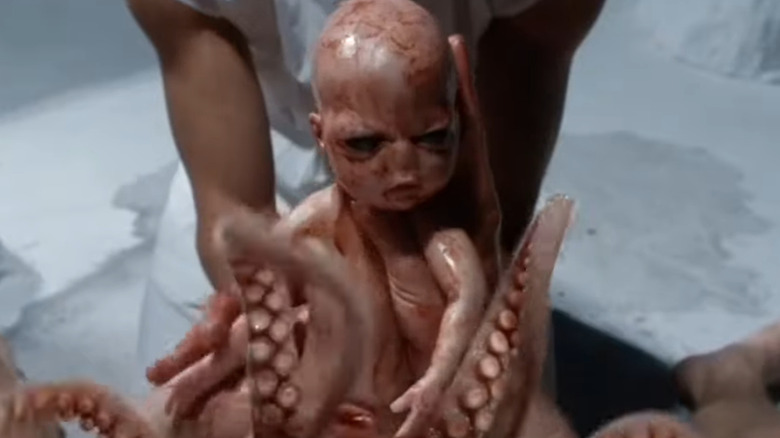 FX
Hannah's stress dream in "American Horror Story: NYC" Episode 5 gave many avid "American Horror Story" watchers a major case of deja vu. During the sequence, the doctor gives birth to a horrifying tentacle baby abomination, which just so happens to look near-identical to the newborn alien-human hybrids from "Death Valley," the second-half storyline of "American Horror Story: Double Feature." Several fans were quick to point out the connection. "Omg did y'all catch that Double Feature easter egg/reference," @EdKomTrikru tweeted after the episode aired.
Others noticed that "Death Valley" isn't the only previous "American Horror Story" era that seemingly has representation in the episode. Between an ominous tarot card reading that feels like it's ripped straight out of "Coven," a veiled reference to the Angel of Death from "Asylum," and plenty more tidbits, the episode appears to draw from almost all of its past incarnations. "The references to past AHS seasons this week is insane," @antpats2 tweeted.
While cross-season references are nothing new for the horror anthology (remember when Twisty from "Freak Show" popped up in "Cult?"), it's not immediately clear to audiences whether Hannah's dream is just a simple reference or a direct herald of things to come. After all, the ending of "American Horror Story: Double Feature" practically begs for a follow-up, and series co-creator Ryan Murphy has affirmed that all seasons are meant to connect (via Collider). Intrigued viewers must finish "NYC" to find out whether Hannah's nightmare becomes reality.