Abbott Elementary's Tyler James Williams Is Constantly Getting Hit With Backhanded Compliments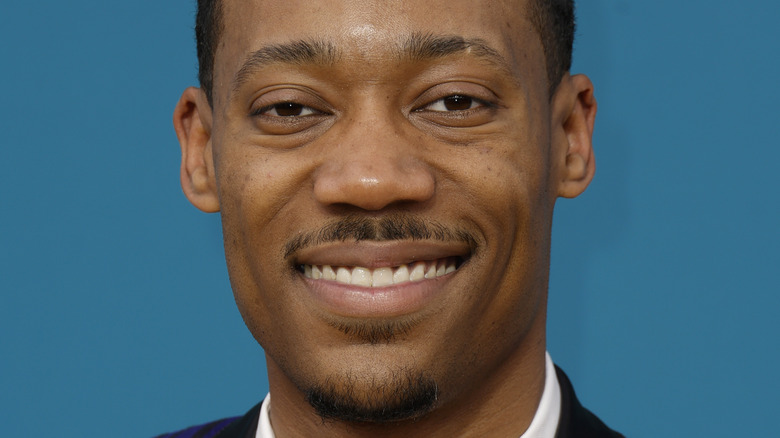 Frazer Harrison/Getty Images
Tyler James Williams broke out in the Hollywood industry with his loveable portrayal of a young Chris Rock in "Everybody Hates Chris." The family sitcom aired from 2005 to 2009, featuring over 80 episodes. The show received critical praise during its run, as it was significantly ahead of its time, masquerading social issues surrounding race and class inside a fun sitcom.
After laying the lead role in such a popular show, Williams relaxed a bit, grabbing a few smaller parts here and there. He would eventually return in full force, landing regular and recurring roles on shows like "Go On," "The Walking Dead," and "Criminal Minds: Beyond Borders." Now, Williams warms the hearts of many, acting alongside a star-studded cast on ABC's "Abbott Elementary."
"Abbott Elementary" is a mockumentary-style show — think "The Office" — focusing on a group of teachers working at a predominantly Black school in Philadelphia. The school, Willard R. Abbott Elementary, attracts the attention of a documentary team for being severely underfunded. Williams plays the charming Gregory Eddie, an aspiring principal brought on as a substitute and a full-time teacher. Joining him in "Abbott Elementary" is Quinta Brunson, Janelle James, Lisa Ann Walter, Chris Perfetti, and Sheryl Lee Ralph.
"Abbott Elementary" received instant praise following its premiere in late 2021, but some compliments fans give Williams seem a bit backhanded.
Williams learned early that Hollywood has issues nurturing Black stories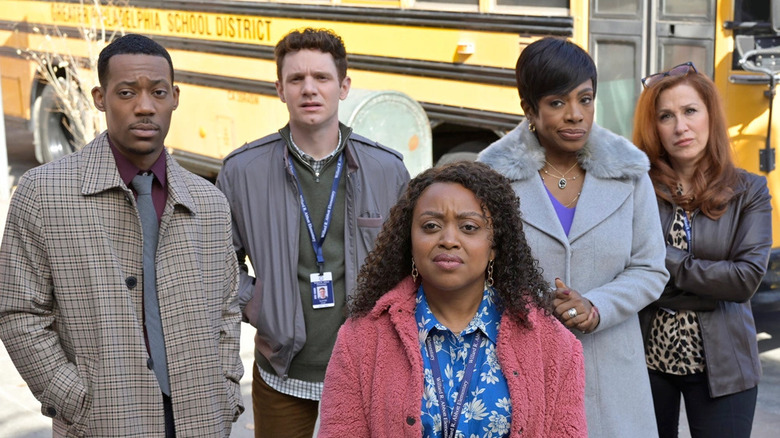 ABC/Hulu
Tyler James Williams recently sat down with Bustle to discuss "Abbott Elementary" and his career. In the front-page piece, the actor breaks down the effects of child stardom on his life and the long-standing problems plaguing Black stories in Hollywood.
Williams spoke on the backhanded compliments he frequently gets from fans of "Abbott Elementary," saying, "People come up to me and say, 'The main cast is Black, but it doesn't feel like a Black show.' And I'm like, well, what does that mean exactly? Usually, when people say it's a Black show, it has to be outside of awards contention and made for a niche market. For me, it's good TV, regardless."
The mockumentary sitcom received seven Emmy nominations for its first season, solidifying its place among the best shows in the industry, regardless of its predominantly Black cast. In the interview, Williams recalled experiencing a similar situation during the first season of "Everybody Hates Chris," which received Golden Globe nominations. Still, people ultimately saw it as that "Black show" instead of being considered one of the top TV shows at the time, which hurt the series in the long run.
Williams believes that the success that "Abbott Elementary" experienced at the Emmys validated it as a top TV program. The show won three of its seven nominations, taking home the Emmys for "Outstanding Casting for a Comedy Series," "Outstanding Writing for a Comedy Series," and "Outstanding Supporting Actress in a Comedy Series" for Sheryl Lee Ralph.
"Abbott Elementary" Season 2 is currently airing, with new episodes every Wednesday on ABC and streaming the next day on Hulu.