12 Hilarious Parody Movies Like Weird: The Al Yankovic Story Fans Should Watch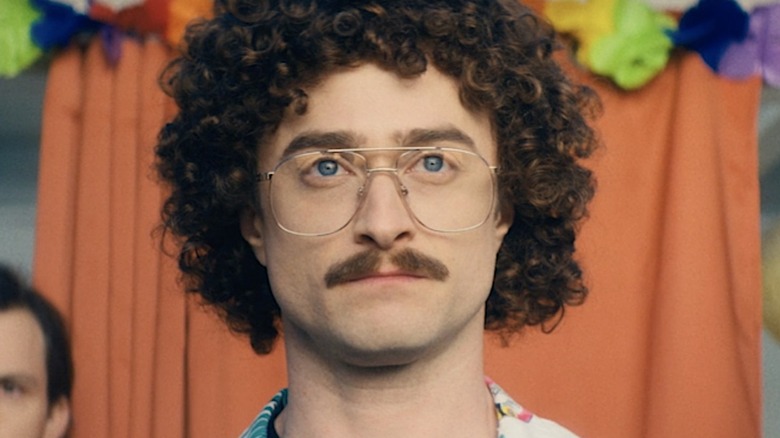 The Roku Channel
Parody music is a niche subgenre, but one with an unquestionable king: "Weird Al" Yankovic. Rising to fame off the back of spoof songs like "My Bologna" and "I Love Rocky Road," Weird Al had an uncanny knack for turning the biggest musical hits into silly songs about food and polka. One of the few musicians to still be at the top of his game more than 40 years on and to never have fallen into controversy or scandal along the way, he finally got a biopic in 2022, "Weird: The Al Yankovic Story."
Starring Harry Potter himself, Daniel Radcliffe, this would be no ordinary biography, nor even a straightforward comedy. Sure, the film shows Yankovic's upbringing and rise to fame, but it's also an uproariously funny send-up of musical biopics, lampooning the likes of "Bohemian Rhapsody" and "Rocketman," which took liberties with their true stories for entertainment. In his own biopic, Yankovic — who cameos as a record executive — has taken his own life and pushed the envelope, telling a deliciously untrue story of his fictional struggle with stardom, a relationship with Madonna that never happened, and a battle with drugs and alcohol that never existed.
Mocking biopics and himself, "Weird: The Al Yankovic Story" may be the perfect parody movie that dives into the life of a superstar, but it's certainly not the only one. So if you've just finished Al's satirical story, here's a list of 12 more parodies to queue up next.
Dolemite Is My Name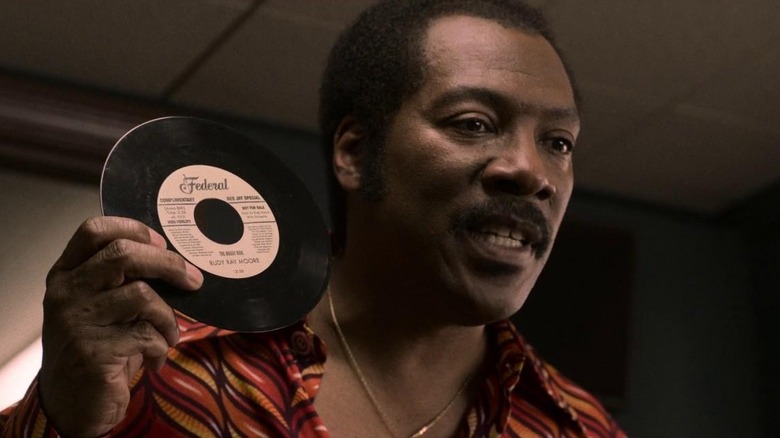 Netflix
If you're looking for an exaggerated portrayal of a wildly popular niche personality, there is no better film than "Dolemite is My Name." Dropped on Netflix in 2019, the film was a late-career comeback for the iconic comedian Eddie Murphy, who played blaxploitation star Rudy Ray Moore. An overnight sensation with his raunchy, over-the-top character called Dolemite in the 1970s, Moore was every bit as fascinating a character himself, and the movie embraces the absolute ridiculousness of the DJ-turned-actor and producer's rise to fame.
Moore's story was one of modest beginnings, working at a record store before trying his hand at stand-up comedy. Initially flopping on stage, Moore adopted an angry, foul-mouthed persona he dubbed Dolemite, which quickly became the talk of the town before a series of independent records made him famous in the underground comedy circuit. Never one to rest on his laurels, Moore wanted more and used his newfound popularity to launch a film career, whether Hollywood wanted him or not. With little support from the mainstream, Moore and a quirky cast of offbeat friends overcome plenty of challenges to assemble their first movie, "Dolemite."
More than a mere biopic, "Dolemite is My Name" is a parody of biopics that never takes itself seriously. But its brilliance comes in just how faithful it is to the true story; sure, it takes its liberties, but Moore's life and career are so unbelievable that the comedy practically writes itself.
Ed Wood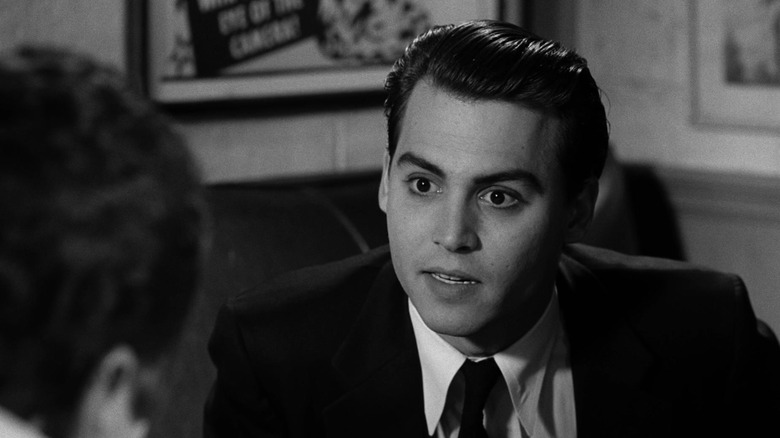 Buena Vista Pictures
Ed Wood was an unconventional entertainer, directing some of the most notoriously bad movies of his era. A struggling filmmaker who harbored big dreams of making feature films, Wood would become an icon of B-movie schlock before turning to adult films late in his career. The man behind "Plan 9 From Outer Space" — a movie often labeled one of the worst movies ever made — Wood's life was as strange and compelling as any science fiction movie with just as many weird side characters too. In 1995, director Tim Burton would dramatize his life story in the satirical biopic "Ed Wood."
Starring Johnny Depp as the infamous director, the film is anchored by the unusual friendship between Wood and aging, down-on-his-luck horror icon Bela Lugosi (played by Martin Landau, in an Academy Award-winning performance). Filled with a roster of oddballs, the film recounts Wood's early days as he struggles with his own identity and longs to be taken seriously. Filmed entirely in black and white, "Ed Wood" pokes fun at more than just Wood's work, but Hollywood itself, with the entire cast — led by the astonishing Depp — giving appropriately offbeat performances that capture the B-movie era perfectly.
Brilliant and laugh-out-loud funny, full of quotable lines and unforgettable characters, "Ed Wood" portrays a heightened reality like "Weird: The Al Yankovic Story." But it is wholly unique, so difficult to capture in a mere description, and must be seen to be appreciated.
This Is Spinal Tap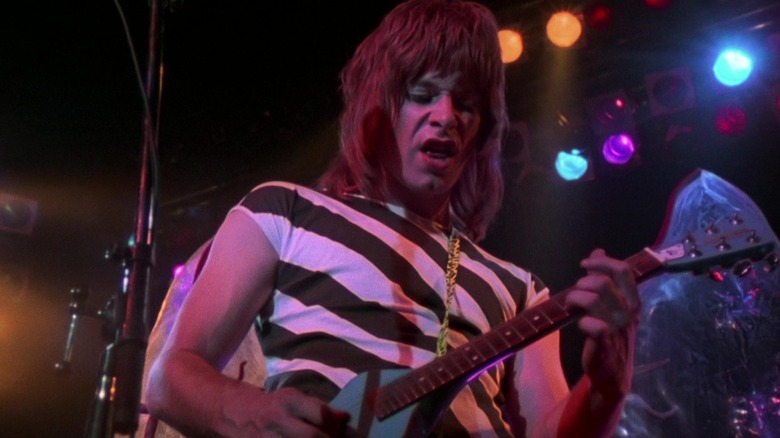 Embassy Pictures
The grandfather of the rock n' roll comedy, "This is Spinal Tap" practically invented the mockumentary, or at least popularized it. "Weird Al" Yankovic himself was a notable fan of the film, and its outlandish exaggerations and mockery of the music superstar lifestyle may well have inspired Yankovic when making his own parody film. Spawned from an appearance on a short-lived sketch comedy series in 1979, "This Is Spinal Tap" is a watershed film that follows the career of a fictional English rock group (via Flavorwire).
Directed by Rob Reiner ("The Princess Bride"), the movie dives into the band's long and complicated history, as we meet them as heavy metal superstars ready to embark on a U.S. tour in support of their latest album. Composed of David St. Hubbins (Michael McKean), Nigel Tufnel (Christopher Guest), and Derek Smalls (Harry Shearer), the band hits the skids with canceled dates due to low attendance, clashes with its manager (Tony Hendra), and struggles with David's domineering and intrusive girlfriend (June Chadwick). Equipment problems, a public outcry, and a couple of band member exits are fodder for plenty of madcap laughs, not to mention the requisite antics with groupies, sex, and drugs.
"This is Spinal Tap" however is so much more than a movie. A cult classic, the trio of actors recorded real albums as Spinal Tap, even going on tours in character on-and-off as the band for decades. But don't turn the dial up to 11 just yet, as a sequel is coming soon.
Jojo Rabbit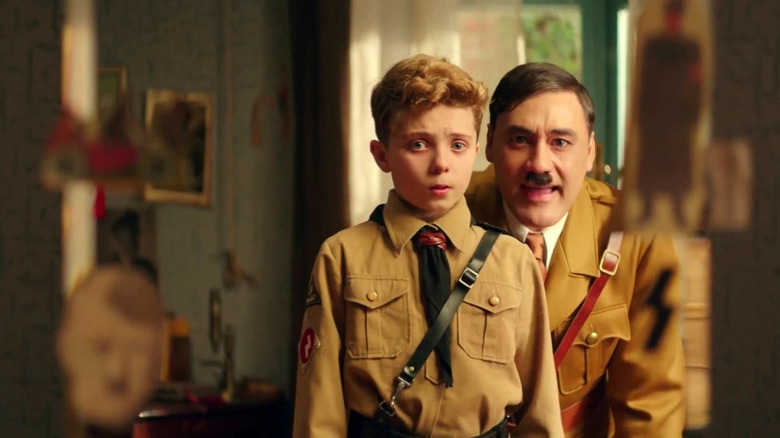 Searchlight Pictures
New Zealand director Taika Waititi followed up his first Hollywood blockbuster — Marvel's "Thor: Ragnarok" — with a strange spoof about Hitler Youth and Nazi leader Adolf Hitler called "Jojo Rabbit." Not a biopic at all, "Jojo Rabbit" is instead a quirky WWII parody and coming-of-age story about a young boy who is a member of the Hitler Youth. Waititi himself plays a silly, exaggerated version of the führer, who is the imaginary friend to 10-year-old Jojo Beltzer, played by Roman Griffin Davis in his acting debut.
A devout nationalist and believer in the Third Reich, Jojo is shocked to discover that his mother (Scarlett Johansson) has been hiding a young Jewish girl named Elsa (Thomasin McKenzie) from the Nazis in their home. Fascinated and repulsed in equal measure by Elsa's presence, Jojo attempts to learn more about Elsa so as to be more acquainted with the menace Nazis claim that Jewish people pose. But in doing so, Jojo begins questioning his own intolerance. An unlikely friendship blossoms, and when the regime comes for Elsa, the two are forced on the run, all while the imaginary Hitler decries Jojo's turn from the Reich.
Somehow, Waititi takes some of the most sensitive and controversial subject manner and successfully turns it into a delightfully uproarious farce. At the same time, the story of Jojo's friendship with Elsa and abandonment of his Nazi ideals is moving and powerful. Nominated for six Academy Awards including Best Picture, Waititi himself would take home the trophy for Best Adapted Screenplay.
The Death of Stalin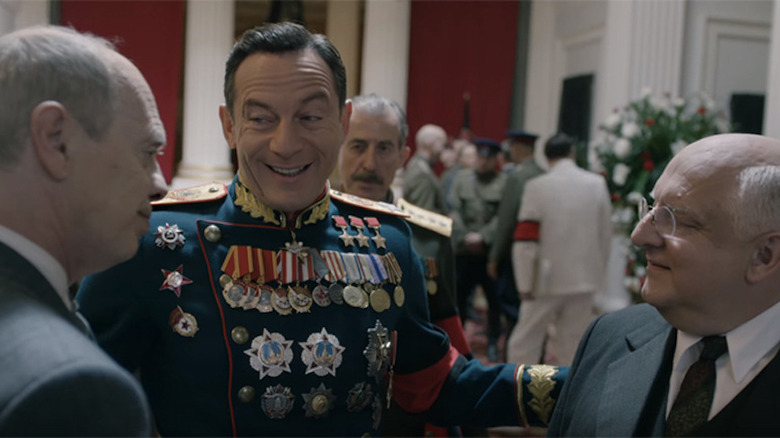 IFC Films
From an imaginary version of German's worst to one of Russia's most notorious, we have the 2017 black comedy "The Death of Stalin." But this parody of real-life events doesn't center on the fabled leader of the Soviet Union (Adrian McLoughlin), but on the Russian military generals and politicians who are left to fight over who will fill the power vacuum left in the wake of his death. This includes the inept Georgy Malenkov (Jeffrey Tambor), anti-Stalinist Nikita Khrushchev (Steve Buscemi), Marshal Georgy Zhukov (Jason Isaacs), Bolshevik Vyacheslav Molotov (Michael Palin), and secret police chief Lavrenti Beria (Simon Russell Beale).
Following a sudden brain hemorrhage that leaves Stalin dead, chaos erupts in the government, with nobody sure how to proceed, as their glorious leader had left no line of succession. As the factions jockey for position, with Khrushchev attempting to curry favor with Stalin's children, others begin rescinding many of Stalin's policies and final orders. While Beria asserts power, Zhukov and Molotov plan a coup, and things quickly spiral out of control.
Written by Armando Iannucci, the creator of UK political satire "The Thick of It," and its American remake, "Veep," the film is a classic real-life parody that hits all the right notes with a morbid sense of humor and wickedly sinister laughs. While the details of how Stalin's successor came to power aren't entirely known, "The Death of Stalin" provides a sardonic, tongue-in-cheek look at how it might have happened.

Man on the Moon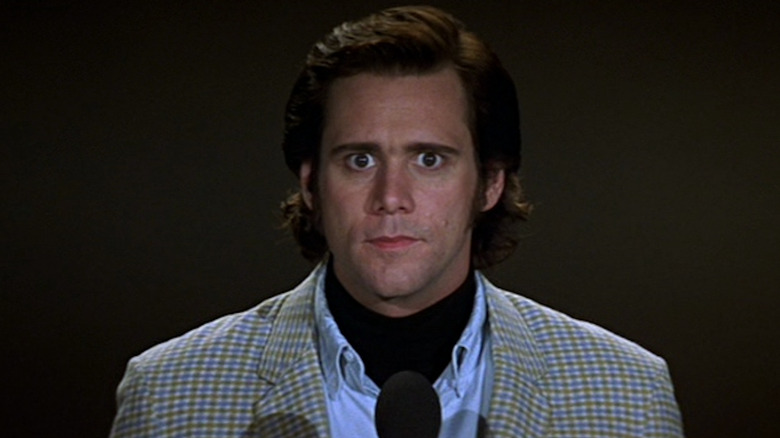 Universal Pictures
Though he wasn't a musician (at least, not a good one), comedian Andy Kaufman's unique brand of surrealist comedy made him as fascinating as Weird Al. A man who died far too young, and not from his own vices like many celebs of his era, Kaufman was a different kind of entertainer who, like Yankovic, turned his industry on its head. His biopic, a 1999 comedy-drama starring Jim Carrey, plays up the wackiness of Kaufman's own real life, as his weirdness followed him off the stage.
A comedian dead set on doing things differently, Kaufman subverts audience expectations, eschewing traditional punch lines and wisecracks in favor of show tunes and book readings that amuse himself rather than the audience. But somehow, Kaufman gets the attention of talent scout George Shapiro (Danny DeVito), and his career begins to take off with a role on a prime-time sitcom. Conventional success means little to Kaufman though, who revels in his fictional personas and subversive humor. Just as he's at the height of his popularity, however, Kaufman is thrown for a loop with a devastating medical diagnosis.
In a touching story that's as poignant as it is funny, Carrey gives arguably the best performance of his career, while Paul Giamatti and Courtney Love round out the cast. Though "Man on the Moon" follows the true story a lot more closely, and has a more somber tone than "Weird: The Al Yankovic Story," it's Kaufman's life that is the true parody.
Popstar: Never Stop Never Stopping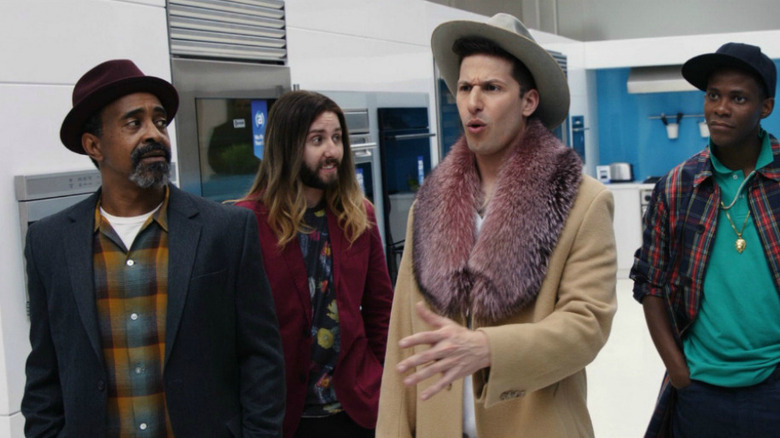 Universal Pictures
"Weird: The Al Yankovic Story" tells a remarkable untrue story. From Yankovic's totally made-up relationship with Madonna to his crazy off-stage antics that never happened and fabricated fights with his bandmates, the film is an imaginary portrait of a man who had it all and lost it all. While it may be the fictionalized account of a real person's life, the 2016 music mockumentary "Popstar: Never Stop Never Stopping" is eerily similar, with the exception that it's not based on any real musician. 
This time, it's Andy Samberg — of "SNL" fame and himself a musician with The Lonely Island — playing Conner Friel, the frontman of the hottest pop group around. But with success, fame, and fortune come major highs and devastating lows. This includes a naked on-stage scandal, his girlfriend (Imogen Poots) leaving him for R&B star Seal, various fights and feuds, and ultimately a serious decline on the charts. At his lowest, Conner struggles with substance abuse and is forced to pawn off childish drawings to make ends meet.
Though "Popstar: Never Stop Never Stopping" is silly and even downright stupid at times, it's also a clever, inventive, and incisive commentary on the state of rock n' roll biopics. Where "This Is Spinal Tap" poked fun at the likes of Black Sabbath and Judas Priest and the rise of heavy metal superstars, Samberg's spoof does the same for Justins Timberlake and Bieber and the modern pop star.
Anchorman: The Legend of Ron Burgundy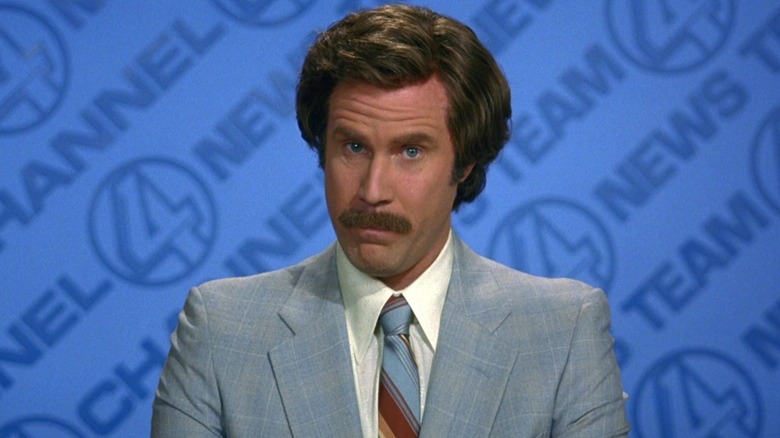 DreamWorks Distribution
In 2004, "Anchorman: The Legend of Ron Burgundy" perfected the parody with a throwback to the 1970s, an era where even a local personality could become a celebrity. But instead of focusing on a singer, pop star, or heavy metal rocker, this one tells the story of a city news anchor who becomes a legendary icon in his own community. An all-star cast included Will Ferrell in the title role, as well as Paul Rudd ("Ant-Man"), Steve Carrell ("The Office"), Christina Applegate ("Married... with Children"), and Kathryn Hahn ("WandaVision"), among a host of others too numerous to name.
Ferrell is the titular Ron Burgundy, a pompous prime-time San Diego news anchor who has become a famous face and personality in his local area. Burgundy is flabbergasted when his network hires an up-and-coming young woman, Veronica Cornerstone, as their next news anchor. Not one to take things lying down, the egotistical Burgundy and his loyal crew will have to redouble their efforts if they're going to beat themselves at their own game.
Playing off stereotypes, "Anchorman: The Legend of Ron Burgundy" spoofs everything from toxic masculine culture and '70s fashion to the era's regrettable misogyny. But what makes it just so pitch-perfect is how closely it hews to reality, because the 1970s were a flashy, bombastic era that was as unbelievable and wild as any fictional farce.
A Mighty Wind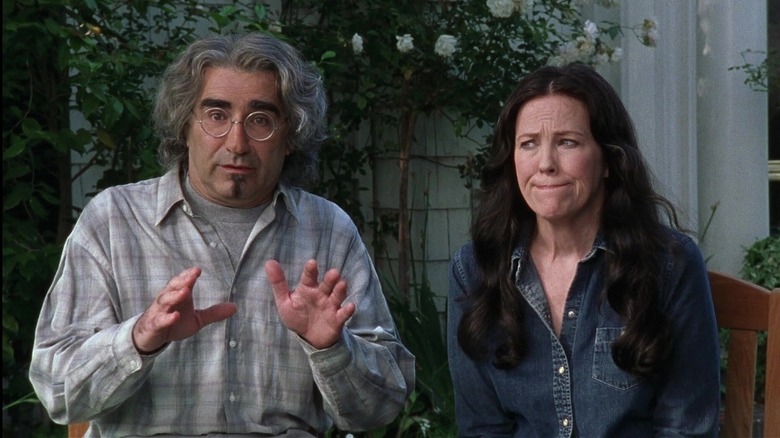 Warner Bros.
Nearly 20 years after "This Is Spinal Tap," the team of Christopher Guest, Michael McKean, and Harry Shearer reunited, but not for a sequel. A spiritual successor, "A Mighty Wind" is another music-based mockumentary, this one centering on a folk music concert that reunites three of the most popular groups of the past after decades in retirement. With Guest behind the camera, its supporting cast features Catherine O'Hara, Eugene Levy, Jane Lynch, Fred Willard, and Parker Posey.
Like "This Is Spinal Tap," the movie has its origins in an appearance on a sketch comedy show. The fictional folk rock band known as The Folksmen appeared on "Saturday Night Live" all the way back in 1984 when Guest and Shearer were writers and McKean was playing host. In the film, a famous folk promoter has passed away, and his son wants to stage a memorial concert in his honor. But to do it will mean bringing together acts that haven't played in more than 30 years. The real stars of the film though aren't the Folksmen, but married duo Mitch and Mickey (Levy and O'Hara), whose break-up broke up their band.
A more subdued, less rowdy film than "This is Spinal Tap," "A Mighty Wind" is nevertheless an incisive takedown of the folk genre and reunion concerts in general. You might not get it if you're unfamiliar with the 1960s folk boom, but if you are, you won't stop laughing.
Walk Hard: The Dewey Cox Story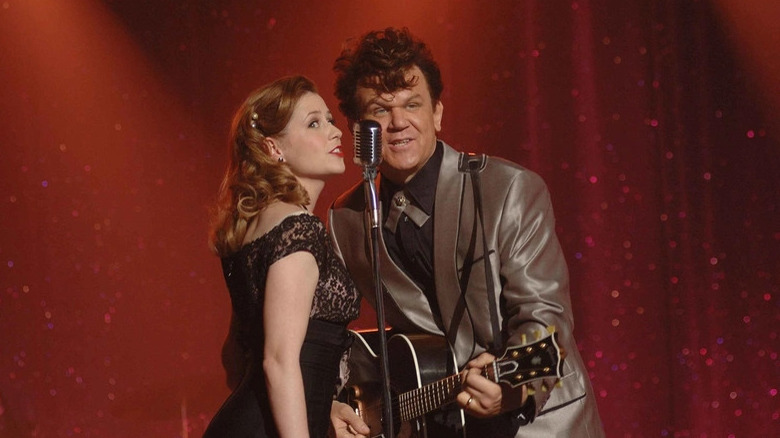 Sony Pictures Releasing
"Weird: The Al Yankovic Story" isn't the first parody to poke fun at rock n' roll biopics, as "Walk Hard" did it more than a decade before playing largely off elements from then-recent Johnny Cash movie "Walk the Line." Written by Judd Apatow and directed by Jake Kasdan ("Jumanji: Welcome to the Jungle"), the movie was a huge bomb in theaters but has become a cult classic for its blend of humor, heart, and a healthy dose of rock mockery (via The Ringer).
Focusing on a fictional blues legend, we meet John C. Reilly as Dewey Cox, a Southern singer with a brutal origin story. Having mistakenly chopped his own brother in half, he's lost his sense of smell but has been given the gift of the blues. On his own at age 14, he plays night clubs for cash before being noticed by Jewish record company man L'Chaim (Harold Ramis), who signs him to his label and sets him on the path to stardom. But the usual sex, drugs, and rock star life takes a toll, and Dewey winds up running through every '60s rock cliche imaginable.
Decades after his fall from grace, Cox becomes a hit again after his classic "Walk Hard" is sampled by a modern rapper, and the film ends with his unexpected comeback. Thanks to some great original tunes that feel very much like Weird Al originals, "Walk Hard: The Dewey Cox Story" might be one of the best biopic spoofs around.
The Dirt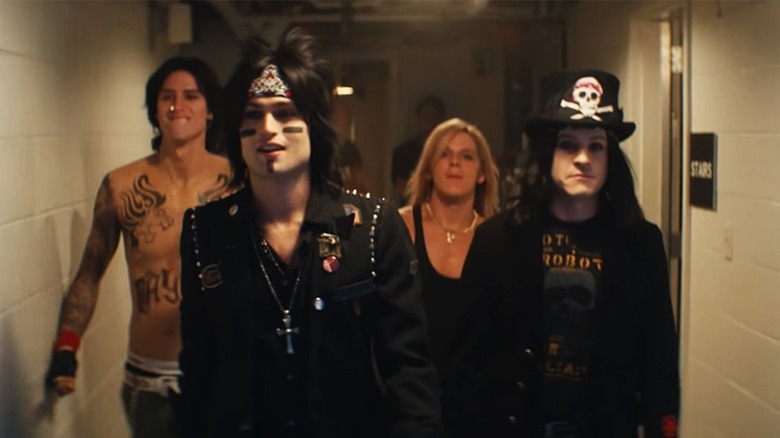 Netflix
From 1960s blues rock to '80s glam rock, the 2019 biopic "The Dirt" covers the career of Mötley Crüe and their off-the-wall troublemaking craziness. Unlike most on this list, "The Dirt" is more of a simple comedy rather than a film that spoofs the band, the genre, or biopics in general, but it's no less fun. And if what you want out of your biopics is an insane, over-the-top story about some wild rock superstars flying high and crashing and burning, you'll get that and then some.
The film stars Douglas Booth, Iwan Rheon, Machine Gun Kelly, and Daniel Webber as rockers Nikki Sixx, Mick Mars, Tommy Lee, and Vince Neil. Fictional portrayals of fellow superstars Ozzy Osbourne (Tony Cavalero), Heather Locklear (Rebekah Graf), and David Lee Roth (Christian Gehring) dot the film, which provides a window into how a group of lowly L.A. rockers came up from the streets and conquered the world. Of course, it also showcases the bands ups and downs through rampant sex, drug use, and multiple personal controversies and tragedies.
Even if "The Dirt" didn't receive the best of reviews from critics, audiences loved it for its focus on the salacious side of rock n' roll. Reveling in their unruliness, decadence, and depravity, "The Dirt" has got all the dirt, especially if you love all the scandal and sleaziness. Once you've finished, you can also check out the 2021 Hulu miniseries "Pam and Tommy," focused on Mötley Crüe frontman Lee and his rocky relationship with model and actress Pamela Anderson, played by Sebastian Stan and Lily James.
UHF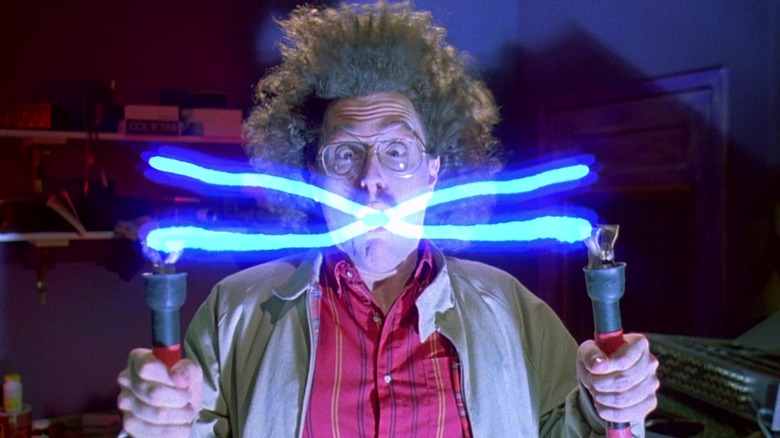 Orion Pictures
Weird Al diehards are likely very familiar with the '80s cult classic "UHF." But for more casual fans or for those who've only discovered him thanks to "Weird: The Al Yankovic Story," the film is an absolute must-watch. Released at the height of Yankovic's fame in 1989, the movie showcases Al's penchant for parody, full of fake movie trailers and side-splitting gags that poke fun at everything from Hollywood and TV to '80s movie tropes and beyond.
Set at a fictional public access TV station that's quickly crumbling, its owner (Stanley Brock) decides to give total control over to his slacker nephew George Newman (Yankovic). With no idea how to manage such a massive enterprise, George plucks his wide-eyed friends and local goofballs from obscurity to create and host new shows for the station that quickly turn it into a monster hit. Of course, this being an '80s caper comedy, there has to be a villain, and here it's rival TV station owner R.J. Fletcher (Kevin McCarthy) who sees Newman as a sniveling twerp whom he has to shut down before his own station loses the ratings war.
Filled with wacky characters played by the likes of Michael Richards, Fran Drescher, Victoria Jackson, Gedde Watanabe, and Emo Philips, "UHF" is one of the most downright bizarre movies you'll find. A flop on its release, it may have been a bit too far ahead of its time, but fits right in today with its meta humor and off-the-wall insanity.