Why Darryl From Alpha Betas Sounds So Familiar
"Alpha Betas" is a Kickstarter-funded animated adult cartoon made by gamers for gamers. It is one of a kind in the niche market of adult-oriented animated series. Not only is it 100% funded by backers, but you can watch all of the episodes on YouTube for free. They just started publishing their second season, so now is the perfect time to dive in if it sounds intriguing.
The plot of the show revolves around a dystopian future where society is powered by kids playing video games. Picture something like "Ready Player One," but with the irreverent, dark humor of "Rick and Morty" or "Solar Opposites." In the pilot episode, the audience is introduced to the world vicariously through a government auditor named Darryl. Sadly — or maybe not so sadly, depending on whose side you're on — Darryl is unceremoniously executed at the end of the episode by an anti-social gamer named Tanner, who insists on going by the gamer tag "Edge Lord." And that's just the beginning!
Darryl is voiced by none other than veteran actor Chris Parnell. His voice-acting CV is up there with the likes of H. Jon Benjamin from "Archer," veteran Tress MacNeille, and "Futurama" star John DiMaggio. He's also done dozens of live-action bit parts on various TV shows, like Dr. Spaceman on "30 Rock," Tina Fey's delightfully absurd parody of "Saturday Night Live" — which Parnell was also a series regular on from 1998 to 2012. Parnell has also been in movies, not the least of which is the "Anchorman" franchise. But his voice-acting roles in recent years have made him practically ubiquitous within the genre of adult cartoons.
Archer (2009)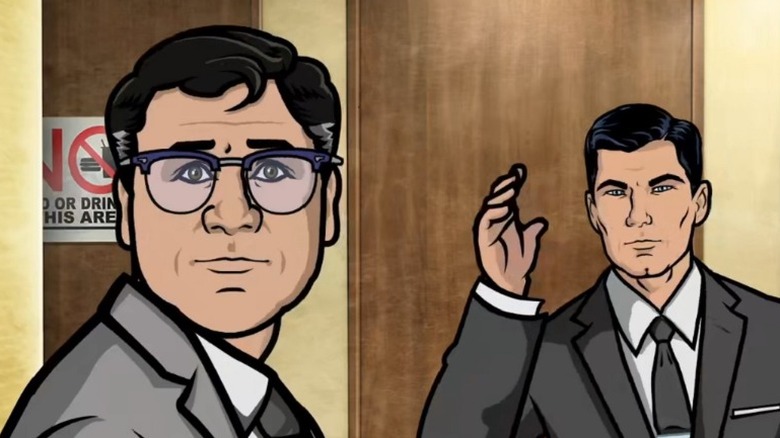 FX/Hulu
"Archer" really broke the mold in 2009 when it first debuted on FX. It helped spawn hilarious and unforgettable memes such as "phrasing" and "Do you want ants? Because that's how you get ants!" But even those iconic running gags are just the tip of the iceberg. The hilarious, depraved, dark humor about wayward spies who are just trying to keep a roof over their heads and stay out of jail just wrapped up its 13th season on FXX.
On the show, Parnell voices Cyril Figgis, a nerdy adult man who is constantly struggling to find the self-confidence he needs to win the girl and live a fulfilling life. He's one of the main characters who has been around since day one. Cyril and the main protagonist, Archer (H. Jon Benjamin), fight frequently, but Archer's narcissistic nature gets in the way of him ever genuinely learning his lesson and developing enough respect for Cyril to treat him like an equal. There is a whole lot more to his character than that — which you would expect after 13 seasons — but this article would get way too long if we took a deep dive into the hilarious train wreck that is Cyril Figgis.
The Life and Times of Tim (2010)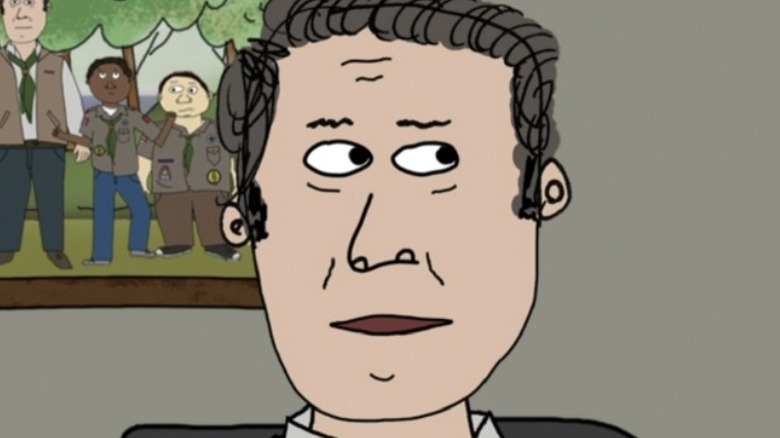 HBO Max
A bunch of adult cartoons popped up in the late '90s and early 2000s that relied upon an unpolished animation style and the secondhand embarrassment of the characters in order to get a laugh out of its audience. In the same vein as "Dr. Katz, Professional Therapist" on Comedy Central, you had similar comedies like "The Life and Times of Tim" on HBO. The series revolves around the titular character, Tim, and his wacky misadventures as a young man in New York City. In the first episode alone, Tim's girlfriend comes home early to introduce him to her parents — and discovers that he has been spending an inordinate amount of time with a prostitute while she was away. And that's just the first few minutes.
Unlike many of the other roles on this list, Parnell only appeared in a few episodes. But that probably has something to do with the fact that it was a very short-lived series. He was in three episodes total and voiced a different character each time. Parnell was Mark Douglas in "Debbie's Mom/The Escape Artist;" he voiced the unnamed high school principal in "Nagging Blonde/Taman the Elephant;" and did an excellent job playing Tim's office colleague William in "The Girl Scout Incident/Rodney Has a Wife?"
Rick and Morty (2013)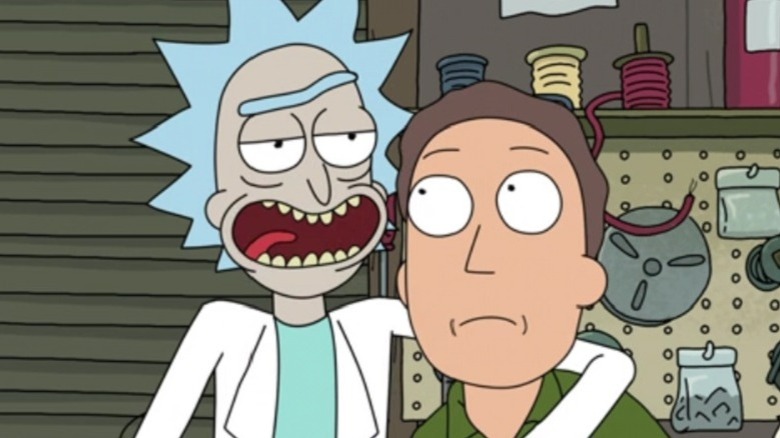 Adult Swim/HBO Max
A few years later, among all the other dozens of plates that Parnell consistently spins, he became a series regular on the Adult Swim cartoon "Rick and Morty." It's about an alcoholic grandfather named Rick Sanchez, who is an unfathomably intelligent scientist and also as arrogant as he is gaseous. He takes his grandson Morty on interstellar adventures, constantly putting him and his family in mortal danger along with the rest of his planet, all while shouting his "Wubba-lubba-dub-dub!" catchphrase.
Parnell voices Jerry Smith, Rick's son-in-law. Jerry is Morty's dad who, for the first several seasons, was utterly oblivious to what Rick was getting his son into. In the latter seasons, Rick starts to trust the rest of this family with the truth about what's really going on in the universe — although these revelations are the direct consequence of his irresponsible actions more so than him bonding with his estranged family. But bringing Jerry into the fold and pulling the wool off of his eyes doesn't stop the rest of the family from using him as a scapegoat whenever it's most convenient.
American Dad (2016)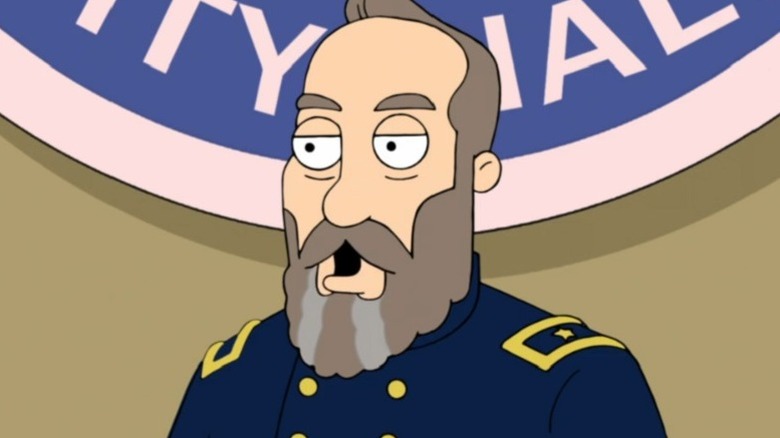 TBS/Hulu
"American Dad" is an adult parody of conservative life with a hyperbolic twist created by Seth MacFarlane. It debuted on Fox back in 2005 but switched over to TBS in 2014, where it has been ever since. It centers around the family patriarch Stan who is also a CIA spy — but he does a terrible job of hiding that, which is often played up for laughs. He has a beautiful trophy wife who drinks a lot of wine to drown her resentments, a rebellious daughter who is a frustrating thorn in her father's side, a nerdy son who's struggling to fit in at school, a talking goldfish with a German accent which may or may not contain the consciousness of a human Nazi from the 1940s, and an alien life-form named Rodger who seems to be an adult parody of "E.T." Mixed with "Al."
Parnell has lent his voice to more than one character since he started taking gigs from them in 2016, but he is most well-known for voicing President James Garfield. In one episode, Stan decides to use his CIA resources to bring the dead president back to life to teach his rebellious daughter Haley (Rachael MacFarlane) about U.S. history. But Garfield escapes and eventually earns his freedom — along with all the orange soda he can drink. Later in the series, he becomes mayor of the town they live in and makes the occasional cameo whenever the stars align, and the showrunners can pencil Parnell in for some recording time in the studio.
Family Guy (2019)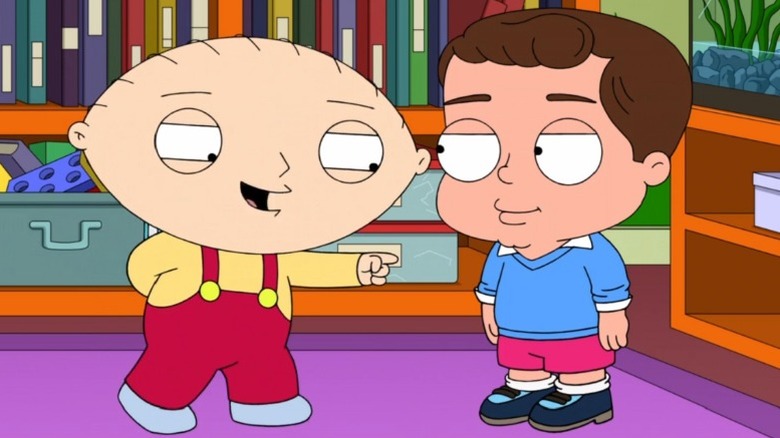 Fox/Hulu
One of Parnell's most recent significant, recurring roles is on "Family Guy," created by Seth MacFarlane all the way back in 1999. But Parnell joined the cast two decades later. The show itself revolves around Peter Griffin, an overweight, hard-drinking, uneducated, blue-collar everyman meant to parody the family sitcoms of the '80s and '90s. He has a beautiful wife who's too good for him, a hyper-intelligent toddler named Stewie who talks in a British accent, and a talking dog named Brian whose mannerisms go back and forth between that of a dog and that of a human. There's also his teenage son Chris who is socially awkward (voiced by Seth Green). And then there's Meg (Mila Kunis). Everybody hates Meg.
This is another one of those shows where Parnell has voiced more than one character. But like his work on "American Dad," there's one specific character he plays more often than most: Doug, a toddler who is one of Stewie's classmates. They have an adversarial relationship that borders on being frenemies, and the way Doug constantly thwarts and outsmarts Stewie infuriates the youngest Griffin to no end.